Entering into our next stock analysis (which will be followed by a dividend stock battle), I decided to pick the tobacco industry. I've already discussed how tobacco stocks pay great dividends and one of my readers suggested I take a look at Philip Morris International (NYSE:PM). I know it's a bit of a touchy topic because tobacco is baaaad! But, we are here to look at which stocks pay dividends, so here we go.
Company Stock Description
Philip Morris is the world's largest tobacco product producer with 15.7% of the market share outside the US. PM is a spin off from its former company, The Altria Group (NYSE:MO). When PM was part of Altria (until 2008), it was the most lucrative portion of MO. The spinoff occurred to offer shareholders the possibility to benefit directly from this huge cash cow.
As you may figure out by yourself, PM produces cigarettes, cigars and chewing tobacco. PM holds seven of the 10 most popular cigarette brands. Needless to say, Philip Morris is a true leader in its field.
Company Ratios and Financial Info
[Click to enlarge]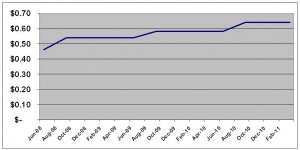 Dividend Metrics:
Current Dividend Yield 3.81%
Five-year Dividend Growth N/A (was spun off in 2008)
One-year Dividend Growth 9.65%
Company Metrics :
Sales Growth: 8.68%
Earnings Growth: n/a
P/E Ratio: 16.97
Payout Ratio: 61.77%
Return on Equity: 157.43
Debt to Capital Ratio: 0.16
Stock Metrics:
Upcoming Opportunities and Dangers
As you likely a have an idea of all the dangers I can see by investing in the tobacco industry, I'll go with the opportunities first. In my opinion, there are two major opportunities for PM. The first one is emerging markets. Since China represents, by itself, about 30% of the cigarette consumer market, establishing PM's most popular brands seems to be the logical move. Will the Chinese be influenced by American popular brands? Who can resist a Marlboro, after all? If the answer is yes, you will certainly see a nice growing market share for PM.
The other very interesting opportunity in the tobacco industry is that there are several smaller players. The three biggest players (Philip Morris, British American Tobacco (NYSEMKT:BTI) and Japan Tobacco International (OTCPK:JAPAF)) account for only for 38% of the market. This is how PM was able to swallow Rothmans in 2008 and will probably continue to eat the smaller fishes.
Besides the fact that I am trying to build an ethical stock portfolio, there is something that really bugs me regarding the tobacco industry in general: The law. While severe regulation is a good thing to protect the company from new competitors, it also has a huge impact in terms of taxes to be paid and marketing restrictions. On one hand, governments try to regulate the companies so they can't advertise their products; on the other, they like those big fat tax payers and won't likely bite the hand that feeds. This is why PM sees its US revenues decreasing year after year. The problem with PM is that more than 50% of its revenues is coming from the States.
Final Thoughts
If I was retired and looking for a steady dividend payer, I would probably pick PM for my portfolio (if I also forgot the ethical issue). This giant will definitely continue to pay a steady and strong dividend in the upcoming 10 years or more. While the industry is slowly declining, cigarettes evolve slower than technology. This is why we will see people smoking 10 years from now … but probably not using Blackberries (RIMM) any more.