Timeless Wealth is compensated for research coverage, which denotes a clear bias to our investment opinion. We believe that our research is objective, weighing both the risks and rewards of an investment opportunity. However, our end goal is to highlight firms that we believe are innovative and offer compelling investment propositions. Consider the following few that co-exist in the growing field of immunotherapy:
As the first FDA-approved immunotherapy, Dendreon's (NASDAQ:DNDN) Provenge significantly reduced the barriers to entry for firms seeking regulatory approval of immune-based therapies. The first mover advantage also scored Dendreon a lofty $6.12B valuation. But Provenge's marginal benefit in cancer treatment left behind the lingering scent of opportunity.
ImmunoCellular Therapeutics (NYSEMKT:IMUC), a Los Angeles-based oncology company, has actively pursued this opportunity. The company successfully raised $8.1M earlier this year, initiating a Phase II study of ICT-107 in patients with glioblastoma multiforme (GBM), an agressive but common form of brain cancer. While results from initial trials were phenomenal, as noted here, ImmunoCellular reported last week that it would be presenting new data from the Phase 1 study at the 2011 Annual Meeting of the American Society of Clinical Oncology (ASCO) in Chicago on June 4, 2011.
The abstract titled, "Glioma-associated antigens associated with prolonged survival in a phase I study of ICT-107 for patients with newly diagnosed glioblastoma" (Abstract #2042) will show that there is a correlation between the immunological response that ICT-107 generated in the form of antigens and both progression-free and overall survival. These observations suggest that targeting antigens highly expressed by cancer stem cells (CSCs) is a promising strategy for treating patients with glioblastoma.
ImmunoCellular's ICT-107 showed an overall survival rate of 80%; progression-free survival at 44%. ImmunoCellular Therapeutics' shares jumped to a new 52-week high in March after investors felt the company's clinical results compared favorably to the standard-of-care median of one and two year survival rates at 61.1% and 26.5%, respectfully. In addition, with 69% of patients alive to-date, and 38% disease-free, ImmunoCellular Therapeutics appears attractive, trading at a discount to competitors, at less than 1% of Dendreon's market value.
Now on the onset of its presentation at the ASCO conference, ImmunoCellular Therapeutics' shares have reversed course. The MACD technical indicator (observed below) suggests the start of a new uptrend.
Click to enlarge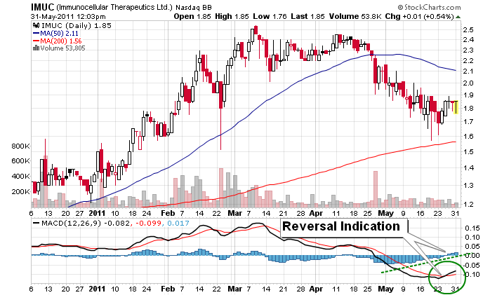 Click to enlarge
Most immunotherapies offer two distinct advantages over existing oral cancer treatments: efficiency in targeting cancer cells while steering clear of healthy tissue and limited toxicity or side effects.
Celldex Therapeutics (NASDAQ:CLDX) is among the next generation immunotherapy companies that may legitimately compete in the brain cancer market. But as noted in my interview with ImmunoCellular Therapeutics' CEO last month, "(IMUC) targets cancer stem cells, which can be viewed as the root of cancers, unlike Dendreon (DNDN) or Celldex Therapeutics (CLDX), which hone in on daughter cells."
ImmunoCellular Therapeutics' latest findings from earlier trials are particularly indicative of this conclusion (see above).
Particularly vexing is the extremity with which Celldex has underperformed ImmunoCellular Therapeutics in the long run. The poor stock price performance in itself is telling of a lack of confidence among CLDX investors. Note that in the long-run, short-term fluctuations are accounted for.
Click to enlarge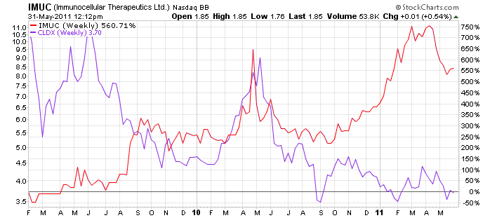 Click to enlarge
Celldex is in late-stage trials for rindopepimut (formally CDX-110) in patients with GBM. And the company's collaborative partnership agreements with pharmaceutical giants Amgen (NASDAQ:AMGN), Bristol-Myers Squibb (NYSE:BMY), and others are reminiscent of the development ImmunoCellular Therapeutics' CEO Manish Singh expressed desire in pursuing.
As an early-stage oncology firm, a partnership or collaberation of just about any form would prove quite significant for ImmunoCellular Therapeutics. To gauge what can indeed happen, consider Bethesda, Maryland,-based Northwest Biotherapeutics (NASDAQ:NWBO).
Two weeks ago Northwest Biotherapeutics announced a partnering agreement with Fraunhofer, the largest applied research foundation in Europe. Shares have since near-doubled in value.
Northwest's vaccine, DCvax-Brain, also addresses the largely unmet need for better brain cancer treatment. Its latest partnership agreement was especially significant in the approval to administer DCvax-Brain to patients under compassionate care uses in Europe. This may mean the inflow of incremental revenues and cash as a means of financing ongoing operations.
DCVax-Brain, like ImmunoCellular's ICT-107, has seen phenomenal clinical data in previous trials, as noted here. Also, 69% of patients have survived beyond two years, significantly greater than the standard-of-care rate of 26%. Moreover, Northwest Biotherapeutics prepared the following schedule to gauge DCVax's effectiveness relative to Dendreon's Provenge, and the current standard-of-care, which includes surgery, radiation therapy and Temodar, a compound distributed by Merck (NYSE:MRK).
Click to enlarge

Click to enlarge
Like Northwest Biotherapeutics, ImmunoCellular Therapeutics has also considered the possibility of licensing out its technology and/or the possibility of a takeover by a large pharmaceutical company in later stages. When asked about competitive advantage at his firm, IMUC CEO Manish Singh responsed:
We don't measure ourselves to matrices such as how many people we have working under us, or how many trials we can run; rather, focus belongs to running clinical trials where we believe we can demonstrate significant value inherit in our products. For example, instead of undergoing a single arm phase II trial, we proceeded to implement a randomized, double blinded trial as means for proving efficacy. This would particularly cater to a large pharmaceutical company from an acquisition perspective.
Earlier this year Amgen took over privately-held Biovex, a biotechnology firm that was developing a vaccine for head and neck cancer, for $1B. Biovex's cancer drug showed efficacy that fell short of Northwest Biotherapeutics' DCvax, at least as observed in earlier trials. Yet the resemblance shows the potential inherit in new generation immunotherapy-based firms. This is the future of cancer therapy.
Remember, Dendreon wasn't built in a day.
Disclosure: I am long AMGN, NWBO.OB, IMUC.OB.
Additional disclosure: ImmunoCellular Therapeutics is a client company of Timeless Wealth, which receives a retainer for providing research coverage. In May, we agreed to provide coverage of Northwest Biotherapeutics, a JSDC Inc. client company. JSDC Inc. is an investor relations firm. The views expressed are purely our own.