Yesterday I was using Barchart to screen for the S&P 500 companies hitting the most frequent new highs and I was surprised to see how many tobacco companies floated to the top. One of those companies was Reynolds American (NYSE:RAI), which hit 13 new highs and was up 6.95% in the last month. The price momentum is great but income investors like the 5.90% dividend.
click to enlarge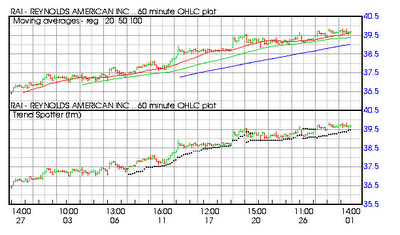 Reynolds American Inc. is the parent company of R.J. Reynolds Tobacco Company, Santa Fe Natural Tobacco Company, Inc., Lane Limited and R.J. Reynolds Global Products, Inc. R.J. Reynolds Tobacco Company, the second- largest U.S. tobacco company, manufactures about one of every three cigarettes sold in the United States, including five of the nation's 10 best-selling brands: Camel, Winston, KOOL, Salem and Doral. Santa Fe Natural Tobacco Company, Inc. manufactures Natural American Spirit cigarettes.
Barchart Technical Indicators:
96% Barchart technical buy signal
Trend Spotter buy signal
Above its 20, 50 and 100 day moving average
13 new highs and up 6.95% in the last month
Relative Strength Index is 73.86% and rising
Trades around 39.70 with a 50 day moving average of 37.08
Fundamental Factors:
Wall Street brokerage analysts have published 2 strong buy, 2 buy, 5 hold and 2 negative reports for income investors
Sales are projected to increase by 1.80% this year and 2.00% next year
Earnings are estimated to increase by 7.20% this year, another 6.40% next year and continue increasing by 6.23% annually for the next 5 years
General Investor Sentiment:
On Motley Fool 801 readers follow this stock
CAPS members vote 546 to 42 that the stocks price will beat the market
The more experienced All Stars agree 206 to 7
Summary: Tobacco stocks are not growth stocks, but they are income stocks. Most tobacco stock have a very stable price in the 100 range and a certain amount of price growth persistence of almost 90. If you'd like a stock with very few surprises and a 5.90% dividend that is about 80% of earnings, then Reynolds American (RAI) may be your cup of tea. Investors should look for around a 7.00% total annual return over the next 5 years.
Jim Van Meerten is a Marketocracy Master
Disclosure: I have no positions in any stocks mentioned, and no plans to initiate any positions within the next 72 hours.