As investors start off June processing the fourth consecutive week of losses for major indices and rather weak recent economic data, stock holders should contemplate ways to hedge a portion of their profits (and income) from risk of a second half slowdown. The weak ADP data yesterday confirms that the job market remains challenged and proves that this has been a jobless recovery.
Macro Risks Remain

Investors have a significant amount of macro risk to consider including:
End of QE2 in June 2011
A relatively weak economic recovery
Stubbornly high level of unemployment
Weak housing market
U.S. debt ceiling debates
Fiscal issues at the state and local level leading to cutbacks
Lingering European periphery credit issues
Rise in commodity prices
Uncertainty in the Middle East
And the list goes on…
The equity market has enjoyed a strong run since the lows in March 2009. However, as highlighted in the chart below (
click to enlarge
), this two-year bull market seems to be running out of steam.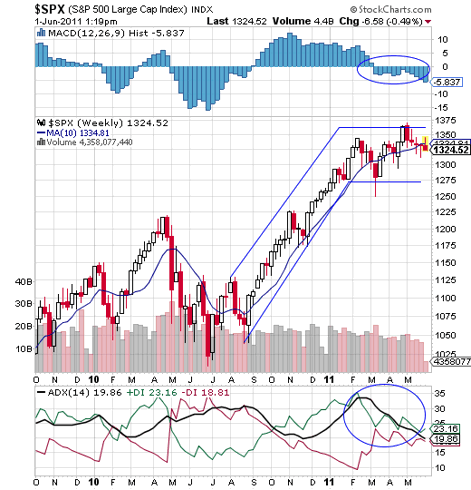 A Tactical Approach to Protecting Your Profits

Income investors that believe we are beginning to run out of steam in this two year bull market, can protect their profits and dividend yield by buying the UltraShort S&P 500 Inverse ETF (NYSEARCA:
SDS
) and overwriting calls on their dividend stocks.
Inverse EFTs (like SDS) can act as a great hedge to protect the long equity exposure in your portfolio, especially if you are holding income-generating assets like dividend stocks or MLPs that you don't want to sell. Unfortunately, a significant pullback in the market can completely offset the income earned from these assets. That's why it is very important to follow the general market (a falling tide can lower all boats) and hedge appropriately.
Before entering a trade in SDS, an investor should have a defined hedging strategy in place.
An inverse ETF position is not a long-term trade and it should be monitored very closely.
Your exit point (stop loss) on the SDS trade should based on the price action in the S&P 500 Index (NYSEARCA:
SPY
)...since SDS moves inversely to SPY.
If SPY makes a new high (breaks through $137.18), you will want to get out of your SDS position. This would be a 3.1% rise in SPY from current levels (~$133.00), which is equivalent to a 6.2% decline in SDS. That said, your stop loss level should be around $19.40 on SDS (which is equivalent to SPY rising to $137.00).
click to enlarge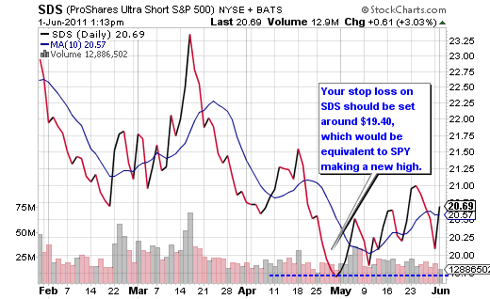 A key level to watch on SPY is the 50-day SMA (which is currently at $133.23). If SPY breaks through this level (confirming the downtrend), you should start moving up your stop loss on SDS as the trade goes in your favor. We like using the Parabolic SAR for a trailing stop loss, which continuously protects profits as prices advance in your favor.
click to enlarge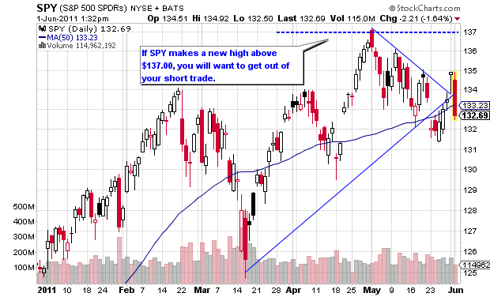 Again, the SDS trade is a short-term strategy to protect your profits from a downturn in the market and your exit strategy should be adhered to at all times!

Using Covered Calls for Additional Income


In addition to hedging with an Inverse ETF, Investors who are currently holding dividend paying, large capitalization equity should also consider selling out-of-the-money calls against their holdings. Covered calls can provide additional income to offset the sting from a stagnant or declining market.
Below (
click to enlarge
)
is a list of widely held large capitalization, dividend paying stocks that could benefit from an overwrite strategy. The All-In Profit highlighted assumes that the stock gets called away from you in Jan 2012 and you collect a pro rata fraction of the annual dividend. While we included large capitalization names, investors can overwrite call options on most stocks in their portfolio.