Travelzoo's (NASDAQ:TZOO) shares were down sharply yesterday on news that Groupon and Expedia (NASDAQ:EXPE) have formed a partnership. We think the move was unwarranted and that the shares could double from here.
We have long thought of TZOO as a public way to play the burgeoning growth of local deals, led by private companies Groupon and LivingSocial, but part of a group of about 400 companies that are now offering local deals of some sort.
The Groupon/Expedia announcement of a discount travel product named Groupon Getaways with Expedia will focus initially on hotels and will allow each company to tap into each other's customers databases.
We believe that this market can sustain multiple participants and the fact that Expedia has chosen to go this route supports TZOO's strategy. LivingSocial is already in this market generating near $100 million in travel sales and has had zero impact on TZOO's business.
TZOO has been offering Local Deals since 2010, and is now in 48 markets. Local Deals reported $16 million in gross sales for TZOO in 1Q11, and $ 6 million in net sales. Local Deals accelerated TZOO's growth rate and margin expansion and supported EPS growth near 40% in 2011, accelerating to 44% in 2012, according to consensus.
The shares are insanely cheap based on growth expectations. Consensus expects TZOO to generate $2.34 in EPS in 2012, a number we think is conservative, for a PE of 30x, and a PEG of .75x, based on 40% EPS growth over two years. We think a PEG of 1.5x is more appropriate for a company like TZOO, meaning that the shares should be trading at $140, up 100%.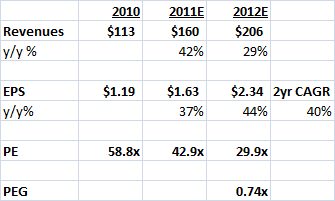 In addition, we think the company could be ready to sell and we think a logical acquirer could be Google (NASDAQ:GOOG) or possibly Facebook, with are looking to quickly ramp their travel offerings and local deals in particular.
Disclosure: I have no positions in any stocks mentioned, and no plans to initiate any positions within the next 72 hours.