Imagine a world where almost any purchase can be made seamlessly at checkout lines, vending machines, and taxicabs, all through the simple wave of your mobile phone. The reality of that once futuristic conception is rapidly approaching.
The mobile wallet is in the project pipeline at nearly every major technology, financial, and telecommunication company throughout the world. Mobile wallets lead to faster, simpler checkouts and allow companies to have a closer relationship with their customers through their phones.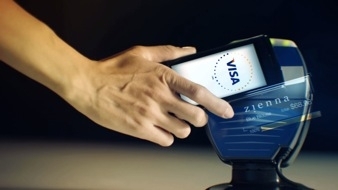 Apple (NASDAQ:AAPL) has invested heavily in Near Field Communication (NFC) technology, which will enable the so-called "iWallet" that appears to be in the works. Google (NASDAQ:GOOG) recently announced its rather extensive "Google Wallet" venture. Visa (NYSE:V) and MasterCard (NYSE:MA) are also pushing hard into mobile payments space.
Elephant Talk (ETAK.OB) is launching a secure mobile wallet platform later this year that will enable all these companies to manage the billions and trillions of transactions in this mobile wallet revolution. The company is now moving ahead with plans to offer one of the first fully integrated "plug and play" mobile wallets for businesses wanting to utilize the mobile cloud and offer a mobile wallet.
"We have begun integrating NFC technology into our mobile platform," explains Elephant Talk CEO, Steven van der Velden, in an exclusive interview I had with him.
[This will allow] mobile operators to immediately start offering these services without having to worry about all the time, costs, and risk elements involved in upgrading their legacy back office systems to be NFC-ready.
The unique platform is the first of its kind and provides the fabric that weaves together mobile operators, financial institutions, and payment processors, enabling them to offer and take advantage of mobile payments.
Elephant Talk's software as a service model could potentially generate billions in revenues from a low monthly subscriber fee of $1 per NFC-enabled smartphone on the platform and a small transaction fee on every transaction. Frost & Sullivan anticipates that NFC-enabled mobile phones will reach 863 million units in 2015. Mobile Payments are expected to exceed $1.13 trillion by 2014.
But security remains a top concern for consumers shifting into mobile payments. This is where Elephant Talk has a major competitive advantage.
Elephant Talk's new NFC-ready platform is uniquely designed to benefit from the security solutions provided by the company's subsidiary, ValidSoft. Elephant Talk is not only integrating NFC into its mobile platform, but will also offer the only 4-factor authentication security solution available to validate transactions across the mobile network.
ValidSoft has long seen the mobile phone as the key to stemming credit card fraud. The company has been perfecting the art of securing transactions through mobile devices for years. ValidSoft's solutions anonymously correlate the point of sale to an user's mobile phone to verify the legitimacy of a transaction. If the transaction and mobile device are in proximity to each other, the transaction is likely authentic. ValidSoft's fraud prevention solutions are currently being integrated into Visa Europe's payment processing platform. This process should be complete and the ramp up should begin by early fall.
But, in the mobile wallet revolution, both the mobile phone and the point of sale must inherently be in close proximity, a development the company sees playing directly into their hands.
"Our technology becomes more relevant with the emergence of the mobile wallet," explains Pat Carroll, CEO of ValidSoft, "When using NFC technology, the mobile device must be present." ValidSoft's vision of transforming the mobile phone into a fraud prevention device becomes increasingly logical in a mobile payment world.
When a consumer makes a transaction, in simple terms, it is just a stream of digits. ValidSoft's technology can verify that the origin of a transaction is indeed occurring from, or near, the valid mobile device (through the SIM card). Thus, criminals siphoning off and using a person's financial information would be denied when trying to make a purchase, as the point of sale would not be occurring near the valid consumer's mobile device.
"The good news for us is that, for legitimate transactions, our accuracy goes to virtually 100 percent," Carroll notes about the company's correlation technology within the NFC model. In the converged payment scenario, issues such as consumers forgetting their phone or not having it turned on would be eliminated. "NFC payments enhance the value proposition," Carroll adds. ValidSoft reduces fraudulent transactions for payment processors. With the mobile wallet, it can do so with an even higher degree of accuracy.
Another key to ValidSoft's solutions is that they provide the only real-time solution to fraud by accepting or declining transactions in the moment, thus preventing fraudulent transactions before they ever occur.
Security concerns surrounding mobile phone payments have been at the forefront of the transition to mobile payments. These threats include eavesdropping, data insertion, and man-in-the-browser attacks.
According to the company, ValidSoft's patented technology utilizes an unique out-of-band real-time authentication of a transaction, meaning that a transaction's legitimacy is verified outside the established channel in which the transaction is taking place, thwarting attempts of fraud. "Sophisticated fraud will always ensure that a second 'check' is required," Carroll explains. Validsoft can even provide a voice biometric component for processing large banking transactions or other significant purchases.
The invention initially designed to make mobile phone calls has evolved into a device that we now use to check Facebook, place stock trades, download video—and soon—to make our daily purchases. With the advent of the mobile wallet, the convergence of the telecommunications and financial industries has begun. Elephant Talk finds its technology at the heart of this revolution and will soon provide major players with the access they need to mobile cloud and the ability to securely process transactions through the mobile wallet.
Disclosure: I am long ETAK.OB.