As the latest Case-Shiller data indicates, home prices in 20 U.S. cities declined to an eight-year low. The housing market continues to be hindered by:
Excess supply of foreclosed homes and shadow inventory;
Weak economic recovery;
Lingering unemployment levels of 9 percent;
Recent slump in consumer confidence;
General view that housing is a bad investment; and
Increasing down payment requirements
Home Ownership Rates Are Declining
An illiquid housing market limits homeowner mobility, which can inhibit consumers from find a new job. We believe there is a subsection of the population that will be averse to housing for the near to medium term. Recent data indicates that homeownership rates are declining, which provides for a strong backdrop for apartment REITs. According to latest U.S. Census Bureau data, the homeownership rate declined to 66.4%, down from 66.5% in Q4 2010 and a level not seen since the late 1990s (see chart below). Home ownership rates are declining while new household formation is firming and ticking higher (see recent Bloomberg article).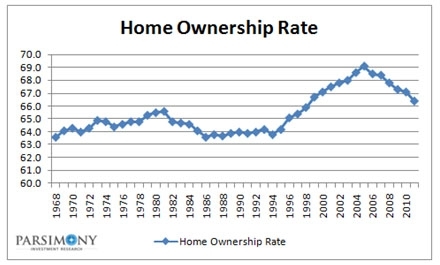 Rents Are Increasing
There is evidence that rents are starting to firm in certain parts of the country and many expect rental rates to rise as new apartment construction remains low.
According to AXIOMetrics, an apartment market research firm in Dallas, last year was one of the best periods for landlords over the past 15 years and may mark a turning point in the short term. In 2010, rents nationwide rose an average 4.2 percent. In 2009, by contrast, landlords offered greater discounts to attract tenants, and effective rents fell 5.9 percent.
3 Apartment REITs to Consider
As many investors have no interest in owning a rental themselves due to the management headaches, an investment in an apartment REIT provides exposure to the space and provides investors with greater liquidity and diversification through a portfolio of professionally managed assets as opposed to a stand-alone property.
For investors interested in exposure to apartment REITs the table below outlines three U.S.-focused apartment REITS with dividend yields above the 5-year Treasury rate.
Equity Residential (NYSE:EQR) – EQR owns, develops and operates approximately 500 high-quality apartment properties in top U.S. growth markets.
Apartment Investment and Management Company (NYSE:AIV) – AIV engages in the acquisition, ownership, management, and redevelopment of apartment properties. The company rents and leases its apartment units to a diverse base of residents. It also provides management services to third-party owners. As of March 31, 2011, AIMCO owned or managed a real estate portfolio of 648 apartment properties containing approximately 109,000 apartment units located in 43 states, the District of Columbia, and Puerto Rico.
AvalonBay Communities (NYSE:AVB) – AVB engages in the development, redevelopment, acquisition, ownership, and operation of multifamily communities. As of March 31, 2011, AvalonBay owned or held an interest in 187 apartment communities containing 55,027 apartment homes in 10 states and the District of Columbia, of which 11 communities were under construction and nine communities were under reconstruction.
Disclosure: I have no positions in any stocks mentioned, and no plans to initiate any positions within the next 72 hours.