21Vianet Group (NASDAQ:VNET) announced yesterday its unaudited financial results for the first quarter of 2011.The company describes itself as the largest carrier-neutral Internet data center services provider in China, and completed its IPO at the end of April, selling about 14,950,000 American depositary shares ("ADSs"), including 1,950,000 ADSs purchased by the underwriters pursuant to the exercise of their over-allotment option at $15, or $2 above the high end of the originally proposed range. Each ADS represents six Class A ordinary shares of the company.
21Vianet enjoyed a steady growth in the last few years, partially due to some strategic acquisitions in the managed network services sector made in the second half of 2010 (click on the charts to enlarge):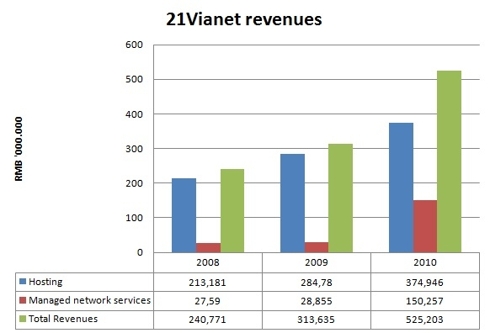 Here are some of the highlights for Q1 2011:
Net revenues increased to RMB210.6 million ($32.2 million) from RMB93.5 million in the prior year (+125.2%) and RMB197.3 million in Q4 2010 (+6.7% sequentially);
Adjusted EBITDA increased to RMB43.0 million ($6.6 million) from RMB12.4 million in the prior year (+246.8%) and RMB37.6 million in Q4 2010 (+14.4% sequentially)
Adjusted EBITDA margin reached 20.4%, compared to 13.3% in the prior year and 19.1% in the previous quarter.
It is interesting to note that net revenues from managed network services were RMB81.7 million ($12.5 million) in the first quarter of 2011, less than the RMB85.8 million achieved in Q4 2010 (-4.8%). The last quarter was the first one including revenues from the managed network entities that 21Vianet acquired in September 2010. We believe it is not unusual to experience some integration problems, especially after two simultaneous acquisitions, and this could be the reason for the slight revenue decrease. Excluding revenues contributed by the managed network entities, net revenues from managed network services increased by 48.5% to RMB19.6 million ($3.0 million) from RMB13.2 million in Q1 2010.
Here is a quick look at how managed network services increased their importance within 21Vianet's revenue stream: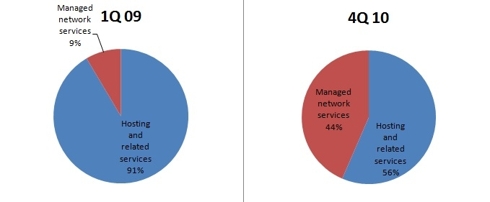 During the quarter, the company increased the number of cabinets under management in its self-built data center to 3,027 (from 2,645), while cabinets in partnered data centers remained almost stable (3,119 compared to 3,105 cabinets in 44 partnered data centers at the end of 2010).
The higher percentage of new cabinets in the company's self-built data centers, relative to partnered data centers, contributed to 21Vianet increased gross and adjusted EBITDA margins, as the company's self-built data centers carry relatively higher margins.
If we look at the company's recent performance, we find that 21Vianet has been steadily increasing revenues in the last nine quarters: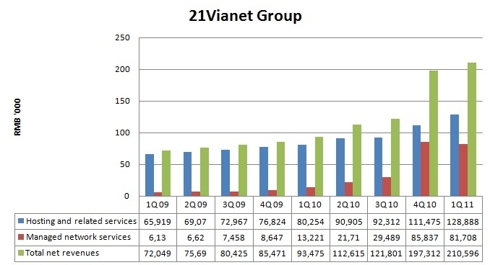 Here is a quick look at the revenue mix and sequential increase in the last few quarters: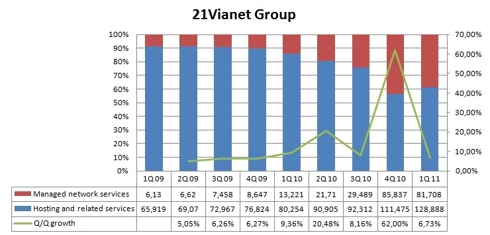 21Vianet closed the quarter with cash and cash equivalents of RMB295.1 million ($45.1 million). This sounds like a great performance, as the company had about RMB83.3 million ($12.7 million) in cash as of December 31, 2010, but received about $35.0 million in January and February 2011 for the issuance of 37,196,750 Series C1 preferred shares to a group of investors. It looks like 21Vianet, in spite of the usually very high cash consumption linked with the business model (a lot of capex needed to expand data center capacity) was capable to maintain a very low cash use in the quarter, while still keeping intact its growth trend.
Cash and cash equivalents at the and of Q1 exclude the proceeds of the recent IPO, which closed at the end of April.
21Vianet also issued guidance for Q2 2011. The company expects net revenues to be in the range of RMB216 million to RMB220 million and adjusted EBITDA to be in the range of RMB43 million to RMB45 million, for a sequential increase, at the mid point, of 3.5% in revenues and 2.3% in adjusted EBITDA.
Disclosure: I have no positions in any stocks mentioned, and no plans to initiate any positions within the next 72 hours.