Pfizer (NYSE:PFE) shares are up 20% year to date, yet the market's valuation may still reflect too pessimistic a judgment regarding Pfizer's ability to stabilize and grow earnings over time. Management expects net income to grow 5% from 2010 to 2012, helped by $4-5 billion in cost reductions and revenue contributions from new products. According to management, Pfizer "remains on track" to achieve 15 to 20 regulatory submissions in 2010-12. The company recently had 12 pending U.S. new drug applications and supplemental filings.
To be sure, Pfizer shares are no longer as cheap as they were a year ago, but we find the recent stock price of $21 per share rather attractive in light of consensus estimates for EPS of $2.24 in 2011 and $2.27 in 2012. An analysis of three valuation scenarios based on our estimate of normalized operating income suggests a fair value range of $19-31 per share.
Pfizer: Our Estimate of the Equity Fair Value Range
[Click all to enlarge]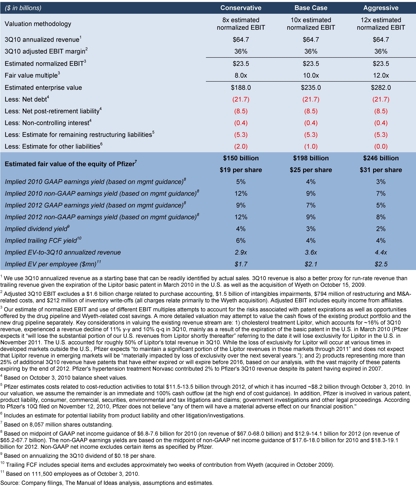 Click to enlarge
Pfizer, the leading developer and marketer of branded medicines, purchased major pharma company Wyeth in 2009, diversifying revenue and improving the drug pipeline. Pfizer has the #1 market position in cardiovascular, #2 in infectious disease and central nervous system treatments, and is #4 in vaccines globally. It is the market leader in the U.S. (12% share), Europe (10%), Asia (7%), Japan (6%) and Latin America (6%).
An estimated 40% of revenue, however, remains vulnerable over the next five years due to expired or yet-to-expire drug patents (mostly by 2012, including blockbuster drug Lipitor). Nonetheless, management has maintained guidance for adjusted diluted EPS of $2.25-2.35 in 2012, up from an estimated $2.16-2.26 in 2011. (Adjusted EPS is defined as reported diluted EPS excluding purchase accounting adjustments, acquisition-related costs, discontinued operations and "certain significant items.")
Pfizer: Key Patent Expirations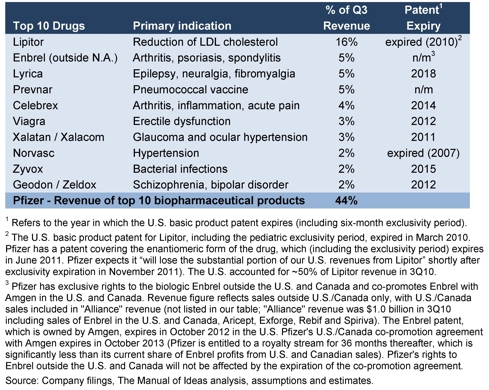 Click to enlarge
Superinvestor owners of Pfizer include David Einhorn of Greenlight Capital (25 million shares, up 8% in Q1), Alan Fournier of Pennant (6.2 million shares, flat in Q1), Larry Robbins of Glenview (9.7 million shares, new position in Q1), David Tepper of Appaloosa (15.4 million shares, down 7% in Q1), and Prem Watsa of Fairfax (235,000 shares, flat in Q1). John Paulson sold out of his fund's position of 23 million Pfizer shares during Q1.
Disclosure: I have no positions in any stocks mentioned, and no plans to initiate any positions within the next 72 hours.