This morning while screening on Barchart for high growth companies having current momentum I came across DeVry (NYSE:DV). Most of the existing reports and articles don't yet reflect the newly revised Department of Education regulations on for-profit schools. I think this industry will have a place with the youth as public universities see cut backs in their budgets. I like the jump in this stock's price. When I passed the Georgia CPA exam, I took the Becker CPA Review course, and passed the exam easily. It worked for me.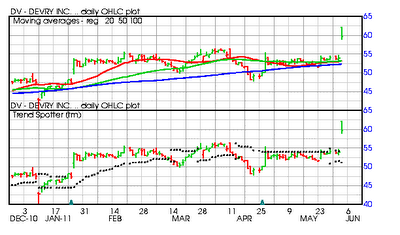 People thought the Obama administration would come done hard on for-profit schools. This did not happen, so the uncertainty has been removed. Public schools must cut down on enrollment as their legislators cut their budgets. High-tech and healthcare training is needed badly, and schools like DeVry will take up the slack. Look for the projection for revenue and earnings to be revised upward quickly.
DeVry owns and operates DeVry Institutes of Technology, Denver Technical College, Keller Graduate School of Management and Becker Conviser CPA Review. DeVry Institutes, DeVry Canada, Inc., Denver Technical College and Keller Graduate School of Management are a part of DeVry University. DeVry Institutes and Keller Graduate School collectively form one of the largest private, degree-granting, regionally accredited higher education systems in North America. Becker prepares candidates for the CPA, CMA and CFA professional certification examinations.
Factors to Consider:
Barchart Technical Indicators:
100% Barchart technical buy signal
Trend Spotter buy signal
Above its 20, 50 and 100 day moving averages
8 new highs and up 12.63% in the last month
Relative Strength Index is 75.08% and rising
Trades around 60.17 with a 50 day moving average of 53.25
Fundamental Factors:
Even before the changes in Department of Education regulations this industry was poised for growth as public universities start to cut enrollment due to legislative budget cuts
Wall Street brokerage analysts have published 8 strong buy, 5 buy and 11 hold recommendations for their growth clients to consider
Sales are estimated to increase by 14.00% this year and another 4.60% next year
Earnings are projected to increase by 19.60% this year, another 2.60% next year and continue to increase by 11.78% annually for the next 5 years
General Investor Sentiment:
Right now there are only 404 readers on Motley Fool expressing opinions on this stock, but I look for this to change when the public sees the new regulations and realizes what the shrinking enrollment in public institutions will have on this industry
CAPS members vote 247 to 38 that the stock will beat the market
The more experienced All Stars agree 106 to 13
Get on board the education band wagon early with a purchase of DeVry.
Disclosure: I have no positions in any stocks mentioned, and no plans to initiate any positions within the next 72 hours.