It has been a week and a half since New York City's outdoor smoking ban has gone into effect, with its primary intent being protecting non-consenting citizens from secondhand exposure. Unfortunately for the cigarette industry, the ban may have secondhand effects on sales as well. Laws like this are likely to continue to be passed since it is well within states' rights to do so. This article will take a gander at the smokeless tobacco industry and specifically analyze Reynolds (NYSE:RAI), Altria (NYSE:MO) and Philip Morris (NYSE:PM) in doing so.

I am a big proponent of the individual's right to smoke and have written about the investing opportunities that this creates here, but I am fine with regulations as to where this may be done.

The big tobacco companies have certainly pondered this issue and are researching other revenue streams, as discussed below, but revenue from global cigarette sales is relatively safe. First off, cigarette sales have proven to be very inelastic and rising prices do not thwart numbers; a clear benefit of having a product that is clinically addictive. Secondly, as I learned from a CNBC special, cigarette producers are often able to shift rising tobacco costs onto the tobacco farmers themselves. Lastly, the cigarette companies spend no money on print and commercial advertising. They have been banned from such, as this falls under the so-called "vice exception" to commercial speech protection under the First Amendment.

My next point brings up an interesting observation. Recently, there have been a number of advertisements for smokeless tobacco in prominent papers, like a full-page ad in The Wall Street Journal. I have known a number of people who use snus and the most popular brand from my completely statistically insignificant studies is Skoal by leaps and bounds. This is produced by the United States Smokeless Tobacco Company, a private company.

However, I have seen a number of advertisements for Camel Snus, sans Joe. Camel is owned by Reynolds, which has been on an absolute tear over the last two years. It's currently teetering around $40 with a PE at 16, which is just about average for the industry. As the two-year graph below shows, it's increased in price by about 100% in this time, but remains a smart investment.
[Click all to enlarge]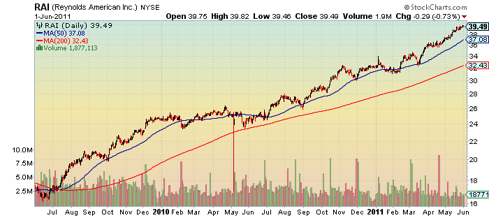 All of the cigarette stocks offer attractive dividend yields but, given their bullish run, some have been marginalized. Despite this, Reynolds is yielding an amazing 5.4% with a stable dividend. It has only 1/5 the market cap of Philip Morris, but this yield makes it a major pick with room to grow.

Speaking of Philip Morris, Philip Morris USA, which is owned by Altria, owns Marlboro Snus. I really have not seen many ads for this, nor do I know many people who use the product, but it's a player in the smokeless market. Its two-year graph shows a similar story to that of Reynolds, and I have to disclose that a fund that I am a part of has owned this stock (and PM) during part of this period.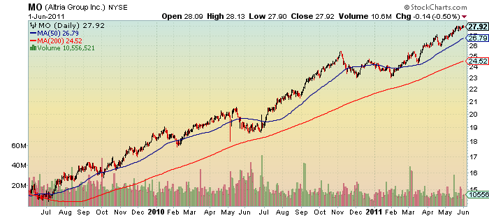 Altria is also trading near a 52-week high at $28 and has a PE of 14.5. It, again like Reynolds, has a dividend yield of 5.4%, but investors should be wary that it only caters to America after Philip Morris was spun off as its own company.

Philip Morris, on the other hand, caters to the rest of the world, which is a much larger market. It recently purchased the rights to a new aerosol nicotine technology to add to its strong line of cigarette brands and snus. The finished product will likely not hit markets for several years, but it could be a major development in the smokeless game. It is not yet known how detrimental this will be to the user's health, but it will certainly cut down on secondhand smoke, so governmental regulation should not be as harsh.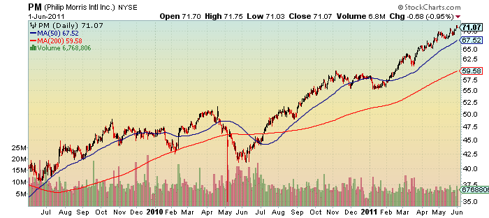 As a stock, Philip Morris is just like Reynolds and Altria in that its two-year chart has seen it shoot from the low $40s to breaking $70 in the last month. Its PE is only slightly higher than its competitors at 17.4, but the biggest thing is that its yield has dropped to 3.6%. This is formidable as compared with big dividend growth stocks, but for the industry it is low. The next few quarters will be important for Philip Morris to see if its price growth is backed by solid earnings and if the technology discussed infra will come to fruition in a profitable manner.

In sum, Reynolds appears to be the best pick of the three right now, mainly because of Philip's decreased yield and Altria's lack of foreign exposure. It is clear that they all fear a decline in smoking and are working on ways around this. But if these alternative methods prove to be equally harmful, it is conceivable that more regulation will come about that could shake the entire industry.