It is not much of a surprise that Japanese exports have taken a hit after a series of disasters, but the country-specific ETF, EWJ, could begin a turnaround as the manufacturing sector mends its production capabilities. EWJ is in negative territory for the trailing three months.
Japanese exports were down 12.5% in April year-over-year, or 5.5% month-on-month, but the drop in exports is slowing down, report Rie Ishiguro and Tetsuhi Kajimoto for Reuters. Imports, though, only increased by 8.9% year-over-year for April, which brought the trade deficit down to negative for the first time in three months. Analysts predict that the economy could continue to contract in the second quarter; however, Japan will likely return to growth in the third quarter.
"If you look at the month-on-month decline in exports, it is slow," remarks Shunji Tonouchi, senior fixed income strategist at Mitsubishi UFJ Morgan Stanley Securities. "Carmakers are likely to be able to increase production soon, so when compared to the previous month, exports could bottom out in May. Other manufacturers are also taking steps to gradually restore their output."
Bank of Japan Governor Masaaki Shirakawa assured that the Central Bank will ease monetary policies if the consequences of the quake were more severe than anticipated. However, in the recently released BOJ Minutes, one unidentified member stated that "the need for additional momentary easing had increased, taking into account the current outlook for the economy and prices," which is mirrors the beliefs of another member, Nishimura, who also called for expanding the asset purchasing program.
The Bank expects a return to moderate economic recovery in the fall season.
iShares Japan MSCI Index Fund

[Click to enlarge]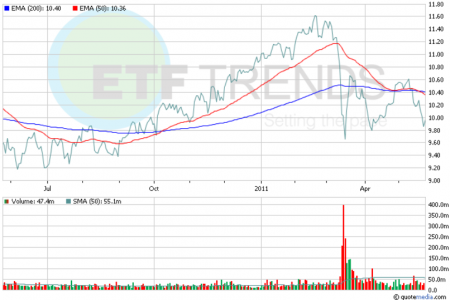 Max Chen contributed to this article.