Whiting USA Trust (NYSE:WHX) Model Update

The 1Q11 Quarter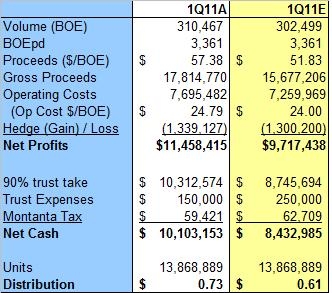 How did we do? The distribution came in high to expectations due to a combination of continued higher than expected volumes and slightly higher than expected prices which more than offset rising operating costs. If you scroll down to the graphs below you can see that production declines continue to be more benign than the expected 5% per quarter. I'm not looking for earnings beats or anything of the kind here, just trying to model the yield. As such I try to model conservatively so that my distributions are a worst case scenario.
The 2011 Model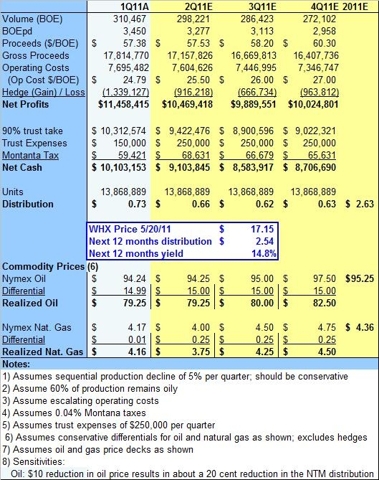 Click to enlarge
(Click to enlarge)
Some additional notes:
See the graphs below for further details.

Our oil and gas price deck for 2011 averages $95.25 oil and $4.36 natural gas.

Oil production is assumed to remain at 60% of total volumes, essentially flat with 1Q11 and 2010 levels and is modeled to fall by 5% per quarter.

We estimate operating costs in the 2Q to 4Q period will average $25 / BOE.

We assume trust expenses move back up to $250,000 per quarter.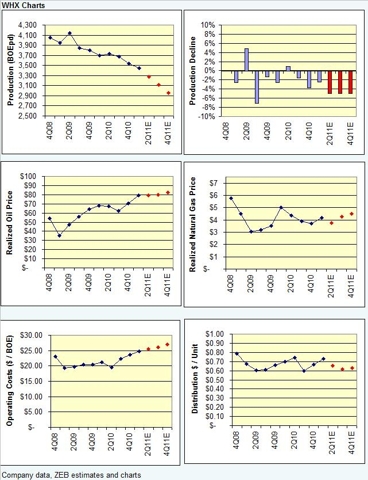 Click to enlarge
(Click to enlarge)
Other Yield Names I Watch [and in the case of Linn Energy (LINE) own]: A mix of MLPs and Royalty Trusts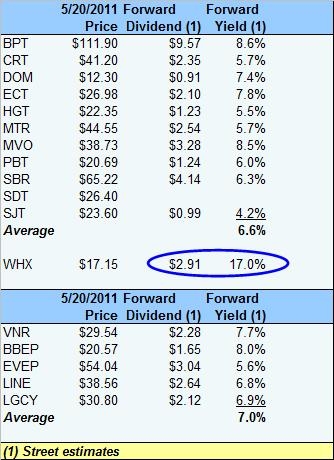 Nutshell: My model is designed to be conservative from both price and cost standpoints and, as such, I expect the quarterly distributions to be slightly higher, with the next twelve months yield liking coming in better than I have it modeled at 14.8%. Note that the Street is currently looking for a 17% forward yield. I am aware of the fears of this one being a declining to terminal value of $0 set of assets and would point out that the near term forward yield has been sufficient to stave off large declines in the price of the trust, and, especially if bought on weakness following en masse analyst pummeling, the high distribution helps support the share price while the yield is worth the extra fees my accountant likes to threaten me with. I am currently out of the name but am looking for an opportunity in the weeks following the next distribution to get long again.
Disclosure: I have no positions in any stocks mentioned, but may initiate a long position in WHX over the next 72 hours.