One of the stocks getting hammered in this week's sell-off is United Theraputics (NASDAQ:UTHR). After a weak performance in May, the stock is down more than 1% today -- and yet the fundamentals are, at worst, above average:
Return on equity for the trailing 12 months is 12.35%.
Five-year growth rate in sales is 39.11%, climbing to 63.26% last year.
EPS growth has risen from a three-year rate of 86.33% to a one-year rate of 413%.
Over the past five years, the company has grown revenue from $40 million to $166 million.
Wall Street is expecting slower earnings growth through the third quarter, but five-year estimates are a healthy 51.6%.
UTHR is oversold on the daily chart and sporting an implied volatility of 81% for July options. Current share price is in the support range from the November/December 2010 consolidation:
[Click all to enlarge]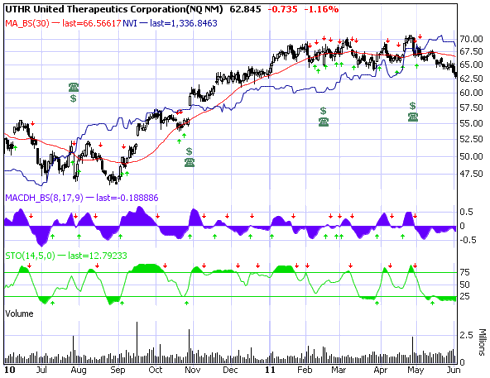 In short, this looks like a good opportunity to sell a July put spread. The July 45/50 put spread is currently selling for a net credit of about $1.30. The resulting risk/reward ratio is 35%. The risk profile for this trade at the time of writing is shown below: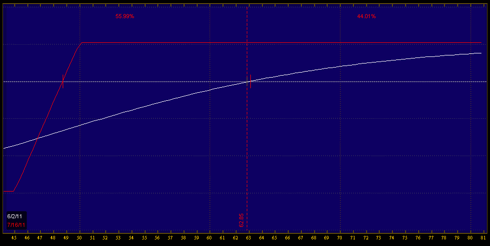 This trade has a 75% probability of profit, and a 72% chance of expiring worthless, based on current implied volatility. As always, I caution traders to have a risk-management strategy in place before acting on any trade ideas. One simple approach is to close the position -- or add a delta hedge -- at the point where unrealized loss exceeds potential profit (currently around $51.50 for UTHR).
Disclosure: I have no positions in any stocks mentioned, and no plans to initiate any positions within the next 72 hours.