Data center related stocks enjoyed a mixed performance in May, as the REIT category was the only sub-sector delivering a solid positive performance (with increases ranging from 3.4% to 12.1%), while the other stocks fluctuated on average from slightly positive to single-digit declines. The worst performance was achieved by Limelight Networks (NASDAQ:LLNW), falling about 10% in the month. However, it's today's news that Jim Cramer, in spite of the recent soft performance, still likes the stock.
Cramer's performance hasn't really been stellar in the sector, but this is another story.
Starting from this month, we will also monitor 21Vianet Group (NASDAQ:VNET), the largest network-neutral data center provider in China, which completed its IPO at the end of April. The stock remains very volatile, and has been swinging within $11.25 and $22.33 since its first trading day. 21Vianet's stock lost about 20% in May.
Here is a quick look at the performance in May for the stocks under our radar screen: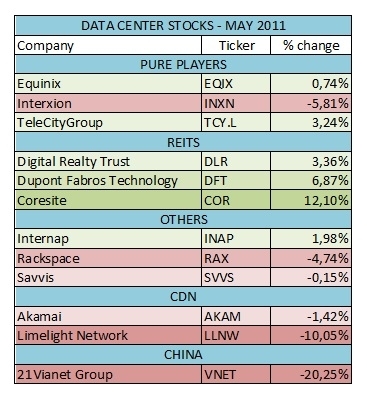 As noticed, REITs delivered another positive performance, as Digital Realty (NYSE:DLR) was up 3.4%, Dupont Fabros Technology (NYSE:DFT) almost 7%, and Coresite (NYSE:COR) lead the group with a 12.1% increase in the month.
Equinix (NASDAQ:EQIX) was basically stable, while the two European network-neutral data center providers performed in opposite directions, with InterXion (NYSE:INXN) losing more than 5%, and TeleCity scoring a positive 3.2%.
The CDN sector remains the weakest performer of the list, with both Akamai (NASDAQ:AKAM) and Limelight Network in the red.
The year-to-date landscape is completely different.
If we exclude the CND players (and 21Vianet, which has only been trading for slightly more than a month), performances across all sectors remain very strong, mostly with double-digit returns since the beginning of the year. It should also be remembered that all these data exclude Navisite and Terremark, that were acquired at the beginning of the year, at a strong 30% plus premium.
Internap (NASDAQ:INAP), Rackspace (NYSE:RAX) and Savvis (NASDAQ:SVVS) saw their stocks perform well over 30%, as acquisitions and cloud computing hype contributed to attract investors' attention toward these company. Here is a quick look at the exact numbers for each company: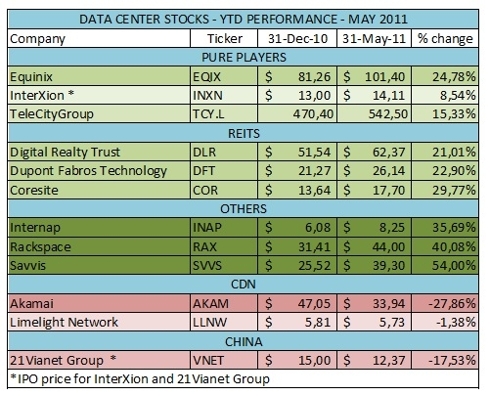 Disclosure: I am long EQIX.