Tesla Motors (NASDAQ:TSLA) continues on the road, unabated, to establishing itself as the Apple (NASDAQ:AAPL) of electric vehicle (EV) companies:
In preparation for Model S, the world's first premium electric sedan, Tesla is reinventing how people buy cars with interactive stores designed to entice potential customers. Tesla stores are designed to invite customers to explore Tesla's technology, learn about owning an electric car, and configure their own car in the Tesla Design Studio.

Tesla Park Meadows, located in Lone Tree (outside of Denver), ensures high foot traffic while the layout engages the customer through a series of hands-on interactive touchscreen experiences. The first store of this kind, Tesla Santana Row (in San Jose, California) opened in April to great success, consistently breaking foot traffic records. In the first two weeks, the store averaged as many Roadsters, Model S reservations and even Tesla merchandise as previous Tesla stores do in a month (emphasis added).
Based on discussions I had with Best Buy (NYSE:
BBY
) for a previously-published Seeking Alpha
article
, the electronics retailer could have plans that resemble some of what Tesla will pull off inside - and outside - its stores. Consider this snippet from the article about Tesla's new Colorado store:
Tesla Mobile Service Rangers travel to customers' homes to perform annual inspections, firmware upgrades and other services. Tesla's innovative "house call" approach allows customers peace of mind no matter where they are located (emphasis added).
Best Buy, of course, has the Geek Squad. Already set up to install and/or repair everything from surround sound to computers to GPS to small and large appliances, the Geek Squad can position - and is already positioning - itself to do what a Tesla Mobile Service Ranger does, but for other automakers and dealers. Best Buy has deals to provide cradle to the grave service for Ford (NYSE:
F
) and Mitsubishi's home EV charging stations. It's perfectly sane to think that Best Buy could take some EV service responsibilities off of the hands of the dealer, using both an in-store and "house call" approach.
Click to enlarge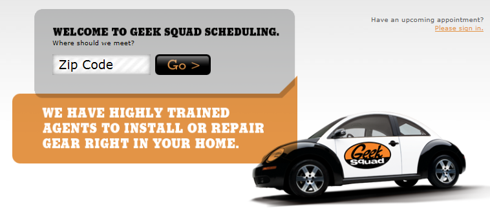 The company has told me, in no uncertain terms, that they view EVs as a "computer on wheels." And that the Geek Squad can help break down barriers to EV adoption and service not only home charging systems but the vehicles themselves. It could be the perfect union for major automakers as well as dealers who intend to place focus on selling EVs.
I include BBY in
my basket of EV stocks
. I see no reason why Best Buy cannot generate meaningful revenue from an EV business going forward. If they continue to push in this direction, Best Buy could, quite impressively, open up another revenue stream to help them through their current period of transition. And if you look at what AeroVironment (NASDAQ:
AVAV
) is doing - detailed in the above-referenced article - it's hardly out of the question that this revenue could amount to something worth writing home about.
While even more than
two sides
exist to the BBY coin (it's so much easier to just go with bullish and bearish I guess), I believe in what the company is doing, not only vis-a-vis EVs, but by reducing square footage at its stores. At these levels, I think BBY offers near- and long-term upside potential.
Disclosure: I may initiate a long position in BBY, F over the next 72 hours. I am long TSLA. I may initiate a position in AAPL at any time.