Launched in mid 2008, American Capital Agency Corp. (NASDAQ:
AGNC
) is a relatively new mortgage REIT. Investors have been attract to the name due to the attractive dividend yield of 18.4%. We recently wrote an article
comparing eight of the largest mortgage REITs
highlighting valuation, leverage and asset composition to help investors understand the nuances of the increasingly popular asset class.
We believe investors who are interested in the mortgage REIT space should own a portfolio of mortgage REITs in order to balance the risks. The management teams of mortgage REITs manage credit and interest rate risk as well as deploy different leverage profiles.
Outlined herein, is a more in depth look at AGNC. While we continue to remain positively disposed to Annaly Capital Management (NYSE:
NLY
) and MFA Financial Inc (NYSE:
MFA
) given the tenure of the businesses despite the lower yields, we have recently added a small position of AGNC. Unlike NLY and MFA, AGNC is a relatively new REIT, thus before becoming aggressively bullish on the name we would like to see a few more quarters of performance. AGNC has aggressively grown its asset base over the last 24 months as it has ramped up operations.
Company Description:

American Capital Agency Corp. is a mortgage REIT that invests in agency securities for which the principal and interest payments are guaranteed by: (i) a U.S. Government agency (such as the Government National Mortgage Association, or GNMA), or (ii) a U.S. Government-sponsored entity (such as the Federal National Mortgage Association, or FNMA, and the Federal Home Loan Mortgage Corporation, or FHLMC).

Portfolio Composition as of March 2011: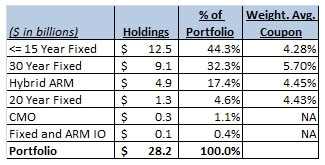 Financial Performance: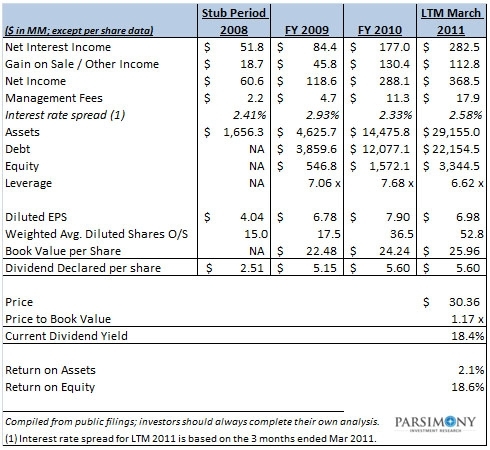 Historical Price/Book Value: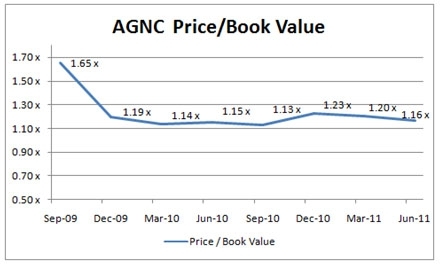 Historical Dividends: