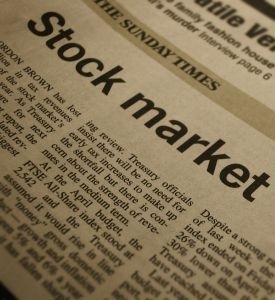 The latest spate of worrisome news and warnings is just the thing for producing desirable stock prices. Wednesday's stock market drop, while perhaps scary, was not a breakdown indicator. Rather, it moved many stocks down to attractive buy levels – i.e., near the bottom of recent ranges.
10 good-looking growth and income stocks
In "
5 'Special Situation' Growth Stocks
"
(May 23) I listed my 5 favorite growth stocks: Apple (NASDAQ:
AAPL
), Boeing (NYSE:
BA
), Caterpillar (NYSE:
CAT
), JPMorgan Chase (NYSE:
JPM
) and KKR (NYSE:
KKR
). Indicated on the stocks' graphs was the price area to which I felt the stocks could decline – to allow buying at lower, desirable levels.
The stock market's decline has also produced good price levels for my 5 favorite income stocks: Coca-Cola (NYSE:
KO
), Exxon Mobil (NYSE:
XOM
), Intel (NASDAQ:
INTC
), Merck (NYSE:
MRK
), and Verizon Communications (NYSE:
VZ
). (Each stock also has growth characteristics, important for supporting dividend payments and increases.)
Together, the ten stocks make a portfolio with attractive characteristics (averages are based on equal weighting of holdings):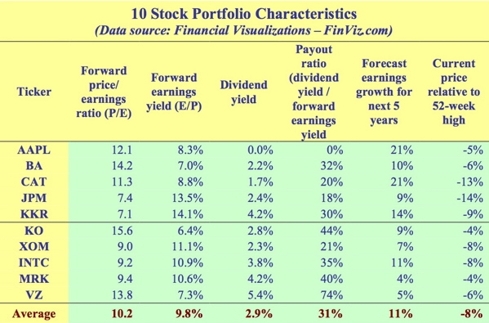 (Click chart to expand)
What about all that bad news?
Ignore the negative news reports because they are based on poor, cherry-picked data. The media are again leaping on the negative bits because scary headlines sell papers (e.g.,
The Wall Street Journal's
leading
Wednesday headline: "Housing Imperils Recovery - Home Prices Sink to 2002 Levels; Consumer Confidence Falls as Pessimism Grows").
Real estate is actually doing fine
Standard & Poor's Case-Shiller price data (source of their "double dip" house price forecast) is old – measuring winter's slack selling season, not this spring's results or, obviously, the summer selling season's results to come. Even with appropriate timing, the results are of little use. They're a combination of foreclosed and regular sales – and they mush together all locations in a metropolitan area.
There was important real estate news, and it was bullish: Rents are up 5%. Higher rents + house affordability (this remains good) = incentive to move from a rental to an owner-occupied house. That simple equation has worked in the past and will undoubtedly do so again.
Today the WSJ said mortgage lending is "moribund," but the more apt description is "stable." More importantly, banks would like to make more mortgage loans, just like they are doing already with commercial and industrial lending. The difference between now and the previous real estate bubble is not the lower amount of mortgages. Rather, it's the higher quality of lending – and that is good for the health of real estate and the economy.
Consumer confidence is just fine
There are two main consumer confidence surveys: The Conference Board's Consumer Confidence Index and the Thomson Reuters/University of Michigan Survey of Consumers. Both are notoriously volatile, making for good headlines but weak analysis. Moreover, the two surveys can produce different results. For May there were large, opposite readings: Conference Board = bad; University of Michigan = good.
April to May changes--
Conference Board:
Overall = -5.2%
Present conditions = -0.9%
Future expectations = -8.0%
University of Michigan
Overall = +4.5%
Present conditions = -0.6%
Future expectations = +7.9%
So, which is it? Have consumers become disheartened or enthusiastic? Or, do we average the two and end up with no change? Clearly, the media voted for the negative version.
Beyond this unstable data, though, is a major flaw in such surveys: They ask ordinary people how they're feeling today and how they think the future will turn out. No wonder these results are volatile. They depend on consumers' fickle emotions, which, in turn, are influenced by news reports. That feedback loop is why the results, while reported widely, are of little use to investors.
Second quarter slowdown
Auto sales were down 3.7%! Well, actually, Japanese car sales were down [Toyota (NYSE:
TM
) -33.4%, Honda (NYSE:
HMC
) -22.5% and Nissan (
OTCPK:NSANF
) -9.1%] because of the tsunami effects. Ford (NYSE:
F
) and
GM
sales were barely lower (-0.3% and -1.0%), as consumers drained the dealers' lots (the other side of the story). Meanwhile, Chrysler and Hyundai (
HYMLF.PK)
sales were
up
(+10.1% and +20.7%).
Will the tsunami effect last forever? Of course not. In fact, auto manufacturing has some catching up to do that will boost economic growth. Moreover, Japan has a major rebuilding effort coming that will spur economic activity.
Still worried? Then try this…
Look objectively at the portfolio characteristics above. From an absolute standpoint or compared with past periods, they are desirable. Now, jump to the future – not tomorrow or later this year, but three to five years from now (as far out as you need to go to envision a "normal" economy and stock market). Where will your portfolio be then?
First off, even if dividends were never increased, you would have earned about 3% per year. Secondly, non-distributed earnings would have been plowed back into the business, meaning there would have been some internal earnings growth. Therefore, even if the P/E ratio is still only 10 times, the stock prices would be up. Lastly, and perhaps most importantly, this high quality portfolio would have given you peace of mind. Sure, the stock prices would have fluctuated, but a diversified portfolio of well-managed, strong companies in key industries, acquired at reasonable prices, is the heart of sound stock investing.
So … the recent stock market sell-off has produced desirable stock prices for quality companies. The supposed bad news is specious, so we can take advantage of the lower prices without fear.
Disclosure: I am long AAPL, BA, CAT, JPM, KKR, KO, XOM, INTC, MRK, VZ.