Stocks ended Thursday flat. The Nasdaq rose 0.1%, while the S&P 500 fell 0.1%. Volume was nothing great either. The action Thursday does not turn the markets outlook around. For now the outlook remains in a correction.
S&P 500
Groupon filed for an IPO Thursday. Groupon hopes to raise up to $750 million, but that number is subject to change. In a letter to potential stockholders CEO Andrew D. Mason said "While we're looking forward to being a public company, we intend to continue operating according to the long-term focused principles that have gotten us to this point." The lead underwriters are Morgan Stanley (NYSE:MS), Goldman Sachs Group Inc. (NYSE:GS) and Credit Suisse Group (NYSE:CS). I am looking forward to this one being just like LinkedIn (NYSE:LNKD).
Initial jobless claims remained high last week. Initial jobless claims fell 6,000 to 422,000 last week, the Labor Department said. The recovery definitely has seemed to stall. We need to remember that we are in the third year of this bull market. Typically the third year is not easy going.
The European Union agreed to a new Greece bailout. Figures have not been released, but the amount would exceed the 110 billion euros voted through last year. There will be increased private funding in this bailout, but it will be limited. Personally I don't like these bailouts one bit. Aren't we just taking care of one problem by starting a new one? Think of it like when we bailed out some of the banks. We may never see the amount we put in out of it. So now our government has a higher debt leading to problems we face now. Eventually these bailouts will stop, and when they do I don't want to be in the market.
Stocks of Interest
Joy Global (JOYG) had a great day today. It rose 5.17% in heavy volume. The stock reported great earnings. It saw EPS beat by $0.17. Revenue rose 19% to $1.06 billion, also beating estimates of $1.03 billion. It revised its full-year EPS outlook to $5.30-$5.60 on revenue of $4.1 billion -$4.3 billion. One of the most undervalued sectors right now are the industrials like Caterpillar (NYSE:CAT) and Deere (NYSE:DE). When the market turns around these stocks should outperform even though they have underperformed lately.
JOYG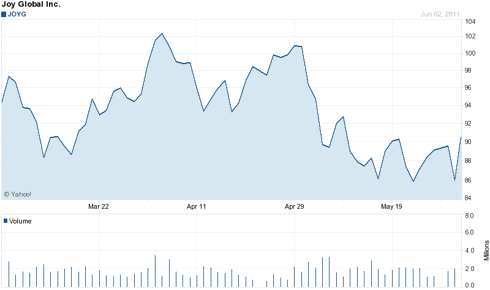 CAT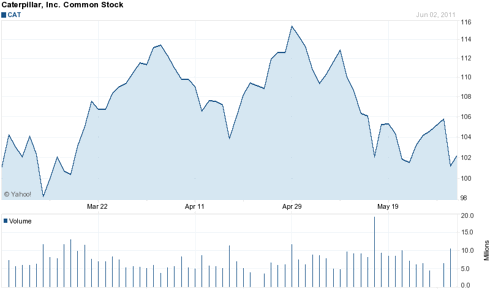 DE
Herbalife (NYSE:HLF) was another stock that had a great day rising in heavy volume. HFL is a great stock and I would buy IF the market wasn't in a correction. I know it may seem stupid not to buy something right now, but take it from me. I ignored the market once and I made money. The next time I had hubris. I lost 15% in three weeks. The company was good, but the market was bad. Just wait and the opportunity will come.
HLF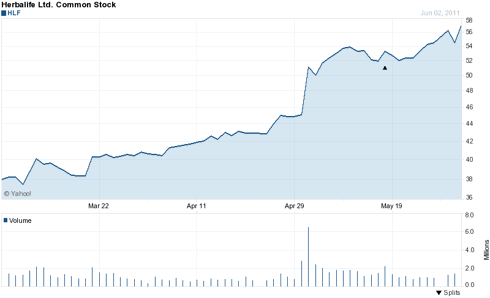 That is the market recap for Thursday. Continue to make a good watch-list, retail, industrials, and technology are my favorite sectors right now, and just watch the market. It still has the chance to switch to an uptrend.
Stocks to Watch: Open Text (NASDAQ:OTEX), Lululemon (NASDAQ:LULU), HLF, all the industrials (CAT, JOYG, and DE), Accretive Health (AH), and Riverbed (NASDAQ:RVBD).
Disclosure: I am long DE, OTEX.