Nokia (NOK), world's leading manufacturer of mobile handsets has been struggling to maintain its once dominant market share in the handheld industry since late 2007. Nokia, that relied on its core markets Europe and China is loosing market share rapidly to relatively newer entrants in the industry [Apple (AAPL) and Google (GOOG)]. and Research in Motion. The company's stock has fallen over 80% since the beginning of Q4 in 2007.
Slow Pace of Innovation
The newer entrants have created a newer ecosystem in the mobile industry with innovative mobile device technology and applications store. Nokia has been a slow innovator in the industry mainly due to lack of competition in the era when it dominated the industry. Relatively new and unknown mobile manufacturers are able to bring new devices into the market almost instantly. While Nokia makes superior quality products, the company is not able to catch up with the pace of innovation in the industry.
Strategic Alliance with Microsoft
Nokia lacks a portfolio of appealing smart phones mainly due to an underdeveloped applications store (Ovi Store). The company recently announced a deal with technology giant Microsoft (MSFT). The two struggling companies will collaborate and Nokia will use Microsoft's new Mobile Operating System (Windows Phone 7), giving up its Symbian OS. Later this year, Nokia will start shipping its new phones with Windows Phone 7 Operating System.
Successful results of partnership with Microsoft will be a vital factor for Nokia. This partnership will give Nokia an access to an already launched operating system and Microsoft's innovative team. Further, the company will have an opportunity to sync its services with Windows Desktop users. Microsoft's recent purchase of Skype, an Internet based telecommunications service, if integrated effectively with new Nokia phones can have the capability of changing the way people connect with each other.
The Fundamentals
Nokia's Net Income has reduced from 14.11% in 2007 to 4.26% in 2010 mainly due to low margin smart phone devices and reduced market share. However, Nokia has significantly increased its Research and Development spending, an essential factor of innovation, since 2006 where it was 9.48% of the revenue. In 2010, the company spent 13.81% of its revenues on new Research and Development. This shows that the mobile manufacturing giant has realized the need for innovation.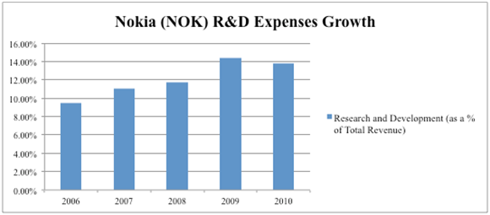 (Click to enlarge)
Future Prospects
Nokia's future certainly looks risky with newer entrants grabbing market share swiftly. However, with an increased innovation rate and effective integration with Microsoft's Windows Phone 7 OS, the company can turnaround and maintain its depleted market share. Within the last 90 trading days, the company's stock has fallen down $3.91 or 37.31% and is closed at $6.57 on Thursday, trading at 13 year low levels.