One of the more interesting single-stock stories in the market today is the situation involving the transfer of control of Yahoo's (NASDAQ:YHOO) private investment in Chinese payment processing company Alipay. Investors were blindsided a couple weeks ago by this announcement, and Yahoo shares sold off accordingly. Even people close to the situation will tell you it's confusing, as Chinese government regulation and the ownership right of the private investment seem to be clashing in a toe-to-toe battle.

This week it was announced that the situation had been resolved behind closed doors. We are only left to speculate on the terms of the resolution, but with an announcement clarifying the situation seemingly imminent, we should expect the options market to be pricing in a market reaction to the circumstances.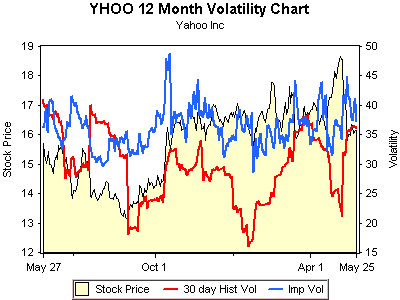 As you can see from the chart, historic and implied volatility have actually converged recently. I believe the low volatility represents an excellent speculative opportunity in the options market. The value of Yahoo's Chinese assets has been fiercely debated, and the fact that we will get definitive clarity on one of these assets, and an excellent benchmark on the others, will have an impact on the share price.

My directional bias is long. This article is an excellent sum of the parts analysis. Also David Einhorn's massive investment just weeks before the announcement makes me believe the bad news is priced in, and Yahoo will not get completely raked over in this deal.

Keep an eye on this. The fallout from the deal will also impact investor trust of RTO's and other seemingly undervalued Chinese assets.

Disclosure: I am long YHOO.