There's an old adage: "Sometimes you can find a diamond in the rough."

Such is often the case for diligent investors who listen intently to earnings conference calls of companies they follow.
In addition to polysilicon and solar photovoltaic cells, GT Solar makes "sapphire substrates" used in LED lighting and backlighting for various flat panels. The LED lighting sector is slated to experience rapid growth, especially with the U.S. government requirement that incandescent light bulbs shall no longer be sold after January 1, 2012. GT Solar has a large market share and another player with a large market share is
Rubicon (Nasdaq: RBCN).
GT Solar stated in its May 23 earnings conference call that
"We estimate during our Fiscal Year '11, GT supplied approximately 30-35% of the world's 6" Sapphire Cores for LED applications.
"
From
GT Solar's conference call slide show
- (click charts to enlarge):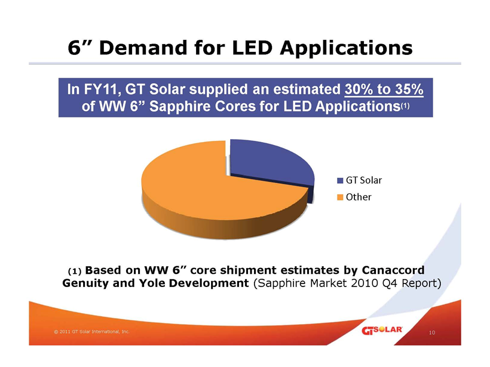 So here is the gem: After saying that the pipeline for their Sapphire business is growing robustly, GT Solar's CEO mentioned that it is having a special conference call June 6 (later
postponed to June 14th
) to discuss the Sapphire business
"in more detail."
A "SAPPHIRE IN THE ROUGH..."
All we need to do is connect the dots between various quotes by the company and you begin to see a picture that GT Solar may be about to tell us about a new acquisition in the Sapphire/LED sector. It might just be Rubicon, the primary competitor in this niche.

Instead of a diamond in the rough, we may have found a "Sapphire in the rough."
Follow the logic:
---"Our sapphire business has developed rapidly as well and customer interest continues to build in both our advanced sapphire furnace offerings and our sapphire substrate materials. Given investor interest in the success we've achieved in our Sapphire business, we will be hosting a separate webcast on Monday June 6 at 10:00 a.m. eastern time to discuss the business in more detail."
2. Then fast forward to 13:30 in the same conference call:
---"And based on our pipeline of inquiries, we see the potential to book significant additional business in the coming quarters as demand for sapphire substrates continues to grow and it becomes increasingly clear that supplies are likely to remain tight for some time. We believe that our proven ability to ramp to meet our customer's volume needs in combination with our unique technology platform puts us in position to acquire or obtain sizeable market share in this segment."
[Note emphasis on "acquire or obtain." If that isn't a sizeable hint, then what else is?]
"---We took an important strategic step to diversify the business in fiscal 2011 with the acquisition of Crystal Systems, which has allowed us to enter the high-growth sapphire business. Our sapphire substrate business continues to be fully booked and our sapphire equipment business has developed rapidly with over $484 million of orders booked as of today.

"GT's overall business outlook remains strong. We booked over $230 million of new business in the fourth quarter, bringing total net bookings for the year to over $1.1 billion and our backlog as of April 2nd to approximately $1.2 billion. The healthy pace of business has continued into the new fiscal year with an additional $722 million of orders booked so far in the first quarter of fiscal year 2012.

"The strength of our balance sheet enables us to significantly increase our investment in a continued flow of new products and additional strategic opportunities. Combined with our strong backlog and continued bookings momentum, this positions GT very well for the foreseeable future."
4. Why does GT Solar need a SPECIAL conference call on June 14 to inform investors about the Sapphire business unless it is a significantly material announcement?
Summarizing from the foregoing, we conclude that GT Solar:
Would like to "acquire or obtain sizeable market share: in this [Sapphire] segment.
Has a strong balance sheet to enable it to "increase their investment in additional strategic opportunities."
Is scheduling a special conference call on June 14 to tell investors about this.
Also note that the company
acquired Crystal Systems Inc
. on July 30, 2010, for a Cash and Stock deal -- which gave it a strong foothold in the Sapphire business that is, no doubt, far exceeding expectations. And now it is saying it wants to "acquire or obtain sizeable market share" in the Sapphire segment. Which means they're shopping again...
WHICH SAPPHIRE COMPANY IS GT SOLAR SHOPPING FOR?
Next, we ask ourselves, "which company would GT Solar want to acquire?"
A good place to start is to survey GT Solar's competitors in the Sapphire business, which is nicely spelled out in its recent
SEC 10-K Annual Filing
:
---"Sapphire business —We face competition for the sale of our sapphire material from a number of well established companies. These competitors include Rubicon Technology, Inc., Sapphire Technology Co. Ltd. (Korea), Kyocera International Inc., Namiki Precision Jewel Co. Ltd., and Monocrystal as well as a number of other sapphire material suppliers. We also face competition for the sale of our advanced sapphire furnace from companies offering alternative technologies including Thermal Technology LLC and Advanced RenewableEnergy Company, LLC. "
Of the above Sapphire substrate companies, Rubicon is a standout because it is located in the US rather than in Korea, or Japan, or Russia. Moncrystal is located in Russia, no thank you.
Therefore, the primary competitor in the US would be Rubicon. Bingo! Not only is RBCN trading at an astonishingly low PE for such a high-growth company, but the company has no debt and $88 million in cash or cash equivalents.
RUBICON'S HIGH SHORT INTEREST A CLUE TO ACQUISITION
One key clue that a company is a likely acquisition target is that its shares have a high amount of short interest.
As those of us who have dealt with investment bankers know, there is a shady side to investment banking, which can involve manipulation of share prices of takeover target companies. For example, if an IB is working with company A to acquire Company B and Company A wants to acquire Company B for no more than $30/share and Company B announces good earnings and the Company B shares spike, there is an incentive for the investment banking firm to hold down share prices of Company B by shorting.
With this perspective, it is becoming increasingly clear why RBCN (Company B in the above example) has an obscenely high short interest (51% of the float was short as of May 13). Whenever there is a fantastic company being heavily shorted for seemingly illogical reasons, there is usually a deeper story than meets the eye. It looks like the mystery of the sky-high short interest in RBCN is perhaps solved when we realize there are greater forces that may have conspired to hold share prices down for a buyout.
To confirm this notion, note how RBCN shares traded so bizarrely on May 6, after announcing stellar earnings and upside guidance.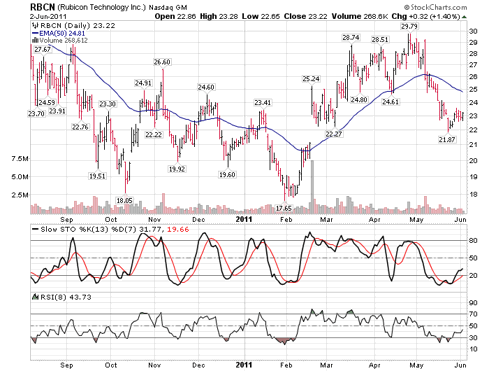 The stock gapped up almost 6% at the open very briefly to $29.25, but then was immediately slammed by selling/shorting and closed down 7% on the day – a 13% intraday swing. And this was on a stock that had NO magnificent run-up into earnings that would justify a "sell the news" reaction. It was truly bizarre. Traders were dumbfounded to see a company literally "knock the cover off the ball" on earnings and guidance, only to be pummeled.
On various stock message boards, investors were screaming bloody murder,
"Why is the stock going down when they blew away earnings and upped guidance??"
and
"Call the SEC!" "Manipulation!"
So, clearly, someone did not want RBCN's shares to run up.
And if some hedge fund wants to spend money to short a company down, it's legal.
So, here is a case where the investment banking for Company A (perhaps it is GT Solar) didn't want Company B's shares (e.g. RBCN) to be too close to the buyout price or above the buyout price because Company B's shareholders and management simply wouldn't accept the offer. But if, say, the stock is trading at $23 and a $30 takeover offer is tendered, that's at least an attractive 30% premium for the selling company. Additionally the buying company doesn't look like it is overpaying to acquire Company B.
IS GT SOLAR CAPABLE OF BUYING RUBICON?
GT Solar could tender a cash & share offer as many companies do. In fact, GT Solar did exactly that when it
acquired Crystal Systems Inc
. last year. Clearly, RBCN is a bigger purchase, but given that GT Solar wants to grab market share in the high-growth, high-margin Sapphire substrate sector, it makes strategic sense. And after all, didn't the company say it would like to "acquire or obtain SIZEABLE market share?" RUBICON is the key "sizeable" competitor.
As a proportional example, consider the
Hertz (NYSE:
HTZ
) buyout offer for Dollar General (NYSE:
DG
) recently. Hertz also has a market cap of about 3 times the size of Dollar General and they tendered a Cash & Stock offer.
A BALANCE SHEET THAT GIVES GT SOLAR A SWAGGER
With GT Solar's
just-announced "largest ever" $460.4 million order
for Sapphire Crystalization Furnaces, GT Solar will be in an even better position to take out a company like Rubicon. In fact, the $460.4 million order alone eclipses Rubicon's enterprise value of $446 million.
As of April 2,
GT Solar's stated backlog was $1.2 billion
. With this order, their backlog increases to $1.66 billion -- enough to give GT Solar a confident swagger if it were on a shopping spree for Sapphire sector acquisitions.
The order also makes it more apparent that GT Solar will control the market for Sapphire Crystalization Furnaces -- while Rubicon appears to primarily sell Sapphire substrates, not the furnaces. Although GT Solar also makes substrates, the RBCN purchase would fit well.
Additionally, GT Solar making further acquisitions in the high-growth Sapphire/LED segment explains why it will be changing its name from "GT Solar" to "GT Advanced Technologies" over the next few months because it would be less of a solar company and more of a Sapphire/LED company.

Compared with a year ago, GT Solar is now in an excellent position to take out Rubicon.
CONCLUSION
Based on company statements, we know GT Solar is probably shopping for acquisitions to grow market share in the Sapphire business for the LED market.
GT Solar will be hosting a conference call June 14, to discuss some material information about their Sapphire business, just after stating it wants to "acquire or obtain market share" in this niche.
Rubicon is a very likely target.
GT Solar acquiring Rubicon would result in the two companies becoming the
single dominant juggernaut
in the Sapphire substrate industry serving the LED sector. It makes strategic sense. Tune in to the GT Solar
Conference Call on June 14
for more gems.
Disclosure: I have no positions in any stocks mentioned, but may initiate a long position in RBCN, SOLR, CREE over the next 72 hours.

Disclaimer: The author makes no warrant for the accuracy of the content herein other than the links provided to traditional online sources of information for verification purposes. Additionally, investors shall not take any comments stated herein as advice to buy or sell any equities and if investors do so, they acknowledge that they have done their own proper due diligence and proceed at their own risk.