U.S. stocks tumbled to close out the holiday-shortened week as non-farm payrolls rose by an abysmal 54k, well short of analyst estimates, pushing the unemployment rate up to 9.1%. The Dow tumbled by 97 points on the session while the S&P 500 fell by roughly 1% and the Nasdaq led all three on the downside, losing close to 1.5% thanks to weakness in the telecom and semiconductor segments of the market. Thanks to this continued weakness in the equity markets - it is the fifth straight week of losses for the Dow - traders sought exposure to commodities and Treasury bonds instead as metals rose and T-bond yields fell, once again flirting with the 3.00% mark.
Despite the inflows to Treasurys, the U.S. dollar turned in a very weak performance once again against most of the world's other major currencies. The greenback slipped by close to 1.5 cents against the euro and suffered half cent declines against the pound and Aussie dollar as well. Additionally, dollar weakness likely came from the fact that now many traders are postponing their expectations for when the Fed will raise rates. "It pushes back expectations to when the Fed can start to renormalize policy, probably well into 2012 before we see an increase in the fed funds rate," said Robert Dye, senior economist at PNC Financial Services in Pittsburgh.
One of the biggest ETF winners on the day was the SPDR Barclays Capital International Treasury Bond Fund (NYSEARCA:BWX) which gained 0.8% in Friday trading. These gains came as traders increasingly sought the safe havens of government bonds across the world as a way to protect against a further economic downturn in the U.S. So while T-bills are usually pretty popular in times of economic hardship, their international counterparts stole the show today as a way to avoid the increasingly poor economic situation in the United States. Additionally, the weakened dollar made this fund even more attractive as BWX holds bonds denominated in local currencies and not U.S. dollars. Due to this, any future or current coupon payments are likely to be worth more when changed back into greenbacks should the dollar remain weak, further increasing the appeal of this fund heading into next week.
Click to enlarge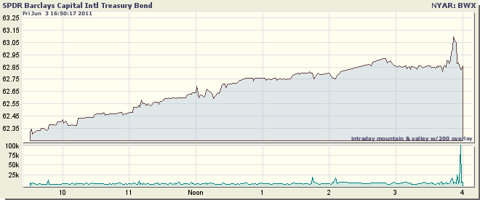 One of the biggest losers in the ETFdb 60 was the iShares FTSE China 25 Index Fund (FXI) which sank by 2% in Friday trading. In additional to investors pulling assets out of risky emerging markets, Chinese securities sold off during today's session thanks to some more weak data from the Middle Kingdom. First, China's PMI dropped to the lowest level in three quarters, sinking to 52 from the 52.9 reading in April. This suggests that manufacturing activity is beginning to slow down in the country, potentially signaling that the country's tight credit controls are finally working. Additionally, car sales were down 1% in May when compared to the year-over-year figures and were down double digits when compared to April figures, signaling that Chinese consumers are having a tough time as well. Thanks to these two data pieces, many investors sold off Chinese securities such as FXI today, choosing to instead focus on safer assets in either the bond or precious metals space which saw much less volatility in Friday trading.
Click to enlarge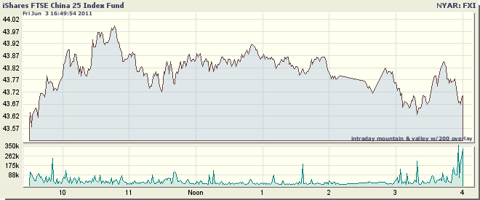 Disclosure: No positions at time of writing.
Disclaimer: ETF Database is not an investment advisor, and any content published by ETF Database does not constitute individual investment advice. The opinions offered herein are not personalized recommendations to buy, sell or hold securities. From time to time, issuers of exchange-traded products mentioned herein may place paid advertisements with ETF Database. All content on ETF Database is produced independently of any advertising relationships.