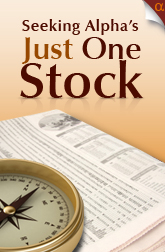 Several times a week, Seeking Alpha's Jason Aycock asks money managers about their single highest-conviction position - what they would own (or short) if they could choose just one stock.
---
Russ Kaplan founded Russ Kaplan Investments in 1983 and serves as investment adviser representative. An RIA, he's also on the adjunct faculty at the University of Nebraska at Omaha.
If you could only hold one stock position in your portfolio (long or short), what would it be?
MKS Instruments (NASDAQ:MKSI).
Tell us about the company behind the stock.
MKS Instruments is in the machinery industry, specializing in the semiconductor field. The company was established in 1961 to develop advanced measurement instruments. Currently it is the leading company in the world for developing, manufacturing and supplying of instruments used to measure, control, and evaluate gases used in semiconductor manufacturing. It also produces equipment for manufacturers of fiber optics, flat panel displays (monitors and television sets), gas lasers and solar lasers. The company operates an extensive network of customer support and service centers around the world.
MKSI has shown their great ability to adapt in our ever-changing world for the past 40 years, and the semiconductor industry is a highly evolving field. Semiconductors are a basic component used in various kinds of electronic circuit elements (semiconductor devices) used in communications, control, and detection technology, and computers.
The company had its first initial public offering of 500,000 shares at $14 per share in March 1999. In the last 12 years, the stock has doubled in value.
How is MKSI positioned with regard to competitors?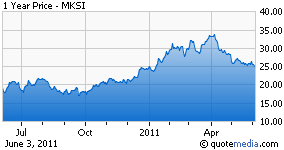 MKS Instruments is bigger and has more revenue than its main competition, Advanced Energy Industries (NASDAQ:AEIS). As I mentioned, the company has a solid reputation for innovation and technology advances. It has more than 500 patents worldwide and more than 250 degreed scientists and engineers working at the company. MKS has received many awards recognizing leadership in products, technology, innovation and manufacturing. Approximately 57% of its business comes from North America and the remaining 43% from other countries.
Although a small company, MKS is in excellent financial shape and one of very few companies to have zero long term debt, leaving little chance of bankruptcy and a lot of flexibility here.
Earnings have skyrocketed in the last few years, and 2011 represents the first year the company started paying a dividend, which is above average and probably will be increased in the future.
How does its valuation compare to its competitors?
Both MKS Instruments and Advanced Energy Industries are undervalued companies and attractive to the long-term investor. However, due to the recession, I believe it is best to stick to the more successful company. With regard to price margins, the cost of generating revenues declined by 11.2% and operating expenses declined by 6.3%.
Does your view differ from the consensus sentiment on MKSI?
Because MKSI is a smaller company, the few analysts who do follow it take a neutral stand towards the company. However, as more analysts in the Wall Street community begin to follow the company, they will soon see the value in this gem of a stock.
Since MKSI's rebound from a few years ago, its P/E ratio (just under 9) seems lower than instrument-makers overall, which are often in the teens. Is it possible that it could end up even more of an inexpensive pick if it follows through on expected 20% annual earnings growth?
Much research has shown that low price/earnings stocks over time outperform high price/earnings stocks. In this case I think the reason for that will be that investors do not appreciate MKS Instruments' growth potential.
Does management play a role in your selection?
Regarding what I consider the most important factor, the top management has invested a significant portion of shares of the company, 4.6% of the company's shares. The chairman of MKS Instruments, John Bertucci, owns 2.7% of them. If the leadership is heavily invested in the company's stock, it shows their commitment to its long-term success.
Also, the company operates successfully with no debt, and its cash reserves increased approximately 60% in 2010.
What explains why others disagree about investing in MKSI?
In my opinion, I think others are taking a "wait-and-see attitude" because the semiconductor industry runs in cycles, and the country continues to remain in a recession.
What catalysts, near-term or long-term, could move MKSI stock significantly?
MKS Instruments recently introduced a dividend to its investors, which is a positive development. It also fits the criterion that a major company would find attractive who may be interested in buying MKS Instruments in the future.
Another factor of their continuing growth could be caused by the increasing consumer demand for its products. Semiconductors are in almost all electronic equipment, including smartphones, tablet PCs and electronic reading devices such as the Kindle and Nook, among other things.
The solar power business is a field that MKS is expanding into. It's received some large orders from the major Chinese solar manufacturers for its RF power supplies, matching networks and vacuum-related products; all are scheduled to be fulfilled this year.
Further down the road, its expansion into other markets such as biopharmaceutical drug development, beverage manufacturing, light-emitting diodes (a two-element semiconductor through which currents can pass freely in only one direction), and furthering developments of solar power show good promise.
What could go wrong with your pick?
Time and again, as we see over and over in the high-tech industry, there is always the possibility that another company could come up with a better product. In the short term, a double-dip recession would probably cause this stock to go down. However, in the long term, I think it will remain the leading company in its field since they have plenty of revenue to continue to invest in research and development of new products that meets the needs of its consumers.
Thanks, Russ, for sharing your choice with us.
Disclosure: Long MKSI.
Read more Just One Stock interviews »
If you are a fund manager and interested in doing an interview with us on just one stock position you'd hold, please email us at Just One Stock.