The world's growing shortage of accessible clean water has opened up a market opportunity for Ecolab Inc. (NYSE:ECL), which has bolstered its line of cleaning and sanitizing products with one that drastically cuts water use for food and beverage businesses.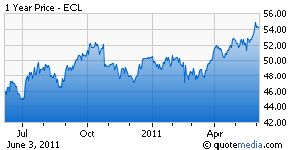 Called DryExx, it's a silicon-based lubricant used for moving bottles, cans and other containers down conveyor lines. In the past, food and bottling plants relied on wet lubricants basically made of soapy water to accomplish the same goal.
DryExx can cost up to 20 percent more than the wet lubricants. But Ecolab's claim that it could reduce water use on conveyor lines by as much as 97 percent struck a chord with many companies, said Jeff Montayne, vice president of research and development for the company's North American food and beverage business. "They were extremely receptive because it addressed their sustainability goals," Montayne said.
The original formulation of DryExx that was developed for plastic conveyor lines has been around for about four years, with customers that include such food and beverage heavyweights as Pepsi Inc., Coca-Cola Co. and Campbell Soup Co. Late last year, Ecolab launched a second formulation that can be used on stainless steel lines, the type used for glass containers.
The new formula opens up a whole new set of potential customers, said Nels Anderson, senior marketing manager for Ecolab's beverage, brewing and aseptic business. Stainless steel lines are used for glass containers; most food and beverage plants outside the United States are heavy users of glass. Ecolab, does business in more than 70 countries, with foreign sales that accounted for about 48 percent of the company's $7.2 billion in revenue last year. A key goal this year is to improve sales growth and profitability in Europe. Longer-term goals include establishing the company as a market leader in such emerging economies as China, India and Brazil.
Citrus Systems Inc., which already uses the original DryExx on its plastic conveyor lines, is considering buying the new product for its stainless steel line, said plant manager Greg Nicholas. The company currently uses the dry lubricant on lines for plastic bottles, cups and cardboard cartons of juices and teas sold to hospitals, nursing homes, hotels, school districts and the military. The new formulation would be for a line that handles bottles for dairy cases, he said.
Nicholas estimates the business, which operates out of a 72,000 square foot plant in Hopkins, has cut its water bill by about $3,500 a year since it started using the dry lubricant about two years ago. Using less water also has extended the life of the conveyor lines' chains, an additional $3,500 savings per year, he said.
Other benefits are harder to quantify, but significant, Nicholas said. The water-based lubricant contributed to a generally damp atmosphere in the plant that could make cartons so soggy that they had to be thrown away. "Floors would get wet. We had workers slip and fall," he said.
Anderson said the benefits Citrus Systems has seen are typical of those experienced by other customers.
"The operational savings dwarf the initial savings on the water bill," he said. Using less water means spending less to treat waste water. Water spray nozzles tend to get clogged and have to be cleaned more often, a practice that requires shutting down a conveyor line.
Using more water also can create a breeding ground for bacteria in spray nozzles. "In South America, there's typically a system of capturing wastewater in cisterns and reusing it in lubricants," he said. Even though bacteria might not get inside a bottle, it could get on the outside and get transferred to people's hands, he said.
Susan Feyder --612-673-1723
___
To see more of the Star Tribune, or to subscribe to the newspaper, go to http://www.startribune.com/.
Copyright (c) 2011, Star Tribune, Minneapolis
Distributed by McClatchy-Tribune Information Services.
For more information about the content services offered by McClatchy-Tribune Information Services (MCT), visit www.mctinfoservices.com, e-mail services@mctinfoservices.com, or call 866-280-5210 (outside the United States, call +1 312-222-4544)