El Paso Corporation (EP) has initiated plans to unlock shareholder value. EP plans to spinoff its exploration and production unit by December 31, 2011. EP will retain midstream and pipeline interests.

The exploration and production spinoff (Spinco) has not been named. Spinco will be a stand alone independent exploration company. The company is well capitalized and has an experienced management staff in place. EP management provided 2012 guidance stating Spinco is projected to achieve a 20% year-over-year EBITDA growth rate. EP will not retain an ownership stake in Spinco.

The 2012-EP offers the following value proposition:
a significant ownership stake in El Paso Pipeline Partners (NYSE:EPB),
targets a 60-cents per share annual dividend,
focus upon the midstream synergies with the pipeline operations,
ownership of incentive distribution rights,
concentration in Rockies and in southeast U.S.
EP's business entity will be similar to Kinder Morgan (NYSE:KMI). Kinder Morgan owns incentive distribution rights of KMP. Kinder Morgan has a vested interest in Kinder Morgan Energy Partners (NYSE:KMP). KMI's success with incentive distribution rights has provided the initiative for other companies to embrace the general partners' IDR ownership structure. EP's success will depend upon EPB continuing to deliver the solid growth rates since its 2007 IPO.

As of May 15th, 2011, public shareholders own 56% of EPB as a limited partner. EP owns 42% of EPB as a limited partner. EP owns 2% of EPB as a general partner. EP management has not released the specific ownership stakes in the post-spinoff EPB.
Click to enlarge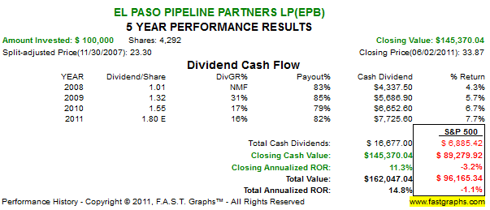 EPB's returns have been nothing short of amazing since its 2007 IPO. The dividends have grown at a 20%+ annual growth rate between 2008 to 2010. The 5-year performance results table shows the total annualized rate of return to be an impressive 14.8%.

On June 3rd, EP, EPB, and Wyoming Interstate Company (WIC) entered - as borrowers - into a revised credit agreement. The terms are for up to $1-billion with Bank of America for 5-years. This is an unsecured credit facility, and replaces a prior $750 million credit facility. WIC is 100% owned by EPB.
Click to enlarge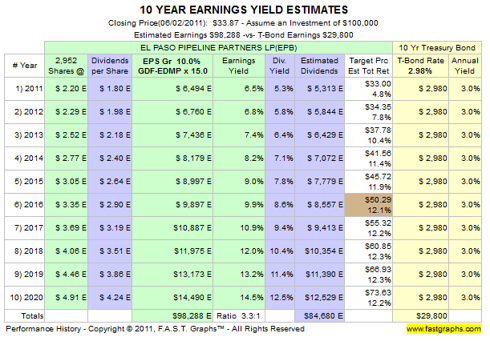 For purposes of calculating the 10-year earnings yield table, I assumed 2011 EPB earnings will be $2.20 and 2011 EPB dividends will be $1.80. Based upon these starting numbers and a 10% earnings and dividend growth rate, the 5-year and 10-year projections look very appetizing. A 5-year projection results in 2016 earnings projected at $3.35 per share, and 2016 dividends forecast at $2.90 per share. The past growth rates have been higher than the 10% growth rates used in the above table's calculation.

The spinoff will be a catalyst for a) EP and EPB, and b) Spinco to focus upon its individual strengths. The credit standings should improve for EP. Synergies can be brought in for each organization, which complements their respective business models.


Disclosure: I am long EPB, KMI.