There has been a rash of recent papers looking at the "monetary" tightening of 1937 which killed the ongoing recovery from the recession of 1929 – and extending the Great Depression.
An Liberty Street Economics paper (New York Fed) is the most recent and includes the following terrifying graph of the consequences of tightening (click to enlarge images):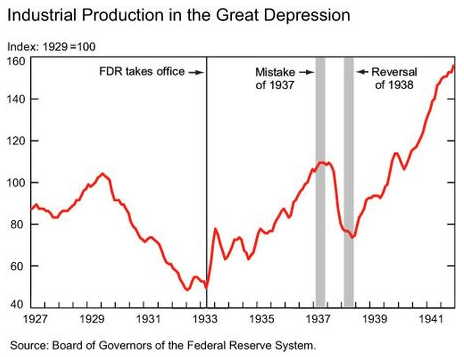 The implication in all discussion of the 1937 recession centers on a view that the economy was beginning to overheat and "monetary" tightening occurred. Most people automatically assume this means the Federal Reserve raised the discount rate.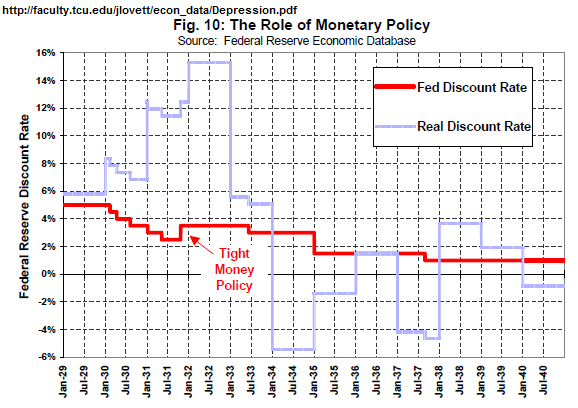 Let us say the Federal Reserve Discount Rate remained very low for extended periods of time – and this policy continued well past 1937. And inflation was not much of an issue in 1937 with CPI inflation at 5% when the "tightening" started.
So the tightening in 1937 was the government balancing the budget – fiscal, not monetary policy. In 1937, government spending contracted 20% in a single year. This tightening happened over 7 years after the Great Depression began. One could argue trying to cut the federal budget by 20% in a single year is recessionary.
There have been discussions about the increase of bank reserve requirements 1936-37 (they were doubled!) and whether that was a proximate cause of the 1937 downturn. That interpretation has been vigorousl;y debated, so we will decline to name it as a primary cause and lay the error directly at the door of fiscal policy mistakes.
Yet, we are not the Great Depression – there are as many similarities as differences. In 1937, the government was not in the same debt situation – and the economy was young and had the potential to grow.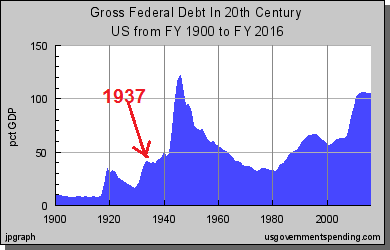 Today, it boils down to Sophie's Choice – balancing the growing headwinds economic of sovereign debt with economic headwinds of government spending cutbacks. Tails we lose, heads we lose.
Economic News This Week:
Econintersect's economic forecast for May 2011 indicates a peaking of this current economic sub-cycle. In simple words, the same rate of improvement of the moderate recovery seen in March and April will continue in May.
This week the Weekly Leading Index (WLI) from ECRI declined from 5.0% to 4.9%. This level implies the business conditions six months from now will be approximately the same or slightly improved compared to today.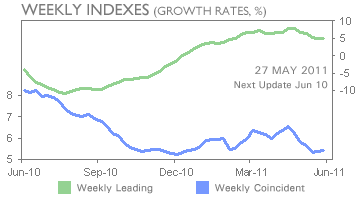 The four week moving average of initial unemployment claims again fell slightly this week. As the data has been quite noisy, the 4 week moving average is the best way to view the data.

We are continuing to see terrible April and May 2011 data. Econintersect's economic forecasts predicted a growing economy but at cycle peaks. The data being released indicates we are on the downside of cycle peaks – with the cycle peak likely being in March, or possibly April 2011. The data is less good, but not contracting YoY.
Weekly Economic Release Scorecard:
| | | |
| --- | --- | --- |
| Item | Headline | Analysis |
| May Employment | +54,000 | +83,000 comparable to ADP – but decline was predicted by our economic model |
| May ISM Services | Up | Services unlikely is up MoM – but this is a survey, not data |
| April Manufacturing | Down | Barely positive YoY growth – and the data is weak across the board |
| Economic Modeling | | Steve Keen shares his approach to modeling macroeconomics |
| May ISM Manufacturing | Less Good | Overall not as weak as the headline suggests |
| April Construction Spending | Up | Not only is construction down, but in a negative trend reversal due to data revisions |
| May ADP non-farm private jobs | +38,000 | Really terrible data |
| May Conference Board Consumer Confidence | Up | Doug Short shows confidence remains a recessionary levels |
| March Case-Shiller | Down | Down but we know the normal spring price upswing is underway |
| June Economic Forecast | | Less good |
| China Debt | | Michael Pettis looks at whether China's high-growth investment-driven model has reached its limits |
| USA Health Care | | Elliott Morss points out what needs to be fixed |
| USA Laws & Legal Systems | | Washington Blog shows the USA has turned into a nation of secret laws |
| USA Future | | Robert Reich lays out what it will take to bring the USA economy back to prosperity |
| Euro and Debt Crisis | | Michael Hudson's perspective is that Debts that Can't be Paid, Won't Be |
| USA Fiscal Policy Failure | | David Rosenberg believes the USA solution is to follow Canada's lead |
| China & USA | | Frank Li believes the USA must be more like China, and China must become more like the USA. |
| Equilibrium | | Dirk Ehnts elaborates on economic models which must take into consideration the monetary side |
| Health Care | | Rick Davis wants health care revisited, this time focusing on cost reduction, not universal coverage |
| USA Macroeconomics | | MacroTides views conditions creating weak growth and exposure to negative surprises |
| NYC Home Prices | | Keith Jurow's investigation shows housing prices ripe for collapse |
| Brazil, India, China | | MacroTides warns of risks |
| Chinese Stocks | | Erik McCurdy charts out his bearish medium term position |
Bankruptcy This Week: Axiom Management

Disclosure: I have no positions in any stocks mentioned, and no plans to initiate any positions within the next 72 hours.