The stock market story of the year has yet to break. It wasn't the LinkedIn (NYSE:LNKD) IPO. And it will not occur when Groupon (NASDAQ:GRPN) or Pandora (NYSE:P) goes public. It's got nothing to do with iClouds, iPhones, or iPads (well, maybe something). And it will not be about a correction, a market crash, or quantitative easing.

It will be all about the coming implosion of Research in Motion (RIMM).

RIM has yet to completely implode. Despite the complete and utter destruction RIM has suffered since March, I truly believe it will get much worse. In fact, I think the Jets win their first game back in Winnipeg before RIMM shares have a winning month on the stock market.

(Chart courtesy of FreeStockCharts.com; Click to enlarge)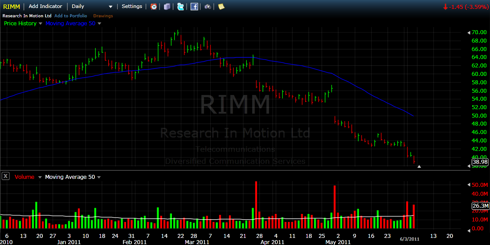 Click to enlarge

Despite how closely I and others have covered the irrefutably bearish story, I don't think the true gravity of the situation has settled in. In a rush to cover the story as it stands today or in an attempt to call the bottom, many investors have ignored the RIM story that has yet to unfold -- the almost inevitable disconnect between analyst estimates for RIM quarterly and full-year earnings and the company's comical, if not delusional guidance.

Here's how the numbers stack up courtesy of Briefing.com's InPlay service:

(Click to enlarge)


Click to enlarge

Focus on the guidance I called out with the red marks drawn by my unsteady hand. While I believe the coming quarter will likely be shaky, my focus -- and probably the street's as well -- will be on FY2012 guidance. Already, analysts are stepping up to slash their RIMM full-year estimates, but the company still sticks to what would be nothing less than a Herculean FY2012 EPS of $7.50.

On Friday, Sterne Agee lowered its FY2012 forecast:
[Sterne Agee] reiterates a Neutral rating on RIM shares and cut his price target to $44 from $52 previously. [Analyst Shaw] Wu cut his EPS estimate for this year to $6.35 from $6.65. Again, RIM has stuck with its corporate forecast of $7.50 per share. For 2013, he sees $6.55 in EPS (emphasis added).
UBS analyst Amitabh Passi was even more pessimistic for the year:
Passi cut his estimate for the current quarter to $5.4 billion in revenue and $1.34 in EPS from a prior $5.8 billion and $1.51, and cut his year estimate to $22.5 billion and $5.59 from a prior $25.3 billion and $6.75. For reference, management has stuck to a projection of $7.50 a share in earnings this year, something of which several analysts have been skeptical (emphasis added).
Peter Misek of Jefferies & Co. lowered his estimate before Wu and Passi got around to it, calling for EPS of $5.50 for FY2012 compared to -- it never gets old laughing at this -- management's "guess" of $7.50.

I've been skeptical for about two months. When RIM lowered its Q1 guidance -- the company reports those earnings on June 16 -- it held fast to the FY2012 prediction. Here's what I said then:
According to Briefing.com's InPlay service, RIM did something else I have a hard time believing. On Monday morning, the company reaffirmed its FY2012 EPS of $7.50. The consensus estimate stands at $6.62. After guiding down for Q1, RIM expects enough of a Q3 and Q4 rebound to easily beat estimates for the year. They hinge this prediction on "anticipated strong revenue growth ... driven primarily by the launches of new BlackBerry smartphone products and prudent cost management." They're better off heading north to Woodbine and putting it all on a long shot in the 8th race.
These are phones originally expected to hit the street this summer. I was skeptical on that timeline then. Now I am beyond doubtful given the latest from the BoyGeniusReport:

(Click to enlarge)


Click to enlarge

And the previous week's sour update from Misek via Barron's: (Click to enlarge)


Click to enlarge

I hope putting all of this information in one place helps highlight the seriousness of the situation. Even if RIM manages to somehow eke out a decent Q1, there's no way this works out well. Ahead of earnings, expect more analysts to lower estimates. Also, expect analysts to ignore anything the company says about Q1 earnings; it means nothing. All everybody cares about is guidance.

If RIM doesn't lower guidance, management will continue to get laughed out of the building, as they set themselves up for an even harder fall. If they do guide down for upcoming quarters and/or the year, RIM could breach $30 before the end of the month. Unless the company gets bought out or orchestrates some sort of majestic turnaround, I think you will be able to pick up shares of RIM in the teens before the holidays.

Nothing's going right. Alongside the disaster I just outlined, RIM continues to lose smartphone market share and could, according to another analyst, report lackluster PlayBook sales on the 16th. Management seems to no longer have a grasp on the business. CEO Jim Balsillie tipped me off to this back when he was unable to quantify corporate demand for the PlayBook. There's a reason why he could not cite specifics; enterprise no longer wants his products. They're turning, increasingly, to gadgets, such as Apple (NASDAQ:AAPL) products, employees actually want to use. And that might just be the end to RIM's list of problems:
Earnings estimate/guidance disconnects

Smartphone delays

Shrinking smartphone market share

Weaker-than-estimated PlayBook sales

Enterprise exodus
In the above-referenced article from March where I wrote about Balsillie tripping over himself regarding PlayBook demand, I suggested you "pick a put, any put" to play RIM's sad fate. That call stands, likely until they drop the puck in Winnipeg, not Hamilton (it's been a bad year for Basillie ventures), come October.

Disclosure: I have no positions in any stocks mentioned, and no plans to initiate any positions within the next 72 hours.