As outlined in the previous two editions, The Future of the Narrowbody Market and How to Play the Upswing in Commercial Aerospace, expected deliveries of commercial planes are set to advance considerably in coming years. Though we'll examine the regional-jet makers--Bombardier (OTCQX:BDRBF) and Embraer (NYSE:ERJ)--in part 4 of this saga, in this third edition, let's dig into the valuation and potential upside of Precision Castparts (NYSE:PCP), one of the best long-term plays on commercial aerospace demand. We'll also dive into an interesting small-cap play and a compelling micro-cap opportunity in the aerospace supply chain.
For new readers to this series of articles and analysis, let's briefly review the trajectory of large commercial aircraft deliveries during the next several years. Aside from the fundamental drivers (replacement planes, emerging-market growth, etc.), Boeing (NYSE:BA) and Airbus are rapidly increasingly production of their workhorse narrowbody aircraft (737, A320) due to encroaching rivals, while rolling out (747-8, 787) and ramping up deliveries (A380) of brand new builds. Beyond 2015, look for large commercial aircraft (LCA) deliveries to nudge up slightly as a result of the ramp up of A350 deliveries (followed thereafter by a cyclical downswing).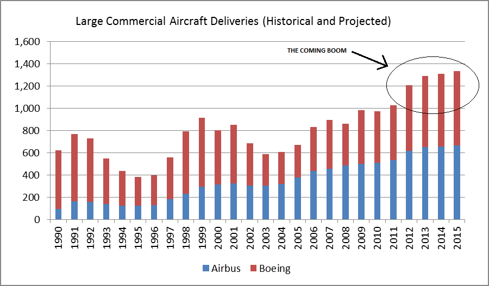 That said, let's move into a discussion on Precision Castparts. As mentioned previously, the metal-bender has an enviable position on all of the jet-engine programs of the major powerplant manufacturers (GE, Rolls Royce (OTCPK:RYCEY), Pratt & Whitney)--spanning such platforms as the A380 double-decker, 787 Dreamliner, and A350. Plus, the firm has been working with these jet makers for decades and has secured increased dollar-content (revenue per engine) on future programs. Aside from this nice tailwind in its investment cast products segment, the firm will also benefit from the future pace of new aircraft deliveries in its forgings and fasteners segments, which round out its aerospace portfolio.
With that backdrop, let's examine Precision Castparts' potential upside. As outlined in Boeing Has Upside, Suppliers to Benefit From Boom, commercial OEMs and aircraft suppliers often benefit from the market's short-sidedness, which results in the application of a hefty multiple on future earnings, assuming the near-term picture remains bright at that time. As the commercial aircraft delivery upswing ensues--when the major OEMs achieve near-term targets for 737/A320 production and the first customers of the 787 and 747-8 take delivery--look for the market to eventually place an inflated multiple on future earnings of most participants at some point during this upswing. In Precision Castparts' case, we're already there, with this low-cost metal bender garnering an earnings multiple consistent with historical peaks. Therefore, most equity appreciation for the firm will most likely be driven by earnings expansion during the next several years.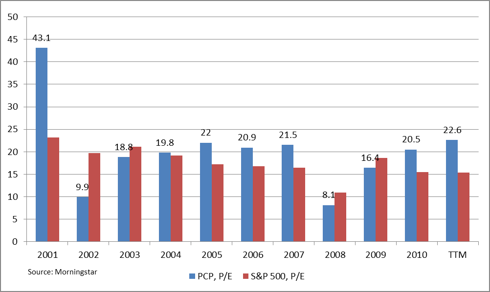 After viewing the chart above, Precision often garners a multiple in the high-teens / low 20s on trailing earnings during strong times in the aerospace sector. Interestingly, during the peak of the previous aerospace delivery cycle (in calendar 2007), the firm garnered roughly a 20x multiple on forward earnings for fiscal 2009 (which turned out to about $7.50). So, with this ballpark 20x multiple in mind (on a forward basis), let's examine Precision's earnings trajectory during the next few years.
Assuming metal price pass-throughs do not generate material gyrations in revenue (a base-case forecast), the firm's top-line should expand roughly in step with large commercial deliveries (with some adjustment for lead time) in coming years-- the aerospace end market generates about 60% of the firm's total revenue with power and general industrial accounting for the balance). Also providing additional tailwinds to revenue expansion are share gains via previous acquisitions and higher dollar content per aircraft. Further, the firm's operating margins should expand in coming years thanks to higher throughput (operating leverage) and continued cost-containment.
Click to enlarge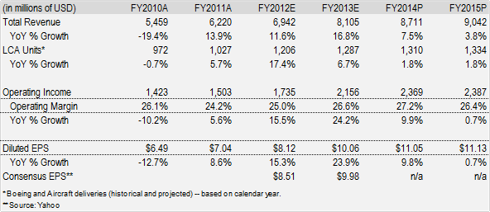 In fiscal 2013 (ending March 2013), Precision is expected to earn roughly $10 per share, with significant earnings expansion expected in the following year (fiscal 2014). Based on historical market tendencies and the trajectory of the firm's growth, it would not be surprising to see Precision trade up to near $200 per share (20 x 10) within the next couple years.
But how attractive is Precision on a discounted cash-flow basis? Using the same forecasts that resulted in the table above and expanding the horizon to 10 years (an appropriate period given that commercial aerospace cycles last about 7 years from peak to subsequent peak; view the delivery chart above), Precision's shares are worth between $130 to $140 (assuming a discount rate in the high-single-digits), representing little downside risk from today's levels. Importantly, utilizing a discounted cash-flow process is one way to sort out or dismiss claims regarding earnings quality.
Click to enlarge

In short, Precision's shares have substantial valuation support at the $130 level and could rise to as much as $200 during the coming upswing. Investors should pick an entry point that best suits their given level of risk.
What About Other Commercial Aerospace Suppliers?
The aerospace supply chain is littered with public suppliers, and investors should expect a rising-tide-lifts-all-boats phenomenon in coming years, with perhaps the best performers being the ones that are least-followed on the street.
First, a small-cap name for your watch list is Astronics (NASDAQ:ATRO), a maker of lighting systems and electrical power systems for the commercial (nearly 60% of revenue) and military and general aviation markets. The company's electronics products provide in-seat power for passengers and power in-flight entertainment systems (IFE) found on commercial jetliners. Astronics is benefiting from a trend of increasing IFE and in-seat power on new generation aircraft and has a decent position on new builds such as the 787, A380, and A350. Though customer concentration is some risk (Panasonic Avionics Corp. accounts for about 27% of sales), the firm should experience strong growth in the years ahead. Based on consensus estimates for next year, the company is trading at less than 13x earnings on sales growth of about 15% (check out the firm's most recent presentation here). With a market cap of less than $300 million, Astronics is not on many investors' radar screens.
To wrap up this third installment, we'll close with the mentioning of one micro-cap play whose respective equity can largely be viewed as a call option on future aerospace growth. This firm needs very little to go its way during the coming upswing to really move the needle with respect to operating and share-price performance. This company is EDAC Technology Corp. (NASDAQ:EDAC), a $20 million market cap (yes, that's not a typo: it's tiny) supplier of precision components (jet engine parts, special tooling, etc.) to the aerospace sector. United Technologies (NYSE:UTX) is its largest customer at about 44% of revenue, and EDAC has secured a position on the firm's geared turbofan engine (high pressure compressor hubs, turbine disks, etc.), which is turning into a favorite powerplant among commercial OEMs in the narrowbody arena.
The firm is also a supplier on Boeing's 787 Dreamliner (fan cowl, fan blisk) and the Joint Strike Fighter (compressor integrated blade rotors, compressor fan case, etc.). In fact, less than five years ago, EDAC was producing parts for only one client and a single engine, but now the firm is on over ten major engine programs across a wider range of customers. Growth in backlog has been stunning, and thanks to a new multi-year $42 million agreement to supply additional engine parts to a leading European engine maker (announced this year), backlog now stands at over $171 million from about $140 million at the end of 2010 and just over $20 million in 2005--that's about 2.3x the firm's annual revenue run-rate and over 8x its market cap, revealing nice visibility.
EDAC is profitable and has negligible exposure to raw material cost fluctuations (it has a dollar-for-dollar passthrough to customers). Plus, the firm's first-quarter performance showed improvement over last year, and management indicated on the call that its order pipeline remains active. With daily dollar volume at just $44,000, institutional investors will not be too active in this firm's stock, and retail investors should view EDAC's equity as an interesting call option on future aerospace demand. EDAC could reach its previous highs of $6 per share during the coming upswing, offering 50% upside from today's levels.
In part 4 of this saga, we'll take a look at the regional jet makers--Bombardier and Embraer--and highlight a few other names in the aerospace supply chain that may be worth taking a look.
Disclosure: I have no positions in any stocks mentioned, but may initiate a long position in EDAC over the next 72 hours.