The stock market swirled lower over the past week as a barge full of U.S. economic data sank in stormy seas. But don't worry; we may actually be able to ride some of these swells to sizeable profits.
Indeed, weak soundings on the economy have hit stocks as a matter of routine over the past two years, and each time, after some rest, the bulls have charged on. This time could be different, but the odds are that low interest rates, a strong credit market and the accommodative monetary policy eventually will conjure animal spirits and rejuvenate prices.
The Standard & Poor's 500 Index, Dow Jones Industrial Average and the Nasdaq Composite all fell by 2.3% last week, while the Russell 2000 fell 3.4%. Overseas developed markets were flat, and emerging markets rose by 0.2%. Gold and crude oil also were flat, silver fell 4.6% and bonds sank by 0.05%. The biggest gainer in the past week was angst, as the CBOE Volatility Index rose 12.3%.
A lot of technical damage has been done to stocks, and some of the biggest stocks that the bull camp loves to own have been battered. But there is a big difference between being hit hard and being knocked out. The bears have repeatedly failed to land a knock-out punch in situations like this over the past nine months. Bulls, on the other hand, have repeatedly managed to rally to their feet and win all the rounds. There may be a time and place to get super-bearish -- and it might be as soon as next week -- but for now, there are still a lot of major stocks that are just working off the overbought condition of April.
I could pick out a lot of stocks to show this, but let's just look quickly at EMC Corp. (EMC), the data storage king that is arguably one of the four most important tech stocks these days (along with Apple Inc. (NASDAQ:AAPL), Amazon.com Inc. (NASDAQ:AMZN), and IBM Corp. (NYSE:IBM). It's also a key member of every technology and large-cap growth mutual fund, ETF, and managed account.
[Click all to enlarge]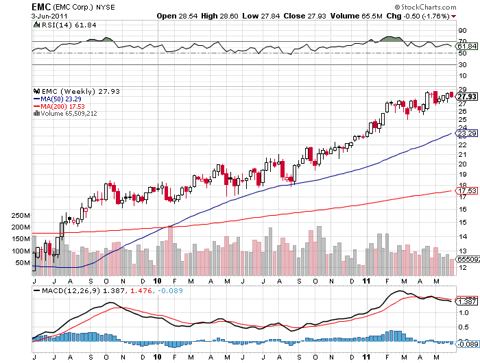 The most basic criteria for a bull market is for a stock to be above its 200-day or 40-week average, and that is represented by the purple line in the chart above. Earnings and revenue growth have been steady, and innovation has been lively. The chart is still making higher highs and higher lows, as shares were barely dented by the big down moves of mid-November of last year or March of this year. And it has a world of opportunity ahead, since its market is the backbone of the web revolution.
EMC's advance has lost a little momentum lately but remains solidly in the vanguard of the bull cycle. If it falters and sinks under its 30-week average, as it did in late 2007 just ahead of the credit-led bear market, or in late 2000, ahead of the tech-led bear market, then you can clear the decks and prepare for a major bear phase. But until then, no matter how soft the economic data, panic is premature.
In the short-term, though, bulls are in the fight of their lives. It's all about your time horizon. If given half a chance, bears in the coming week will try to push the S&P 500 under the 1,300 level. While that would seem bad, it would by no means be their main goal. Their true aim will be to push the market well under the 1,250 level.
Manufacturing on the Ropes
One big dud in the data last week came from the Institute of Supply Management's U.S. manufacturing index, which fell to 53.5 in May from 60.4 in April -- a 6.9-point move heralded by those declines in the Chicago, Philadelphia and Empire State regional surveys during the past two weeks. This was the largest decline since January 1984.
Manufacturing only makes up about 12% of U.S. GDP now and 14% of private-sector employment, according to BMO analysts, so this is not as big a deal as it may seem at first glance.
The fact is that manufacturing has been expanding for 22 months and now it is definitely slowing down. One reason for the negative number is that there is still a parts shortage from Japan that has depressed car making.
Watch the shares of United TechnologiesCorp. (NYSE:UTX), shown above. It is a fantastic company and a real industrial bellwether. If bulls abandon its uptrend, then they will abandon anything. The $82 level is critical. It should hold ... but if it doesn't, it will be a long, cold summer.
Raw Nerves
Why am I not more worried that this might happen? Maybe I'm whistling Dixie, but it seems to me that sentiment is already so weak that stocks are already priced for something terrible to happen. If the next round of data is merely dreadful and not horrible, then spirits will lighten. It's an expectation game.
Already last week, the latest economic data caused 34 of the 87 forecasters in the Bloomberg consensus to change their forecasts. And Jason Goepfert of Sundial Capital notes that virtually every economic indicator lately has come in below expectations.That has pushed the Citigroup Economic Surprise down to -90%, one of the worst readings in that indicator's eight-year history.
There have only been four times in the past eight years when it's been worse. In each of those examples, the market was at least near a short-term low. And in the one time it was this low during a bull cycle, late 2004, it was near the conclusion of a short-term "growth scare" that ultimately resolved higher.
If bulls now are so disheartened that their defenses give way and allow a decline under the 1,300 level of the S&P 500 that lasts more than a couple of days, bears will attack in a way similar to their raid in May-June 2010.That raid was hard to live through, but ultimately, the U.S. Federal Reserve and companies took matters into their own hands and pushed stocks up 30% over the next year.
The QE2 Context
So what are we to think of this trauma and drama? Let's put it in the context of the second round of quantitative easing (QE2) ending in a couple of weeks. The Fed invested $600 billion of taxpayers' hard earned dollars in a stimulation of the economy, but the result is not attractive, to say the least.
Let's just look at jobs: Roughly 700,000 jobs have been created since QE2 started. According to TIS Group analysis, that adds up to $857,000 per job created! Ugh. Also, the Fed said it wanted to support housing, yet housing prices were at least 6% higher across the country when quantitative easing started a year ago. Since the start of QE2 last fall, housing prices are down 2.5%.
As for stocks, the S&P 500 is up 20% since the autumn of 2010, when the second round of quantitative easing began, and the wealth effect is important. Yet those gains are wiped out by the decline in the value of the dollar. So, really, QE2 has not achieved much, which is pretty sad.
Yet there is a bright side. Just to be optimistic, which is in my nature, it is very possible that we have not yet seen the positive effects of QE2. One of the most intriguing economic cycle models that I follow -- the Economic Confidence Model developed by fugitive financier Martin Armstrong -- is actually calling for a low in confidence in the middle of this mid-month. After that, the model sees both the economy and confidence improving.
Considering that confidence is near a 40-year low, as shown yesterday, that is a pretty good bet. When you are at a 40-year low, the most likely next move is higher, not lower.
Disclosure: None