The most popular retail ETF by trading volume is the SPDR S&P Retail ETF (NYSEARCA:XRT), with more than 10 million shares traded a day. XRT seeks to replicate the total return performance of the S&P Retail Select Industry Index before expenses. The Retail Index is an equal weighted market index. The expenses are relatively low (.35% management fee and other costs relating to equity turnover within the ETF.) XRT has outperformed the S&P 500 (NYSEARCA:SPY) by about 150 basis points YTD as of 6/3/11.
I've read and seen a lot of commentary lately about the average American consumer being squeezed due to high unemployment, stagnant wages, falling home prices, inflation, etc. It certainly makes sense, but I'm not a shopping expert. Fortunately, (or unfortunately) my wife is really good at shopping. She is my resident expert in "retail," but has a limited concept of anything relating to the stock market. So, I asked her to name the biggest retail companies she could think of. She came back with Wal-Mart (NYSE:WMT), Target (NYSE:TGT), Amazon (NASDAQ:AMZN), and Kroger (NYSE:KR). Not a bad group, and I assumed these would be some of the largest positions in XRT. However they aren't: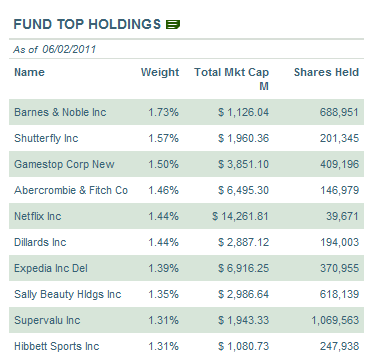 AMZN is the highest of my wife's guesses, and that is weighted 20th currently despite having the second largest "Retail" market cap. The other three fall much lower in the weightings despite their size. So,if you bought XRT recently, or plan to buy/short it, at least know what you are getting into. The largest weights are currently an assorted mix of both small and large cap companies. But, certainly not what I would have expected. WMT is the 46th largest holding in this ETF currently. In fact, Wal-Mart's market cap of 187 billion is bigger than the market cap of the first 22 holdings in this ETF combined. Yes, I'm aware that it's an "equally weighted" index and the largest holdings at this stage of the quarter are so large because they have outperformed the ones lower on the list. The next rebalance should get this back in line, and that may happen at the end of this month. My point is, know what you are getting involved in.
That brings me to the real thesis of this article. XRT is setting up nicely for a short opportunity. Unemployment is now 9.1%. Underemployment sits at 15.8%. Corporate earnings haven't been better, but with QE2 coming to an end soon, some would argue growth will be harder to come by. That could result in margin and P/E compression that leads to falling stock prices.
From a chart prospective, both the MACD and STO have crossed and are headed lower as seen in the red circles below. Selling volume has outpaced volume on positive weeks recently. Support has recently been broken. The May-August time frame of last year appears to be providing a nice road map for where we may be headed next. XRT has only traded significantly below the 20-week MA once in the last two years and that was during last years sell off from June-August. The real key to watch is the volume as last year had a really negative (red on chart) volume spike, which hasn't happened yet this Spring.
(Click chart to expand)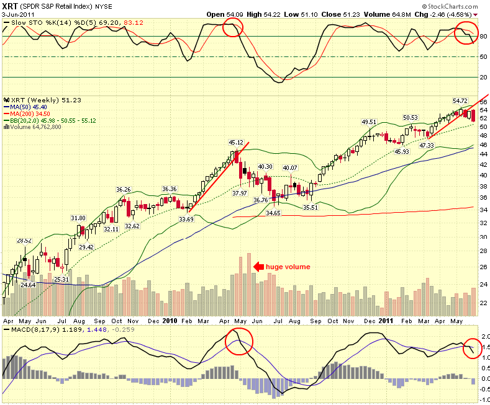 Click to enlarge
In closing, I believe the XRT could provide a nice short opportunity within the next few weeks. The free money policies of QE2 have flooded the system with liquidity, which has resulted in a quick and unnatural rise in commodity prices. This truly has squeezed consumers. QE2 will not be coming to a sudden end on June 30th, so commodity prices won't fall off a cliff. However, something to watch is if the current economic soft patch continues, it could cause oil and gas prices to drop resulting in more discretionary spending by consumers. As always, volume shows the way so look for a large weekly volume spike in the upcoming weeks on a downside move.

Disclosure: I have no positions in any stocks mentioned, and no plans to initiate any positions within the next 72 hours.