If you like to go with the trend and invest in dividend paying stocks, then this may be an interesting list for you. To compile this list we looked for companies with the following characteristics:
Trading above its 20-, 50-, and 200-day moving averages (MA).
Payout ratio below 35%.
Expected dividend per share greater than previous fiscal year dividend per share.

Interactive Chart: Press Play to compare changes in analyst ratings over the last two years for the top six stocks mentioned below. Analyst ratings sourced from Zacks Investment Research.
We also created a price-weighted index of the stocks mentioned below, and monitored the performance of the list relative to the S&P 500 index over the last month. To access a complete analysis of this list's recent performance, click here.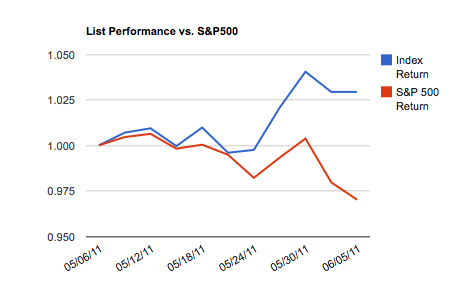 1. Ashland Inc. (NYSE:ASH): Chemicals Industry. Market cap of $5.12B. This stock is trading 3.91% above its 20-day MA, 7.83% above its 50-day MA, 18.66% above its 200-day MA. Dividend yield at 1.08%. Current year dividend per share estimate at $0.61 vs. last year's dividend per share at $0.45 - an increase of 35.56%. Payout ratio at 16.25%. The stock has had a couple of great days, gaining 6.99% over the last week.

2. Yamana Gold, Inc. (NYSE:AUY): Gold Industry. Market cap of $9.41B. This stock is trading 3.3% above its 20-day MA, 1.67% above its 50-day MA, 7.24% above its 200-day MA. Dividend yield at 0.95%. Current year dividend per share estimate at $0.12 vs. last year's dividend per share at $0.08 - an increase of 50.0%. Payout ratio at 16.72%.

3. Cascade Corp. (NYSE:CASC): Farm & Construction Machinery Industry. Market cap of $520.42M. This stock is trading 17.48% above its 20-day MA, 10.0% above its 50-day MA, 17.43% above its 200-day MA. Dividend yield at 1.69%. Current year dividend per share estimate at $0.8 vs. last year's dividend per share at $0.27 - an increase of 196.3%. Payout ratio at 15.4%. The stock has had a couple of great days, gaining 22.97% over the last week.

4. CBS Corporation (NYSE:CBS): TV Industry. Market cap of $18.19B. This stock is trading 0.32% above its 20-day MA, 4.86% above its 50-day MA, 32.97% above its 200-day MA. Dividend yield at 1.47%. Current year dividend per share estimate at $0.3 vs. last year's dividend per share at $0.2 - an increase of 50.0%. Payout ratio at 14.24%.

5. Coach Inc. (NYSE:COH): Apparel Footwear & Accessories Industry. Market cap of $17.91B. This stock is trading 0.46% above its 20-day MA, 6.79% above its 50-day MA, 17.71% above its 200-day MA. Dividend yield at 1.48%. Current year dividend per share estimate at $0.66 vs. last year's dividend per share at $0.38 - an increase of 73.68%. Payout ratio at 20.28%. The stock has gained 56.12% over the last year.

6. Forward Air Corp. (NASDAQ:FWRD): Air Delivery & Freight Services Industry. Market cap of $991.58M. This stock is trading 0.76% above its 20-day MA, 4.52% above its 50-day MA, 17.33% above its 200-day MA. Dividend yield at 0.83%. Current year dividend per share estimate at $0.59 vs. last year's dividend per share at $0.28 - an increase of 110.71%. Payout ratio at 22.31%. The stock is a short squeeze candidate, with a short float at 6.07% (equivalent to 10.52 days of average volume).

7. Herbalife Ltd. (NYSE:HLF): Drug Related Products Industry. Market cap of $6.59B. This stock is trading 2.68% above its 20-day MA, 16.35% above its 50-day MA, 50.16% above its 200-day MA. Dividend yield at 0.72%. Current year dividend per share estimate at $1.6 vs. last year's dividend per share at $0.45 - an increase of 255.56%. Payout ratio at 17.3%. The stock has had a good month, gaining 10.46%.

8. Coca-Cola FEMSA S.A.B de C.V. (NYSE:KOF): Soft Drinks Industry. Market cap of $15.90B. This stock is trading 1.5% above its 20-day MA, 5.69% above its 50-day MA, 9.46% above its 200-day MA. Dividend yield at 2.36%. Current year dividend per share estimate at $1.7 vs. last year's dividend per share at $1.21 - an increase of 40.5%. Payout ratio at 26.77%. The stock has gained 30.16% over the last year.

9. Lubrizol Corporation (LZ): Specialty Chemicals Industry. Market cap of $8.64B. This stock is trading 0.04% above its 20-day MA, 0.22% above its 50-day MA, 17.96% above its 200-day MA. Dividend yield at 1.07%. Current year dividend per share estimate at $1.64 vs. last year's dividend per share at $1.39 - an increase of 17.99%. Payout ratio at 12.73%. The stock has gained 64.02% over the last year.

10. Moody's Corp. (NYSE:MCO): Business Services Industry. Market cap of $8.98B. This stock is trading 1.04% above its 20-day MA, 5.75% above its 50-day MA, 31.25% above its 200-day MA. Dividend yield at 1.42%. Current year dividend per share estimate at $0.64 vs. last year's dividend per share at $0.43 - an increase of 48.84%. Payout ratio at 23.98%. The stock is a short squeeze candidate, with a short float at 9.74% (equivalent to 9.7 days of average volume). The stock has gained 112.1% over the last year.

11. National Semiconductor Corporation (NSM): Semiconductor Industry. Market cap of $5.97B. This stock is trading 0.54% above its 20-day MA, 8.44% above its 50-day MA, 54.45% above its 200-day MA. Dividend yield at 1.63%. Current year dividend per share estimate at $0.39 vs. last year's dividend per share at $0.32 - an increase of 21.88%. Payout ratio at 27.76%. The stock has gained 84.46% over the last year.

12. Nippon Telegraph & Telephone Corp. (NYSE:NTT): Telecom Services Industry. Market cap of $62.0B. This stock is trading 0.35% above its 20-day MA, 2.55% above its 50-day MA, 3.07% above its 200-day MA. Dividend yield at 2.64%. Current year dividend per share estimate at $1.13 vs. last year's dividend per share at $0.74 - an increase of 52.7%. Payout ratio at 31.16%. The stock has gained 17.98% over the last year.

13. Novo Nordisk A/S (NYSE:NVO): Drug Manufacturers Industry. Market cap of $85.98B. This stock is trading 2.63% above its 20-day MA, 1.27% above its 50-day MA, 15.28% above its 200-day MA. Dividend yield at 1.49%. Current year dividend per share estimate at $2.3 vs. last year's dividend per share at $1.94 - an increase of 18.56%. Payout ratio at 8.77%.

14. Standard Motor Products Inc. (NYSE:SMP): Auto Parts Industry. Market cap of $322.19M. This stock is trading 3.3% above its 20-day MA, 6.94% above its 50-day MA, 20.14% above its 200-day MA. Dividend yield at 1.99%. Current year dividend per share estimate at $0.28 vs. last year's dividend per share at $0.2 - an increase of 40.0%. Payout ratio at 17.25%.

Data sourced from Screener.co, Reuters and Finviz