As many followers of airline equities know, rising jet fuel prices and concerns about the global economy can translate into some fairly poor performance for airline shares. Today, perhaps unsurprisingly, the International Air Transport Association (IATA) cut its profit forecast for the airline industry by more than half to just $4 billion in 2011, (down from the $8.6 billion it had estimated in March). For perspective, the industry earned $18 billion last year. This equates to roughly a 0.7% net margin and raises the probability of yet another year of airline losses.
The major causes of this revision are well-known and have been in the headlines for weeks -- natural disasters in Japan, unrest in the Middle East and North Africa, plus the sharp rise in oil prices. The IATA revealed, however, that the rising cost of jet fuel is the main culprit for the reduced expectations, upping its estimate for the average price of Brent crude during 2011, to $110 per barrel (from $96). Notably, as the price of oil increases by just one dollar, airlines could find themselves paying as much as $1.6 billion more just to keep their planes in the air.
And while the domestic majors--United Continental (NYSE:UAL), AMR Corp. (AMR), US Airways (LCC), and Delta (NYSE:DAL)--have been trying to pass these increased fuel costs along to customers via higher fares and ancillary fees (checked baggage, etc.), such efforts will inevitably be challenged by the low-cost players [Southwest (NYSE:LUV), JetBlue (NASDAQ:JBLU)] as domestic economic pressures likely ensue. The IATA also indicated that the number of leisure travelers has fallen by 3%-4% during the past five months, which doesn't translate well for newly-public Spirit Airlines (NASDAQ:SAVE) and peer Allegiant (NASDAQ:ALGT). In the IATA's words: "The problem is that higher travel costs are now weakening price-sensitive demand and airlines are not expected to be able to offset higher costs with increased revenues." The highest cost airlines, as of the first quarter, were AMR and United Continental - (click chart to expand).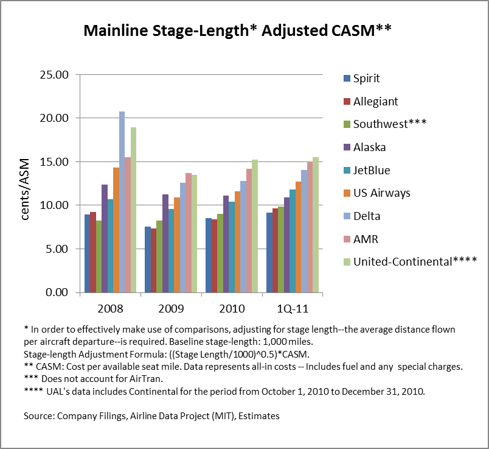 Click to enlarge
Investors should avoid the appeal of newly public Spirit (Despite Spirit Airlines' Appeal, Investors Should Avoid Aviation Stocks), expect underperformance from AMR (Is AMR's Equity Practically Worthless?), and generally steer clear of aviation stocks (Why Airline Stocks Are Not Long-Term Investments).
Disclosure: I am short AMR.