On 11 May 2011, the price of copper hit a year-to-date low of $3.9100/lb. Since then, copper prices have been rising, as shown in the graph below.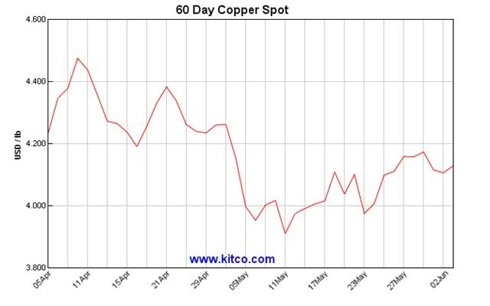 click to enlarge
Futures prices on the London Metal Exchange (LME) are once again trending above the spot price. Copper in the Shanghai Futures Exchange (SHFE) has been trading at a $120+/per tonne premium to LME prices over the last week.
Demand factors
One report suggests that the global demand for copper in 2011-12 is set to slow to 8.4%.
China accounts for 40% of world copper consumption. Recent debate on China is whether it faces a soft or hard landing, which in the latter case means growth at lower than 9% per annum (pa). For any commodity, this pace of growth is still phenomenal.
US scrap copper exporters (high price position on the supply curve) are reporting interest from Chinese buyers.
Japan looks set to enter its reconstruction phase. It posted a 1% growth in industrial production for April compared to March, and a positive outlook for May. Russia recorded a +86% p.a. increase in copper demand in Q1 2011. Together, these countries account for a further 10% of world consumption.
US auto sales are rebounding and the economy's pace of growth looks sluggish but positive, as is growth in the eurozone.
Supply tightness
The underlying story for copper is also supply driven. A lack of investment in new mining capacity during the recent down-turn has meant production is already lagging demand. There is a deficit (.pdf) in demand/supply balance at present. With long lead times involved, significant new capacity only comes online in 2012-2015, and until then demand is expected to outstrip supply.
Chile, the largest source of copper, reported a 3.9% drop in output for Q1 2011 compared to the previous year, with forecast slow growth in supply. Globally, miners are reporting decreasing grades from existing maturing assets.
US scrap producers are also reporting tightness in supply and premiums are increasing.
Inventories
Inventories at COMEX are low. Stocks at SHFE have dropped by over 15% since March.
LME inventories are volatile. Stock is partly driven by complex arbitrage trades based on capital controls in China; expectations on Yuan/$ movements; and even suggestions of hoarding driven by conflicts of interest as banks happen to own the majority of LME warehouses. These factors play more on short term price volatility than long term outlook; total inventories stand at around one month's world supply.
One recent concern has been whether vast "invisible" inventories exist in the China supply chain, but a Bar Cap report from China concludes that China demand is rising and inventories are tight.
Outlook and investment opportunity
Copper prices look set to continue their rise. During the last week, they have not been strongly correlated with the EU drama and US data that has rattled the markets.
The chart below presents closing prices for COPX and the DJIA together with their respective 100 day moving averages.
COPX is an ETF that tracks global copper miners and refiners. It is listed as having 32 investments at present, giving broad exposure to copper market trends without excessive exposure to concentrated geopolitical risks associated with copper mining.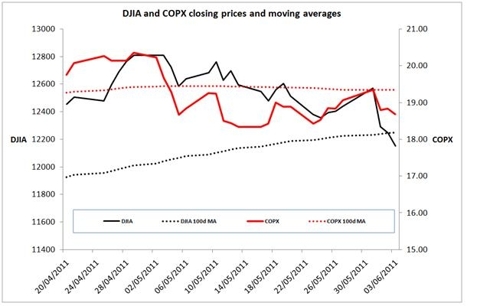 Source: own graph based on market data.
As the chart shows, COPX has traded significantly below its 100 day moving average for some time, while the Dow just got there on Friday 3 June. Over the last week, COPX has not exhibited the same variability in returns as the Dow.
COPX, in simple terms, looks relatively cheap and set to rise over the coming months.
Disclosure: I have no positions in any stocks mentioned, but may initiate a long position in COPX over the next 72 hours.
Additional disclosure: I am long Antofagasta plc (OTC:ANFGF). This is a UK FTSE 100 copper miner currently trading around its 200 day moving average.