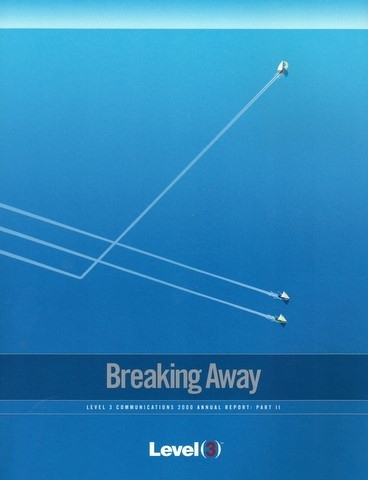 Anyone familiar with Level 3's (LVLT) history may recognize the term "Breaking Away". It was the theme for the 2000 annual report.
The term was used by Walter Scott and James Crowe in a letter to the stockholders at a time the industry was enveloped in turmoil. The following was taken from a special addition to the 2000 annual report, not included in the SEC internet filings.
We believe more strongly today than ever that we are at the threshold of one of the great opportunities in business... We recognize that we continue to face market challenges and that we may stumble, from time to time, along the way... We also recognize that we are not going to see the immediate and complete elimination of the inertia and influence of a century of monopoly and central planning in communications... It will take a bit of time, but we believe that the opportunity to create value - over the next several years and beyond - is immense. The opportunity before us is nothing short of extraordinary, and we believe it is ours for the taking. We have the right network, the right products, the financial strength and the right people. We believe we are uniquely positioned to break away.
What a long and winding road it's been since the above excerpts from the 2001 letter to stockholders. Management has seen more than their share of "stumbles, from time to time" as described here. Level 3 investors suffered tremendous losses from a stock high of $132 per share on March 10, 2000 to the low single digits today.

Fast forward to 2011; Level 3 Communications entered into a definitive agreement under which Level 3 Communications will acquire Global Crossing (GLBC) in a tax-free, stock-for-stock transaction on April 11, 2011. We noted this is a very good deal for Level 3 Communications here. The deal is expected to close by year end. Management described the strategic positioning/rationale as follows:
Creates a unique global services platform anchored by extensive facilities-based assets on three continents connected by undersea cables.

The combined network will serve a worldwide customer set with owned network in more than 50 countries and reach to more than 70 countries.

Existing customers will benefit from expanded geographic reach and a combination of intercity and metro networks throughout North America, Latin America and Europe, connected by ~40,000 miles of subsea cables.

Combined business will offer an extensive portfolio of transport, IP and data solutions, content delivery, data center, collocation and voice services, delivered globally.

Level 3's premier position with local and regional enterprises, wholesale and content customers combined with Global Crossing's expertise serving national and multinational corporations provides enhanced growth opportunities.

Combined service portfolio and distribution channels will allow the business to better address the needs of enterprises, content providers, carriers and governments throughout North America, Latin America and Europe.

As a result of revenue growth and synergies, over time, Level 3 expects to have significant Free Cash Flow available for investment in high-return opportunities, including U.S. and international network expansion.

The transaction is expected to improve Level 3's credit profile as well as significantly strengthen the company's balance sheet.
Could the acquisition of Global Crossing finally position Level 3 at the threshold of the immense opportunity envisioned long ago? Is Level 3 Communications at the "Breaking Away" moment Walter Scott and James Crowe envisioned or just another bend in the road?

James Crowe said the following regarding the GLBC acquisition:
This is a transformational combination that we believe will deliver significant value to the investors.
Management used the word significant several times noting "significant Free Cash Flow available for investment" and "significantly strengthen the company's balance sheet."

They defined these comments in a presentation (slide 8) as:
Acquisition creates substantial value for investors

Significant synergies create value
$2.5 billion NPV of expected synergies

$340 million of expected annualized Adjusted EBITDA and capital expenditure synergies through elimination of duplicative network and operational costs, primarily in North America

Expect to achieve two-thirds of run-rate synergies within 18 months of closing
Provides strong improvement to balance sheet
Stock-based acquisition with substantial synergies provides significant deleveraging and credit improvement

Level 3 debt to Adjusted EBITDA ratios improve immediately upon transaction closing, and further improve as synergies are realized
Expected to be accretive to stockholders
Consolidated Free Cash Flow accretive on a per share basis in 2013

Over time, potential for substantial Pro Forma Free Cash Flow generation enables investment in value accretive opportunities
Sounds like a "breaking away" moment, right? If so, the combined entity's growth rates must exceed the sum of its parts to qualify as breaking away. The limited guidance given by management is good but does it qualify as significant, as originally envisioned by Walter Scott and Jim Crowe.

Is this the start of the "Breaking Away" event? It's too early to know but at the very least it's a step in the right direction. Just how big a step is this? Well that's open for debate but hope springs eternal.

Our view of what significant might represent is shown in a complete set of detailed pro-forma financial data and projections found here.
Disclosure: I am long LVLT.
Disclaimer: This article is for information and educational purposes only and should not be construed as a recommendation to buy or sell the stocks mentioned or to solicit transactions or clients. It is not represented to be complete and neither its accuracy nor timeliness is guaranteed. There are forward looking statements reflecting the writer's opinions and expectations at the time they were written. Obviously, these statements are subject to risks and uncertainties. Actual outcomes could differ materially from statements expressed here from the writer or any third party content. More here.