The number of new stock trends identified by TrendStocker.com on a per month basis has seen a sharp decline for the month of May. New upward stock trends have dropped 68% down to 368 from 1,167 for the month of April. Similarly, the number of new downward stock trends has fallen from 162 for the month of April to 78 for the month of May, representing a 51.8% decline.
A downward slide
The overall decrease in new trends seems to correlate with the downward slide that has prevailed in the U.S. market indexes since the Dow Jones Industrial Average's May 2nd high, however a closer look at the data will paint a more serious picture. As the chart below illustrates, the total number of new trends peaked at 2,723 (total new trends) in November 2010 and has been steadily declining every month thereafter. Most notably, the new upward price trends has decreased substantially since the October 2010 high of 2,130.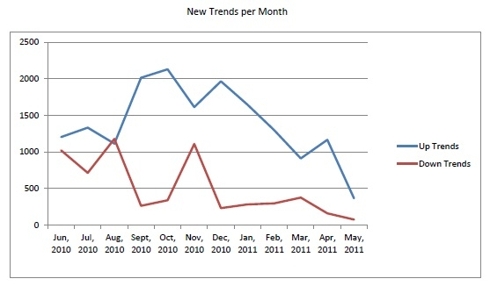 click to enlarge
It is also worth noting that a slide in U.S. indexes around the May 2010 through August 2010 timeframe did not have the same effect on new trends. As the chart illustrates, new trends remained relatively steady during that time in spite of the DJIA hitting a low of 9686.48 on July, 2nd.
What's the significance?
The overall significance of the decline in new trends is, as of yet, unknown but it seems to represent a lack of confidence in the markets at the very least. That alone makes for a very bearish outlook. Consider that, through August of 2010, confidence in the markets was still strong enough to push stocks to new highs even though the indexes were on a downward slide.
This time around, we're standing on much shakier ground and the aggregate new trends data seems to support that view. Recent reports are showing a slowdown in U.S. economic growth, indicating that effects of the recession are continuing to linger while the Eurozone's debt crisis and the U.S debt ceiling confrontation continue to take center stage.
Where to go from here?
If the downward slide continues, new trends will emerge. They will likely be in the financial sector as inverse ETFs capitalize on their short positions. Apply a "Financials" Industry filter to your TrendStocker.com search results and watch for upward trends that move quickly from moderate to strong trend strength. Funds like FAZ, SKF, BGZ, SDOW, SQQQ, etc. will be solid vehicles to profits as long as the downward momentum continues.
If we start to see confidence return to the markets, watch for upward trends in the Consumer Goods, Services, Technology and Utilities Sectors as these sectors produced some of the strongest trends to date. For example, PEP, PZZA, KAR, and IMAX were establishing strong trends through most of May.
Weekly and monthly new trend aggregates will continue to be published here as changes develop so check back for updates.
Disclosure: I am long FAZ.