I am an investor seeking dividend income to pay for monthly living expenses. Many energy stocks, in the form of U.S. royalty trusts, pay monthly dividends. The beta on these trusts is approximately 75% of the overall market. The regularity of monthly dividends can be substantial over time to one's income portfolio. If the stocks dip, the dividends allow the investor to buy more at a lower price. A stock which does not pay a dividend has zero incoming cash flows.

Let's look at five of my current U.S. trust holdings. Dominion Resources Black Warrior Trust is the one name I am selling at the end of this month. There are two names that are doing very well. One name, Mesa Royalty Trust, is holding its own but is not a standout. San Juan Basin Royalty Trust remains static due to the relatively low natural gas pricing.

Cross Timbers Royalty Trust (NYSE:CRT)
Stock Price: $41.23

Annual Projected Yield: 6.5%

Market Cap: $250 million
Click to enlarge: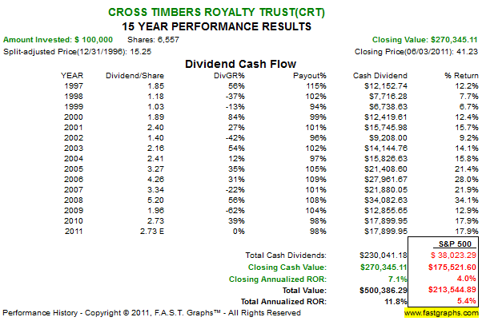 Cross Timber's production is based upon a 20% increase in oil production from the prior month. Natural gas production was down slightly from the prior month. Cross Timber is having a solid 2011 start as oil and natural gas prices are firm.

Cross Timber has some long-lasting properties in the New Mexico, Texas, and Oklahoma properties. The investor can rest assured of the trust's asset quality due to XTO's involvement in the properties. ExxonMobil (NYSE:XOM) acquired publicly traded XTO in 2010. The New Mexico assets are in the northwestern area of New Mexico, specifically the San Juan Basin area.

The financials appear solid. The institutional ownership remains firm with Tocqueville, a value firm, holding a 3% stake in CRT. I don't see any unusual trades or new owners of note.

Cross Timber is a trust I want to own. The market cap, the history and the asset quality all point to a quality trust for years to come.

Dominion Resources Black Warrior Trust (NYSE:DOM)
Stock Price: $11.66

Annual Projected Yield: 7.8%

Market Cap: $90 million
Click to enlarge: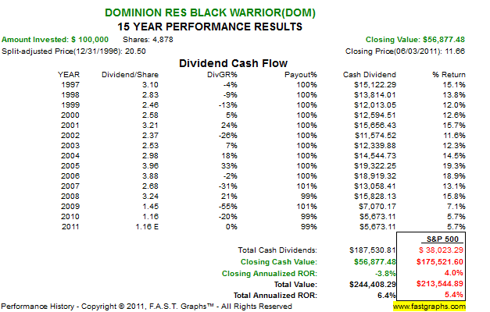 Dominion Resources is a name I am watching closely. It may be time to sell this name for a stronger name. As the chart shows, the yearly dividends have decreased in the past three years.

As U.S. trust holders know, U.S. trusts differ from Canadian trusts. U.S. trusts have a finite life span. Each year Dominion Resources is required to file a reserve life document estimating the present value of assets. This is in part to estimate how long the asset will live on. Dominion Resources' shelf life is anticipated at 5-7 years. Nobody can provide with 100% assurance a date when the trust will close shop. The reserve life is typically conservative in nature, and new wells are often discovered in between reserve life estimate calculations.

Dominion is a long running trust, in existence since 1994. It has natural gas assets in Alabama. The dividends are slowing down and the stock price has tumbled gradually. In my opinion it is time to move on. In my portfolio, I attempt to sell the weak stocks and buy the stronger named trusts. In this case - at least for me - Dominion is out of gas. I likely should have exited this name one year ago.

Mesa Royalty Trust (NYSE:MTR)
Stock Price: $45.00

Annual Projected Yield: 5.8%

Market Cap: $84 million
Click to enlarge: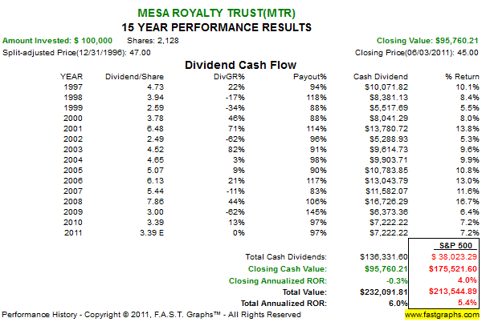 Mesa continues to produce solid results. The results are not outstanding, but do reflect fairly low natural gas prices. The net present value of assets still remains strong. Mesa operates wells in New Mexico, Wyoming, Colorado, and Kansas.

The 2010 income flow was a respectable $3.39 per share. My typical stance is to reinvest in the strongest names with incoming cash flow. The 5.8% yield is not that desirable per se, but the trust's value can be magnified with natural gas pricing strength.

Permian Basin Royalty Trust (NYSE:PBT)
Stock Price: $20.90

Annual Projected Yield: 7.8%

Market Cap: $975 million
Click to enlarge: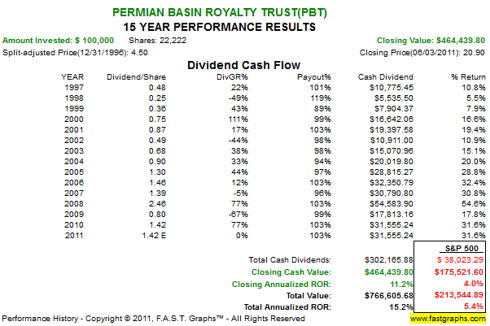 Permian's June dividend is based upon a 9% higher oil production and a 15% higher natural gas production. The net oil and natural gas prices were higher than the preceding month. It's a winning hand when production goes up and revenues received go up on the product.

The Waddell Ranch and Texas Properties continue to produce a steady flow. ConcoPhillips (NYSE:COP) stated that the annual capital expenditures are expected at $23 million. This compares to a $12 million figure for 2010. The 15 year annualized total rate of return has been a sizzling 15.2%. Permian is more than delivering postive returns.

San Juan Basin Royalty Trust (NYSE:SJT)
Stock Price: $23.92

Annual Projected Yield: 6.6%

Market Cap: $1.1 billion
Click to enlarge: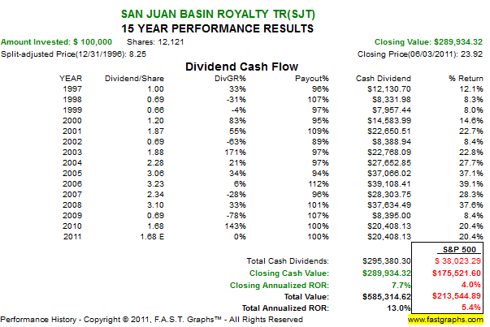 San Juan Royalty Trust is a bellwether of U.S. trusts. The trust operated oil and natural gas wells in northwestern New Mexico. The trust was formed in 1980. Low natural gas prices have kept the distribution level low for the past two years. The trust has plenty of new well opportunities in the event natural gases firm up.

The reserve life is expected to be 8.3 years. As long-time San Juan shareholders know, this price is subject to modification upward as new wells are drilled. If economically feasible new wells will be drilled to support San Juan continuing on past the 8 year reserve life expectancy.

The stock has bounced back in price from the 2009 lows. Dividends are depressed from a few years ago. If natural gas can return to its upward trajectory, then the distributions can resume where they left off. In the event natural gas stays in a prolonged slump, then San Juan shares are likely to stay in their narrow trading range.

Disclosure: I am long CRT, DOM, MTR, PBT, SJT.