China's online real estate website, SouFun, recently released its monthly 100-city property price index, showing that property prices continued to rise in May. Property prices rose by 0.52% month on month in May to 8,819 Yuan per square meter, compared to an increase of 0.40% in April. This placed the annual percentage increase at about 5% (the index was first published in June last year). The data showed that prices rose in 76 cities, while 3 cities saw no change and 21 cities experienced lower prices in May.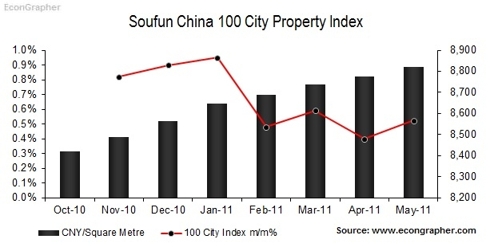 click to enlarge
So basically, property prices broadly continued their upward march in May, with average prices up by 255 Yuan per square meter so far this year (or about 25,500 for an average sized 100 square meter apartment). But one detail worth looking at is the prices in Beijing, as with all indexes you lose the intricacies of the underlying data, but Beijing in particular is worth looking at because unlike many smaller cities Beijing has seen the most bubble-like prices in China; particularly the luxury market.
The price of a newly constructed unit in Beijing dropped -7.19% to 23,467 Yuan per square meter, or a 21.06% drop year on year, according to SouFun (as reported by the People's Daily). The People's Daily noted that part of the reason for the drop in prices was property developers offering discounts to offset the cooling effect of the government's tightening policies - in other words the policies are taking effect.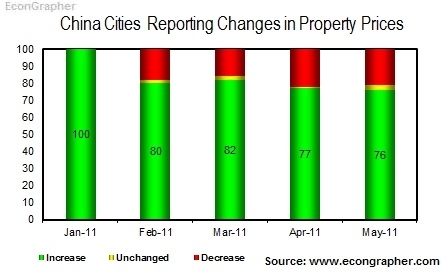 So while property prices are still broadly rising, the government measures to slow down price appreciation appear to be having some effect. But one of the more interesting measures the government has planned appears to be taking a bit more time to implement than the government is expecting:
In East China's Jiangsu province, for instance, work on about 135,000 government-subsidized residences had begun by the end of May, meaning that local authorities have only met 30 percent of their goal for the entire year, according to a statement on the provincial government's website. Other cities reported that, by the end of May, they had built from 30 percent to 40 percent of the subsidized housing called for by the goals. China plans to build 36 million government-subsidized apartments in the next five years - 10 million of them are to come in 2011 - as part of a campaign to curb soaring property prices and provide housing for workers with low incomes.
All up, about 1.3 trillion will be spent on the housing projects, with about 500 billion coming from the central and local governments, which may be a point of stress given the extensive spending that has already gone into upgrading infrastructure. There are also apparently reservations by local governments related to government policy (e.g. rent collection) and certainty of cash flows.
Indeed, the program is likely to dent profits of the property development companies as they undertake the projects (at a lower profit, or even uncertain profit) to gain favor with the government (thereby ensuring access to land deals). Pair that with the tightening moves and the dip in prices in Beijing, Chinese property developers face challenging operating conditions in the medium term.
But, overall there doesn't appear to be an impending bubble burst in China's overall property market on the immediate horizon, though as with all markets there are pockets of excesses that will correct over time. As for the rest of the year it is hard to see, yet not entirely improbable, a 10% drop in the 100 city property price index, as Professor Nie Meisheng, president of the China Real Estate Chamber of Commerce has flagged.
Disclosure: I have no positions in any stocks mentioned, and no plans to initiate any positions within the next 72 hours.