It was the fifth straight week of losses for the S&P 500 last week, with this one being the worst of the five ... down 30.94 points (-2.3%). As bad as the dip hurt, in some ways there's a bullish implication to it. The depth of the dip has set up a potential bounce, especially given how the market has finally made it to some – though not all – key support levels/inflection points.
On the other hand, sometimes an index just hits those support lines en route to a much lower level.
We'll look at which is which in a moment; first let's start at the top with a look at the macro-economic picture.
Economic Calendar
Too many items last week to talk about all of them, so let's just run down the highlights.
* Basically, the employment picture is stinking again. The unemployment rate rose from 9.0% to 9.1% (the first rise in months), in step with a steep decline in new payrolls. The government said only 54K new jobs were created in May (well under the expected 169K), and the ADP Employment figure said only 38K new jobs were created last month (well under the forecasted 170K).
* Along those same lines, initial claims rose from 413K to 422K, and continuing claims rose from 3.688 million to 3.711 million.
* The nation's factories lost steam last month. Factory orders fell 1.2%, and the Chicago PMI number fell from 67.6 to 56.6. The ISM Index slumped from 60.4 to 53.5.
Economic Calendar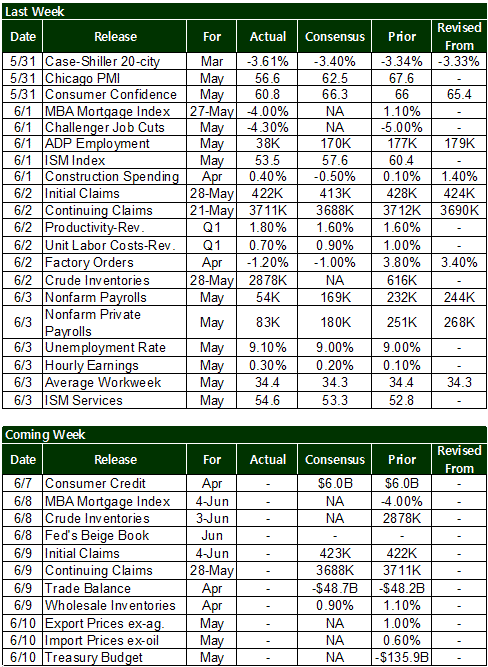 (Click to enlarge)
As for the coming week, it will be a nice break; not much is in the lineup. Here are the biggies you need to look out for:
* Nothing on Monday, but on Tuesday we'll hear the latest Consumer Credit levels. The pros are looking for another $6.0 billion increase for April, like March's number, continuing to put the "can't get credit" complaint in question.
* Thursday's new and ongoing unemployment claims will add another layer of reality to last week's rise in unemployment and lull in created jobs. Look for about the same (423K) new claims, but a slight dip – from 3.71 million to 3.68 million – in continuing claims.
S&P 500 and VIX
The bulls got off to a good start last week, but faltered in Wednesday and never came back to the party. When it was all said and done, the SPX fell nearly 31 points to close out at 1300.16. That's not only under all the key short-term and intermediate-term moving averages, but also the first close under the lower 50-day Bollinger band since March 16th.
Of course, that March 16th low was also met the very next day with a buying that ultimately carried the S&P 500 (NYSEARCA:SPY) (SPX) to new multi-year highs by early May. So, one has to wonder if the 5.1% dip (from high to low) over the last five weeks has finally reached the point where there's nothing left to give up.
Yes, if the bulls are going to stage a rally, this is the best place around here to do it. With the exception of the close under the lower Bollinger band though, today isn't too much like March 16th.
It's trivial to be sure, but since mid-March we've seen the 20-day line fall under the 50-day moving average line a couple of times, with the second instance coming just last week. This is real evidence that at least the short-term trend is waning.
What's also different now than before is that we've now seen three consecutive closed under the 100-day moving average line (gray); with the March 16th low, the brush with the 100-day average may well have been the rebound catalyst.
Take a look at how the current scenario compares to the prior rebound scenario.
SPX & VIX Daily Chart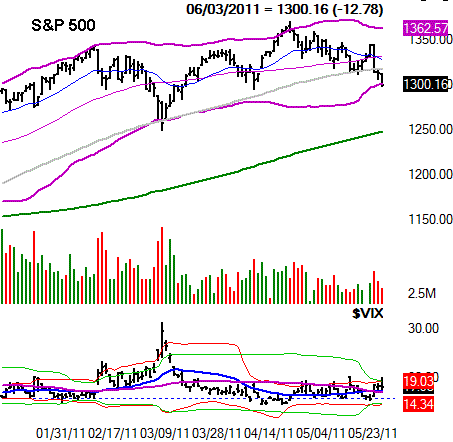 (Click to enlarge)
Of the most interesting pieces of the chart to mull though, it's the CBOE Volatility Index (VIX) (NYSEARCA:VXX) (NYSEARCA:VXZ) at the bottom that really suggests there could be more downside to go.
Simply put, it's at an inflection point, pressing into both upper Bollinger bands (red 20-day and green 50-day), yet so far hasn't poked above them. Simultaneously, the VIX's moving averages crossed upward again [blue 20-day over purple 50-day], which tends to coincide with market pullbacks. Both those moving averages are now acting as floors/support for the VIX as well.
This is the stark difference between now and then. With the March 16th bottom, the VIX had spiked because fear was rampant. Even with Friday's dip, and the big pullback for the week, nobody seems to care. Where's the fear?
In other words, what's scary is that nobody is scared.
In any case, there's a slight, but deliberate, uptrend brewing for the VIX. If the upper Bollinger bands break down as boundaries now (both are at 19.03 versus the VIX at 17.95 and Friday's high of 19.87), it could be an "open the floodgates" situation that let the VIX soar in a hurry, and with the market sent careening. Indeed, it's a move that may have been brewing since early May, with the VIX slowly and subtly chipping away at its ceilings.
When's it all apt to pan out? Who knows? Maybe it won't at all. After all, after last week's 2.3% selloff, it wouldn't be crazy to look for a dead cat bounce. Just be skeptical if you see one though. The average-sized market correction is about 10%, and we've only pulled back about half that amount.
If the S&P 500 can't make it back above the 1329-ish area where the 20-day and 50-day moving average lines are, then the bears are still likely to be in control, and waiting for another good opportunity to drive the market all the way back to the 200-day line at 1250.
No matter what, this week's going to be interesting, even if just on the sidelines.
And just for some extra perspective, our weekly chart of the S&P 500 …
S&P 500 – Weekly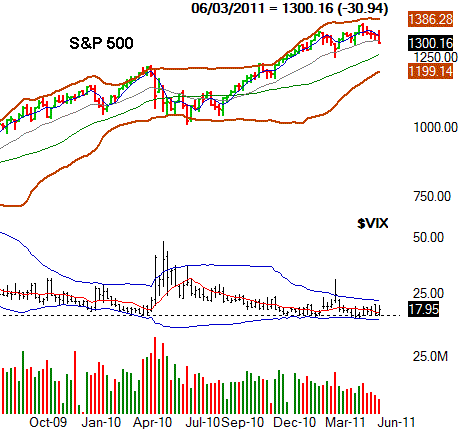 (Click to enlarge)
Select Industry Charts
Normally this is where we'd look at the overall sector performance for the prior week. But, since they all pretty much got hammered, there's really not a lot of value in comparing one against the other. So, to make better use of this time and space, this week we're going to shake things up just a bit and look at some of the more note-worthy industry charts.
The first one is of the S&P 1500 Leisure Facilities Index. The holdings of this sub-index include (NYSE:LTM) (NYSE:MTN) (NASDAQ:ISCA) (NYSE:FUN) (NASDAQ:PRXI) (NASDAQ:RICK) (NASDAQ:CLUB) (NYSEMKT:BWL.A) (NYSE:DVD) and (NASDAQ:VCGH). It had been one of the bull market's more reliable (even if erratic) leaders, but as of a couple pf weeks ago – and really after last week's 4.4% dip – the support line that had been so important to its success is now history. There's a whole lot of ground for these names to give up too.
S&P 1500 Leisure Facilities – Weekly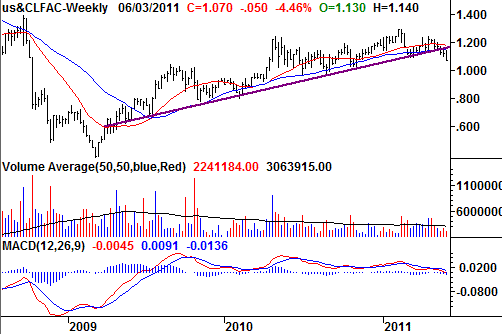 (Click to enlarge)
It may have only been a 0.25% gain, but any gain at all in a week like last week merits a second look. It came from the S&P 1500 Home Entertainment Software (Gaming) Index (holdings include (NASDAQ:ATVI) (NASDAQ:CYOU) (NYSE:GA) (NYSE:RLD) (NYSE:RST) (NASDAQ:SRSL) (NASDAQ:GRVY) (SWTP) (OTC:ZOOG) (OTC:EGAM) ), and though this group is pretty sensitive to the market's gyration most of the time, in this case, it's lack of participation in the 2009 and 2010 rally may mean there's some ground to make up now… even if overbought in the very near-term.
S&P 1500 Home Entertainment Software – Weekly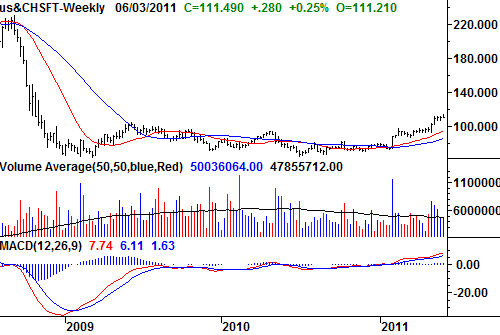 (Click to enlarge)
Last but not least, four weeks it looked like the S&P 1500 General Merchandise Retailing Index – which had been hanging by a thread all year long – was going to pull itself up by the bootstraps. Holdings of this sub-index include (NYSE:NDN) (NYSE:BIG) (NASDAQ:DLTR) (NYSE:FDO) (NASDAQ:FRED) (NYSE:TGT) (NASDAQ:TUES). Not only did that that not happen when the market tanked starting in early May, but as of last week the support/floor at 663 that was going to be the foundation for the rebound have way. The index closed at 652.06 on Friday. With more than a little damage now done, and with no other floor in sight, this group could be in real trouble.
S&P 1500 General Merchandise Retailing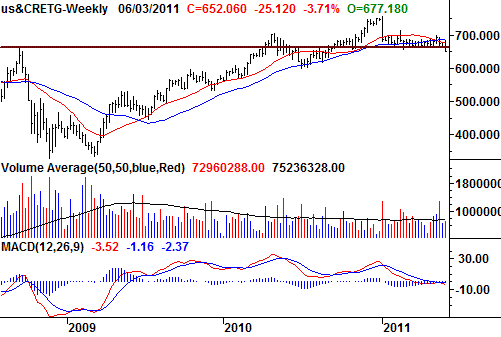 (Click to enlarge)
Disclosure: I have no positions in any stocks mentioned, and no plans to initiate any positions within the next 72 hours.