This post is the latest in an ongoing series introduced in the article Best Post-QE2 Opportunities Lie Beyond Stocks providing a detailed analysis on investment strategies outside of the stock market leading up to the end of QE2.
High Yield Bonds have been an ideal performer in the days since the outbreak of the financial crisis. They have offered strong returns with low volatility during the QE1 and QE2 rally periods. Just as significantly, they have provided relative safety during periods of market weakness. And for those investors seeking to maintain some level of stock exposure once QE2 comes to an end, High Yield Bonds may provide an ideal "stock lite" alternative for investors seeking lower risk stock like exposures and overall portfolio diversification.
High Yield Bonds offer more excitement than many investors might think. Many investors share a common misperception – stocks are risky and bonds are safe. This, of course, is a gross oversimplification, as some stock categories provide stable returns with low risk while certain bond asset classes offer potential returns with the accompanying risk that are comparable if not greater than many stocks. The latter is true of High Yield Bonds, which represent more speculative corporate bonds that are rated BB/Ba or lower by the major credit rating agencies and trade much more like stocks than their traditional investment grade bond counterparts.
Recent returns performance highlights the close relationship between stocks and high yield bonds. Since the market peak of October 2007, U.S. stocks and High Yield Bonds have traded with a strong positive correlation of +0.72.
What is more notable is the strength of High Yield Bond returns relative to stocks at a far lower level of risk over this time period. While U.S. stocks remain mired nearly -20% below the October 2007 peak, High Yield Bonds are now +20% higher over the same period. Moreover, High Yield Bonds have accomplished these returns with far lower risk, including a beta relative to the stock market of just 0.51. Even during the months immediately following the Lehman bankruptcy, High Yield Bonds declined by roughly half of what stocks experienced at the depths of the crisis.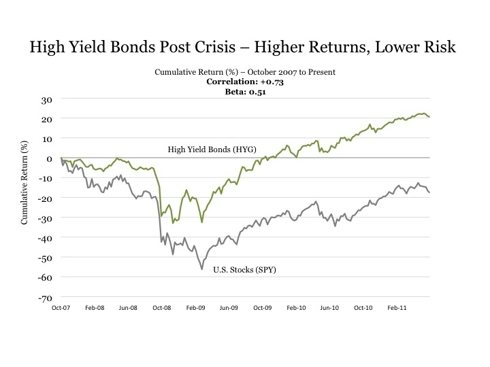 (Click charts to expand)
The outlook for the High Yield Bond category remains solid. Just like their investment grade corporate bond counterparts, many high yield companies have been working to stockpile cash when possible. This is favorable for High Yield Bond investors, as it increases the likelihood that most of these companies will be able to continue meeting interest payments even if economic conditions were to begin to deteriorate.
High Yield Bonds also continue to represent a reasonably attractive value despite their strong performance in recent years. While it is true that absolute yields have returned to pre-crisis lows, high yield spreads relative to U.S. Treasuries remain well above previous lows. So although the total return opportunities in high yield are no longer at the levels seen during the depths of the financial crisis, they still offer solid upside from current levels.
The High Yield Bond category also has demonstrated a high level of consistency and enjoys strong support from a technical perspective. The iShares iBoxx $ High Yield Corporate Bond Fund (NYSEARCA:HYG) will be used to illustrate, although the similar SPDR Barclays Capital High Yield Bond ETF (NYSEARCA:JNK) could also be applied to demonstrate the same points.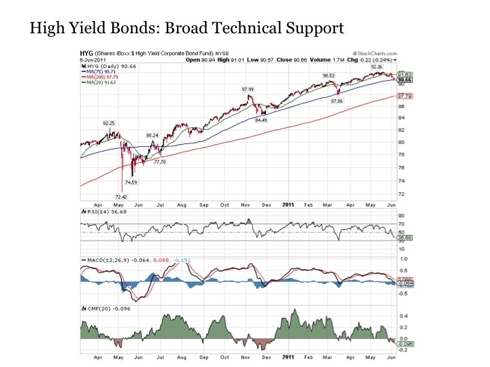 Overall, the asset class has responded well to various moving averages. During rally phases, High Yield Bonds have found consistent support at the 20-day moving average. Amid short-term corrective phases, the asset class has twice responded well to support at the 75-day moving average. In both instances, this has proved a good "QE rally" entry point to add to existing positions. And during the Post QE1 correction during the summer of 2010, High Yield Bonds found strong support at the upward sloping 200-day moving average, leaning on this level for over a month during the heaviest of the broader stock market turbulence.
Since the financial crisis, High Yield Bonds have provided stock like returns during market rallies (+61% and +12 during the QE1 and QE2 rallies, respectively), but have held up significantly better during periods of stock market decline. This includes an incrementally positive return during the QE Pause period last summer when the stock market was down -14% from April 2010, to August 2010.
Trading Strategy
Currently, the High Yield Bond market may be presenting an attractive entry point. We are once again approaching the 75-day moving average line and are seeing technical indicators such as the RSI, MACD and Money Flow all returning to levels that marked previous inflection points in late November 2010, and mid March 2011. Given that we are currently near the end of QE2, however, the move lower may continue and the potential for a test of the 200-day might represent a more favorable alternative for more risk averse investors. In terms of implementation, either the iShares iBoxx $ High Yield Corporate Bond Fund or the SPDR Barclays Capital High Yield Bond ETF represent excellent investment options for diversified low cost High Yield Bond exposure.
Risks
A key risk associated with the High Yield Bond market beyond monitoring traditional measures like default rates would be the outbreak of another financial crisis. The ongoing situation in the Euro Zone currently represents the greatest threat in this regard. Any such outbreak would be an immediate sell signal for the category. It is also worth monitoring High Yield Bonds for how well they hold up in a Post QE2 environment. While they stabilized Post QE1, any sustained break of the 200-day moving average would warrant close attention for potentially exiting positions. No signals of pending QE3 in an economy fading back toward a sustained recession is one possible scenario that could lead to this negative outcome for the asset class. Thus, High Yield Bond positions should be watched closely for any sustained change in trend driven by economic or geopolitical events.
Bottom Line
The High Yield Bond market offers an appealing "stock lite" alternative for those investors seeking to maintain an equity like allocation in their portfolio with lower risk as we head into the post QE2 market environment.

Disclosure: I am long HYG.
Disclaimer: This post is for information purposes only. There are risks involved with investing including loss of principal. Gerring Wealth Management (GWM) makes no explicit or implicit guarantee with respect to performance or the outcome of any investment or projections made by GWM. There is no guarantee that the goals of the strategies discussed by GWM will be met.