Joy Global (JOYG) beat Q2 earnings by $0.17 when it reported $1.52/share vs. an expected $1.35/share. This was up 34% from last year's quarter at $1.15/share. Sales rose 19% to $1.1B. JOYG raised its FY2011 guidance to $5.30 to $5.60/share from $5.10 to $5.40/share. That's great growth. Further, the pending acquisition of the Le Tourneau company from Rowan Companies (NYSE:RDC) will add to JOYG's growth prospects.
Just prior to its earnings report JOYG had sold off. The slow stochastic indicates it still has a ways to rise before it becomes over bought (see chart later in this article). Caterpillar Inc. (NYSE:CAT) reported quarterly earnings on April 29, 2011. It has sold off most of May as the overall market has trended downward. It beat earnings and guided higher for the quarter. Net income rose more than five-fold (YOY) to $1.84 from $0.36. The average analysts' estimate had been $1.31. That's a $.53 beat. Revenue rose 57%. CAT raised its FY2011 guidance to $6.25-$6.75 per share. The former guidance had been for near $6 per share. JOYG's results would seem to encourage thoughts of a great beat by CAT in Q2 also.
Plus CAT is in the process of buying Bucyrus. It has already received DOJ approval. It will soon be the biggest mining/construction equipment company in the mining arena. CAT forecasts $400M in eventual synergies. Yet due to the May sell off, CAT is currently oversold. If the market cooperates at all, it should rally from its oversold state to perhaps surpass its recent peaks.
China has been cutting back on electricity use in order to keep coal imports lower. The Chinese industrial companies cannot afford to have their power interrupted. They prefer to buy their own diesel generators (a Cummins (NYSE:CMI) business) to use when the power company rations power. Knowing this, the government has put curbs on diesel fuel exports. All this is being done when the Chinese really need more coal. Do you get the feeling they might decide to mine more coal in the near future? Do you think this may mean more business for JOYG and CAT (with BUCY)? I'm sure it will. The above great results will not likely let up soon, and we are not just talking about China. We are talking about places such as Africa, India, Indonesia and Australia. These companies should do well. I haven't bothered with all of the fundamental financial data. The pending new buys by each company make that too confusing. I merely present some of the Yahoo Finance data in order to give a general idea of their finances.
| | | |
| --- | --- | --- |
| Stock | JOYG | CAT |
| Price | $90.04 | $99.86 |
| 1 yr. Avg. Analysts' Price Target | $107.60 | $131.81 |
| PE | 18.02 | 17.74 |
| FPE | 13.77 | 11.16 |
| Avg. Analysts' Opinion | 2.4 | 2.2 |
| Market Cap | $9.46B | $64.35B |
| Enterprise Value | $8.79B | $90.35B |
| Beta | 2.08 | 1.90 |
| Price/Book | 5.49 | 5.10 |
| Total Cash per Share | $10.20 | $5.65 |
| 5 yr. EPS Growth Estimate per annum | 15.33% | 21.50% |
| Short Interest as a % of Float | 3.90% | 2.20% |
Now let's look at some technical aspects via the one-year charts.
Click to enlarge charts
The one-year chart of JOYG: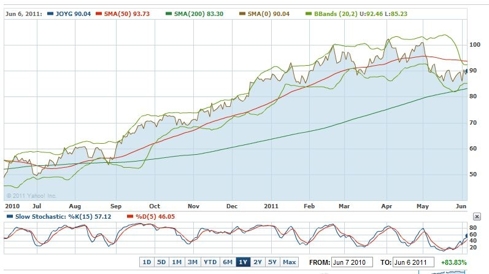 The one-year chart of CAT: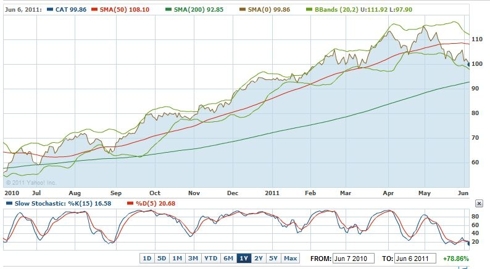 And for good measure the one-year chart of CMI: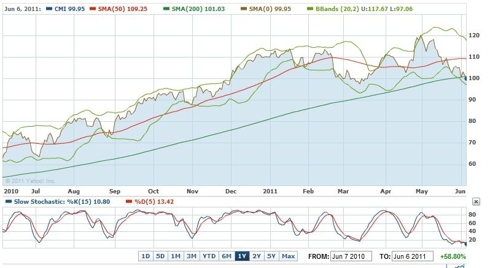 Both the charts of CAT and CMI show that they are currently oversold. If the market goes down further, as it may, they will likely become even more oversold. Otherwise both stocks are poised to bounce upward. The recent beat by JOYG should help them do so. CAT and CMI have strong fundamentals.

All three charts have upward patterns. JOYG has started heading upward on its Q2 earnings beat. However, CAT and CMI both released quarterly earnings in late April. They are not due to release again until late July. They are still stuck in their consolidation phases. However, with their great outlooks and fundamental numbers, they should move higher on any market move higher.

CAT has a much better history of beats than JOYG. It has beaten in all of the last four quarters. JOYG has only beaten in only three of the last four quarters. JOYG's average beat percentage (including the miss data) was 7.95%. CAT's was 24.08%. CMI's was 15.05%. Both of the latter two trade at lower multiples than JOYG. CAT even has a higher five-year EPS growth estimate per annum (see table). With the pressure on the mining industry to produce more, all of these stocks have room to run to the upside. With FPEs of 11.17 (CAT) and 10.36 (CMI), CAT and CMI can easily move higher.

Given the current market downtrend (near a support point) and the recent global economic signs of weakness, it is probably a good strategy to average in. A lot of people think the SPY will fall further to approximately $125. You could get a much better buy point, or you could get a much worse one if the market moves upward instead. Given the already oversold states of these stocks, a 25% entry might seem appropriate. You could add to this later as logic dictated.

Disclosure: I have no positions in any stocks mentioned, but may initiate a long position in CAT, CMI over the next 72 hours.