A few weeks back I wrote about an article titled, "Realty Income – An Exceptional REIT with a Strong Margin of Safety." In that article, I identified some of Benjamin Graham's timeless principles of "value investing" and specifically, one of Graham's guiding rules of principal preservation and the "margin of safety" concept. In this latest article, I will attempt to compare another exceptional REIT, Federal Realty Investment Trust (NYSE:FRT) to the same "margin of safety" characteristics and also provide a decisive investment strategy for this impressive S&P 400 Mid-Cap REIT.
Federal Realty Investment Trust is an equity real estate investment trust specializing in the ownership, management, development and redevelopment of high quality retail assets. Federal Realty's portfolio (excluding joint venture properties) contains approximately 18.6 million square feet located primarily in strategically selected metropolitan markets in the Northeast, Mid-Atlantic, and California. In addition, the Trust has an ownership interest in approximately 1.0 million square feet of retail space through a joint venture in which the Trust has a 30% interest. The portfolio (excluding joint venture properties) was 93.8% leased to national, regional and local retailers as of March 31, 2011, with no single tenant accounting for more than approximately 2.6% of annualized base rent. Federal Realty has paid quarterly dividends to its shareholders continuously since its founding in 1962, and has increased its dividend rate for 43 consecutive years, the longest record in the REIT industry.
Characteristics That Protect Shareholders and Position the Company to Create Value
A Healthy Balance Sheet
With an extremely healthy balance sheet, Federal Realty has one of the lowest costs of capital in the industry. The company's debt as a percentage of total capitalization is around 30% and only five (5) times recurring EBITDA. As evidenced by the REIT's Moody's rating of Baa1 and S&P Rating of BBB+, the company's outstanding debt of $1.8 billion (as of 12-31-10) is an essential element of the "margin of safety." Its conservative balance sheet should safeguard investors against unforeseen events and allow the REIT to maintain competitive positioning within the sector. In addition, Federal Realty has 65 properties un-mortgaged; consequently, the REIT maintains ample flexibility with future credit access initiatives. Here is a peer REIT analysis identifying Federal Realty and other mid- and small- cap REITs (click charts to expand):

Click to enlarge
Quality of Assets on the Balance Sheet
The quality of the assets can be another source of investment security. Most tangible assets can be easily measurable, contributing to greater certainty in assessing the value that shareholders have in a company's balance sheet, which combined with low debt, and taking into account market prices, may represent a safe investment strategy.
As of March 31, 2010, Federal Realty's portfolio of properties consisted of around 94 properties (87 owned and 7 in JV) located in 14 states, leased to many of the "best in class" retailers. Included in the 18.6 million square foot portfolio, Federal Realty has over 2,400 leases with no more than 2.6% leased (or concentrated) with just one tenant. This diverse tenant portfolio provides for a balanced revenue stream and mitigates against possible tenant bankruptcies and store closures. Here is a list of Federal Realty's "Top 10" Tenant List: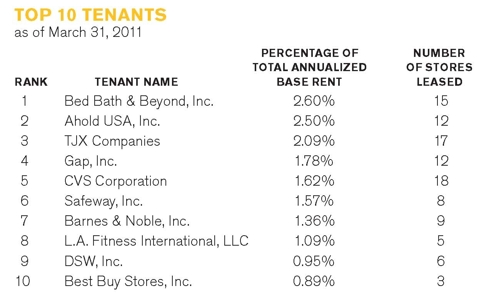 Click to enlarge
Source: Federal Realty Website
Federal Realty owns over 18.3 million square feet ranging from the smallest 32,000 square foot center (Newbury Street) in Boston, MA., to over 600,000 square feet (Santana Row) in San Jose, CA. Here is a map of the company's core markets: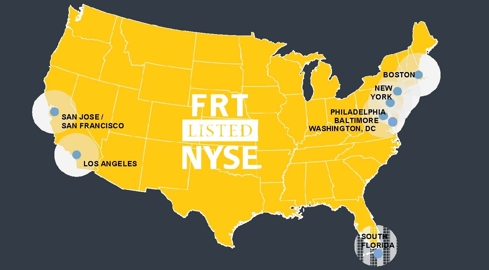 Click to enlarge
Source: Federal Realty Website
In addition to its diverse tenant base, Federal Realty also provides a strategically populated demographic profile. Many of the REIT's properties are located in densely populated markets with strong household incomes and high competitively located barriers to entry. The REIT's diverse mix of "retail-centric" property types positioned it not as a "cookie-cutter" shopping center REIT but instead as a "community strategy where profitability is targeted with long term growth perspectives." The densely populated REIT model has evolved into a leader in the following markets: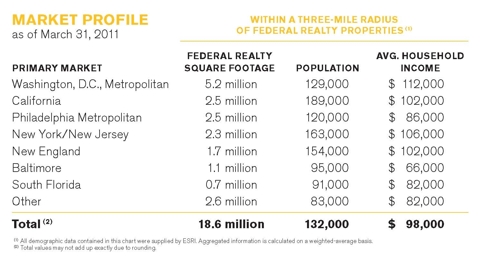 Click to enlarge
Source: Federal Realty Website
By growing a well positioned balance sheet, tenant mix, and market base, Federal Realty provides investors with the greatest high-quality commercial real estate in the best locations and, historically, these locations are more valuable over the long term. With a proven economic "moat" business model there is simply no better hedge against tenant turnover than high-quality real estate.
The company's property portfolio continues to perform well and provide dependable lease revenue supporting the current dividend yield of 3.2 %. As of March 31, 2011, the portfolio occupancy is 93.8% leased, and the company grew top-line revenues 2.7% to a record $545 million (in 2010).
Mr. Graham recognized that no investor is perfect in his or her decision making, and unforeseeable market forces can cause unfavorable market turns for an investment even with a margin of safety. Proper diversification of a portfolio offers additional protection against these events. As Federal Realty continues to access low cost capital and grow its highly populated business model, investors should be pleased with the increasing "margin of safety" provided by a strategically diverse and well managed portfolio.
Site Selection within the Circle of Competence
The selection of an investment within the circle of competence of the investor can raise the confidence level of the firm's valuation. Simple business models, well defined, with clearly defined products, consistent profit margins and visible growth prospects, facilitate the "margin of safety" analysis.
Federal Realty continues to focus on a low-risk business strategy of growth through prudent leasing of assets and completion of redevelopment projects at high risk-adjusted returns. The company is strengthening its presence in the core markets by acquiring new assets, which would eventually lead to better operational and ownership flexibility throughout the entire portfolio. Federal Realty continues to increase its annual core asset base: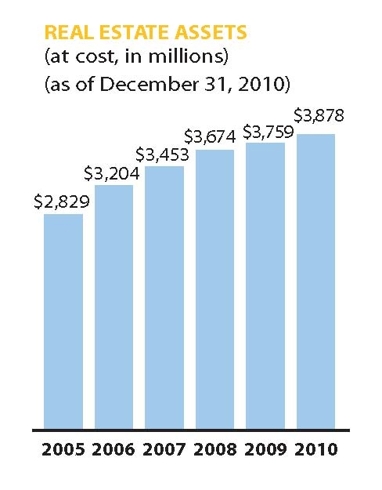 Click to enlarge
Source: Federal Realty Website
Federal Realty continues to increase annual property operating income: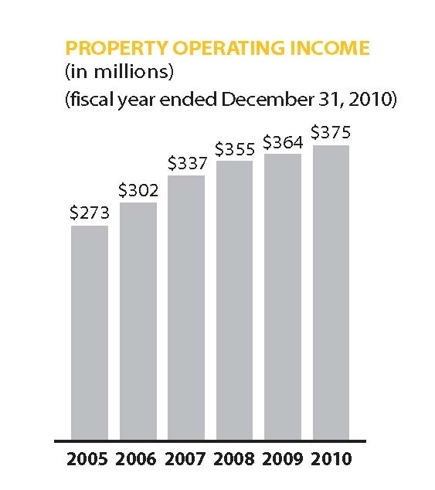 Click to enlarge
Source: Federal Realty Website
Over its 49-year history, Federal Realty has produced an outstanding track record, including growth in dividends per share. The Trust has paid quarterly dividends to its shareholders continuously since its founding in 1962, and has increased its dividend rate for 43 consecutive years - the longest consecutive record in the REIT industry. Clearly Federal Realty has defined its core competency and its product offering as evidenced by the chart below (illustrating an increase in the dividend rate on common shares for the 43rd consecutive year):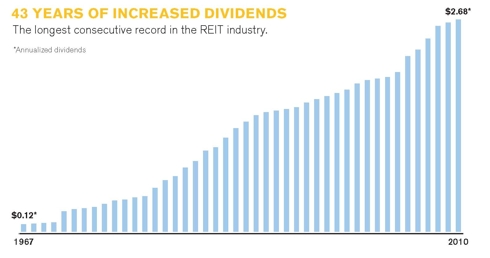 Source: Federal Realty Website
Compared with the FTSE NAREIT US Real Estate Index (June 2, 2011) and the combined peer Shopping Center REIT Index (16 REITs in the sector), Federal Realty's 3.2% dividend yield is slightly below the average 3.6% yield for the sector. However, Federal Realty's current yield (of 3.2%) is slightly above the REIT Regional Mall (7 REITs) index of 2.74%. The combined 27 REIT index (made up of all 27 US Retail REITs) comprises a combined Equity Market Cap of around $107.2 billion and the current average yield is 3.14%. To put that into further perspective, the combined All REIT Equity Market comprises 120 REITs with a combined Equity Market Capitalization of 358.9 billion and an average yield of 3.4%. See chart below: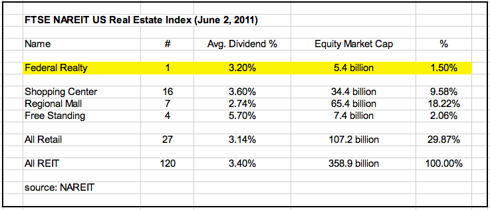 Click to enlarge
Source: NAREIT (pdf)
Summary
Retail real estate investment trust Federal Realty has a long, successful history and its strategy of owning neighborhood shopping centers in areas with favorable demographics gives it a narrow economic moat. Moreover, its favorable leases result in stable cash flow that can increase over time. Clearly, Federal Realty enjoys a comparable "margin of safety" as evidenced by its strong balance sheet, quality asset base and its diverse and sustainable cash flow. Although Federal Realty does not pay dividend yields higher than some of the other equity and mortgage REITs, its "margin of safety" makes it one of the safest and most reliable REIT alternatives. There are many REITs paying in excess of a 5% dividend; however (and like any investments), there is trade off with risk and return, and I consider Federal Realty to be a low risk alternative with an impressive track record for exemplary "margin of safety" fundamentals and investment strategies.
Compared with other shopping center REITs it is clear that Federal Realty has traded more expensively than its peers on pretty much any metric you want to choose, whether it's a multiple basis or a NAV basis. However, on a relative basis (historical), Federal Realty should continue to provide the strongest same-store NOI results and therefore, merits the valuation premium. The stock closed at $70.32 a year ago and closed at $84.87 on June 3, 2011. The stock hit $93.42 in January 2007, and fell to $ 41.13 in February 2009.

Disclosure: I have no positions in any stocks mentioned, and no plans to initiate any positions within the next 72 hours.