Over the last week, there has been increasing chatter online about Internet Bubble 2.0.
Bubble or Not?
Venture capitalist (and Netscape founder) Mark Andreessen was quoted in this tweet last week by veteran tech entrepreneur Bill Gross as arguing (at the All Things Digital D-9 Conference) against there being a bubble, by pointing to the low valuations of some established tech names: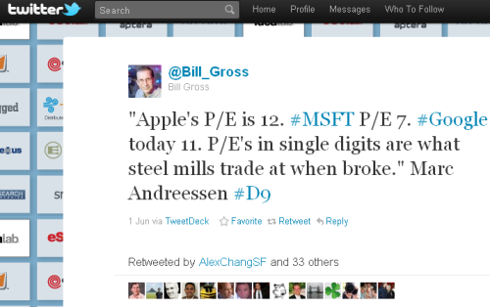 Click to enlarge
As I (and I'm sure plenty of others) noted in response, those valuations aren't representative of some newer Internet companies. Checking on Seeking Alpha, LinkedIn (NYSE:LNKD), for example, sported a P/E of 458.4 as of Monday's close.
Counting the Cash
In his presentation in New York last week, Bruce Berkowitz hammered home the importance of counting the cash when analyzing a company. David Heinemeier Hansson, creator of the web development platform Ruby on Rails, and partner in the software company 37 Signals, did just that with Groupon. After analyzing the company's S-1 registration statement for its IPO, Hansson tweeted this warning: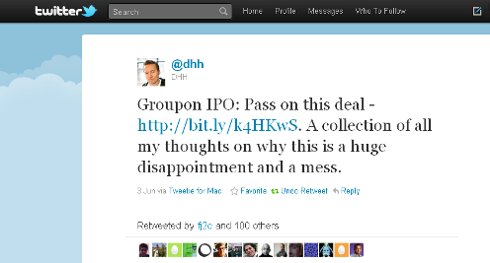 Click to enlarge
The bit.ly link in Hannson's tweet went to this blog post by him, which he led off by noting Groupon's burn rate and customer acquisition costs:
Groupon has filed its S-1 and hopes to raise $750M in its initial public offering. Given they're currently losing a staggering $117M per quarter, despite revenues of $644M, they'll be burning through that cash almost as soon as it hits their account.

At the moment, it's costing them $1.43 to make $1, and it doesn't look like it's getting any cheaper. They're already projected to make close to $3 billion in revenues this year. If you can't figure out how to make money on $3 billion in revenue, when exactly will the profit magic be found? Ten billion? Fifty billion?
The Latest Sign of a Bubble?
The news that Silicon Valley venture capitalists had invested $10 million into a high-tech grilled cheese chain prompted this recent tweet from FT Alphaville blogger Tracy Alloway: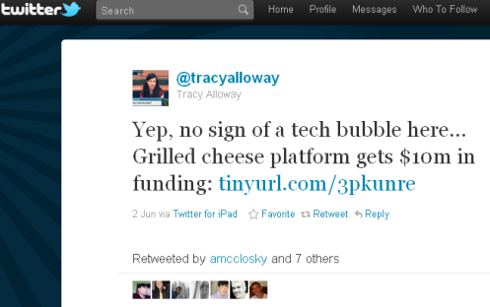 Click to enlarge
An Updated Look at Internet 2.0 Hedging
In previous Seeking Alpha articles we looked at hedging in the context of the current Internet bubble:
Consider the case of a business owner whose revenues were closely tied to the fortunes of privately held, venture-backed start-ups in the sector: he couldn't hedge against a collapse in those companies directly, but he could buy put protection against a big correction in some publicly traded securities in the Internet sector, as an indirect hedge.
We looked at two approaches: buying puts on an Internet ETF, and buying puts on leading Internet stocks.
Buying Puts on an Internet ETF
In the first table below is the current cost of hedging against a greater-than-25% decline in the Merrill Lynch Internet HOLDRs ETF (NYSE:HHH), using the optimal puts for that, but first a quick reminder about what "optimal" means in this context. and a note about decline thresholds.
Optimal Put Option Contracts
The optimal put option contracts are the ones that will give you the level of protection you want at the lowest cost. Portfolio Armor uses a proprietary algorithm developed by a finance academic to find the optimal contracts to hedge stocks and ETFs.
Decline Thresholds
With Portfolio Armor (available in Seeking Alpha's Investing Tools Store and as an Apple iOS app), you can enter any percentage you like for a threshold (the higher the percentage though, the greater the chance you will find optimal puts for your position). I generally use 20% thresholds when hedging, for reasons I mentioned in a previous article on hedging, but since I used 25% thresholds in the initial article on hedging Internet names, I have used 25% thresholds here as well.

How Costs are Calculated

To be conservative, Portfolio Armor calculated the costs below based on the ask prices of the optimal put options. In practice, though, an investor may be able to buy some of these put options for less (i.e., at a price between the bid and the ask).
Hedging Costs of an Internet ETF
Below are the costs, as of Monday's close, of hedging the Merrill Lynch Internet HOLDRs ETF (HHH) against a greater-than-25% decline over the next several months. Also included in this table, for comparison purposes, are the costs of hedging the Nasdaq 100-tracking ETF PowerShares QQQ Trust (NASDAQ:QQQ) and the S&P 500-tracking ETF SPDR S&P 500 Trust (NYSEARCA:SPY) against similiar declines.
| | | |
| --- | --- | --- |
| Symbol | Name | Cost of Protection (as % of position value) |
| HHH | Merrill Lynch Internet HOLDRs | 2.29%* |
| QQQ | PowerShares QQQ Trust | 1.13%** |
| SPY | SPDR S&P 500 Trust | |
*Based on optimal puts expiring in November, 2011
**Based on optimal puts expiring in December, 2011
Buying Puts on a Basket of Internet Stocks
Today, LinkedIn (LNKD) is one of the first stocks that comes to mind when thinking of Internet stocks, and since it now has options traded on it, I've added it to the table below. The first candidate I had thought of for a basket of leading Internet stocks in March was Open Table (NASDAQ:OPEN), based partly on something Howard Lindzon wrote about the company on his blog last fall:
Nobody liked OpenTable.com when they went public in 2009. It has only tripled in 2010. OpenTable.com has the distribution with the restaurateurs and the brand name with the consumer. It took 10 plus years to get there. With $80 million in sales and $1.5 billion in market cap most smart people I know think it's overvalued. That was 30 points ago. OpenTable.com will buy any talent and feature it needs. It is a much smarter way to own these fancy new start-ups and that is what the big money is doing. These momentum spurts can last much longer than you think. They are not that complicated. It helps to understand what's happening in the start-up world at any given time and that's why I love the intersection where I sit.
The "intersection" Lindzon referred to to there is between his roles as an investor in publicly traded companies and as an entrepreneur and angel investor in start-ups. Other candidates for a basket of leading Internet stocks I thought of were Amazon.com (NASDAQ:AMZN), Netflix (NASDAQ:NFLX), Salesforce.com (NYSE:CRM) and Internet infrastructure plays Akamai Technologies (NASDAQ:AKAM) and Juniper Networks (NYSE:JNPR). Since Mark Andreessen was quoted about the current valuations of Apple, Inc. (NASDAQ:AAPL), Microsoft Corporation (NASDAQ:MSFT) and Google, Inc. (NASDAQ:GOOG) above, I've added those names to the table below as well.
Hedging Costs of Leading Internet Stocks
Below are the costs, as of Monday's close, of hedging each of those stocks against greater-than-25% declines over the next several months.
| | | |
| --- | --- | --- |
| Symbol | Name | Cost of Protection (as % of position value) |
| LNKD | LinkedIn | 17.48%* |
| AMZN | Amazon.com | 3.93%*** |
| NFLX | Netflix | 6.25%** |
| CRM | Salesforce.com | 5.39%*** |
| AKAM | Akamai Technologies | 6.56%*** |
| JNPR | Juniper Networks | 4.48%*** |
| OPEN | OpenTable, Inc. | 10.37%*** |
| AAPL | Apple, Inc. | 1.88%*** |
| GOOG | Google, Inc. | 1.19%** |
| MSFT | Microsoft Corporation | 2.67%*** |
*Based on optimal puts expiring in November, 2011
**Based on optimal puts expiring in December, 2011
***Based on optimal puts expiring in January, 2012
Disclosure: I have no positions in any stocks mentioned, and no plans to initiate any positions within the next 72 hours.