Monthly dividends can provide the necessary income to pay for one's living expenses. Finding the appropriate stocks is vital. An appropriate stock should have adequate free cash flow to meet monthly distributions and still maintain capital expenditures for any ongoing projects. Here are 5-stocks I own which I believe offer value as ongoing-businesses and pay month-in and month-out dividends.
1. Atlantic Power Corporation (NYSE:AT)
AT provides electricity to utilities in the U.S. The electricity is sold under long-term power purchase agreements with U.S.-based utilities. AT is focused upon providing a stable revenue stream in order to satisfy monthly dividends to shareholders. Secondly, AT management has explicitly stated the company will make acquisitions if the earnings are accretive to earnings. The company's project listings clearly delineates AT's projects, AT's proposed projects, and the respective ownership percentage per each project.
2. Baytex Energy (NYSE:BTE)
As the below chart shows, BTE has an impressive 29.3% rate of return over the past 6-years. The dividend did take a hit in calendar year 2009, but resumed its upward trajectory in 2010.
3. Enerplus Corporation (NYSE:ERF)
ERF is a mainstay in the Canadian oil producing sphere. ERF paid 19-cents per share in May 2011. ERF's stock dipped into the low $20's during the financial meltdown in 2009. The monthly dividends, however, have continued to deliver. The stock has rebounded to the low $30's, and continues to provide solid dividend yield performance.
4. Pengrowth Energy Trust (NYSE:PGH)
PGH is a long-time player in the Canadian natural resource sector. Operating out of Calgary, PGH is known as a reliable and consistent performer. Perhaps the name does not receive the accolades or the press of a Baytex or Enerplus, but the monthly dividends continue to assuredly arrive. Reliability and long-term viability are PGH attributes which the investor can not discount. In addition, the primary currency is Canadian which can serve as a geopolitical savior assuming the U.S. currency is impaired due to the U.S. debt and U.S. deficit levels.
5. Provident Energy (PVX)
Provident is a Calgary based company with premiere midstream assets. These properties include natural gas extraction, fractionation, storage, transport, and storage. The transport is across North America. Midstream typically implies a lower beta versus the typical energy and production company. PVX's annual dividend yield does reflect the decreased risk of loss of capital, via a lower annual distribution yield.

Provident has been busy raising convertible debentures cash proceeds. The funds are forecast to be used to pay down the outstanding 6.5% convertible debentures due August 31, 2012.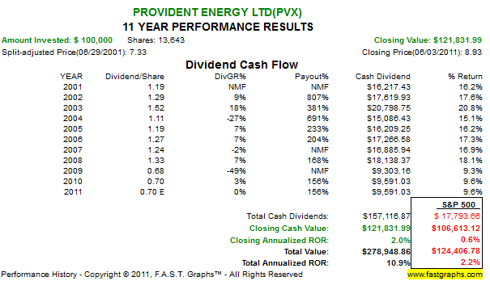 The astute investor can find a 6-7% annual dividend level by focusing upon the premiere energy related companies in the North American area. These companies provide monthly distributions and have done so during the Canadian Royalty conversion process, during the 2008 financial meltdown, and through present day.
Don't let a monthly dividend persuade you into thinking these are bond-like securities. These stocks and management teams are built upon being opportunistic and up to the challenge of providing total shareholder return.
Disclosure: I am long AT, BTE, ERF, PVX, PGH.