The constant question is "How's the market?" The good answer, we think, is "Which one?"

If you listen to local radio news in the U.S., you'd think that means the Dow Jones Industrial Average. If you watch CNBC or Bloomberg on TV, you see the primary focus on the S&P 500 or Nasdaq and U.S. Treasuries. If you live in China, we would imagine the "market" is more likely to mean the Shanghai or Shenzhen indexes; and in the U.K. the market is likely to mean the FTSE, and so on.

In a world of global investing, and multi-asset class investing, "the market" is an inadequately specific term without more qualification. There are many markets - perhaps often highly correlated, but different markets nonetheless.

Let's look at 20 assets representing a variety of markets around the world to see their separate conditions.

Different people will have different interpretations of some of the data, so we leave that to you the reader, while simply supplying you with the input you need, and probably do not have in such a digested and ready to interpret format.

While there are some clear up and down trending charts, a number could be seen as either half full or half empty based on perspective or bias. We won't interject our tilt to the data here (maybe later).

For stocks, we look at:
For bonds, we look at:
For commodities, we look at:
To avoid wishful thinking and imposing personal bias into the interpretation of charts, we begin with a tabular classification of important chart attributes that are measured by computer. The charts for the table data are at the end of the article, so you can go to high granular detail with visual inspection.

Here, however, are simple binary positive/negative and above/below ratings for slope and price position vs. key levels.

Slopes are classified for the 200-day average, and linear regression best fit trend lines for 1 year, 6 months, 3 months and 1 month.

Price is positioned relative to the midpoint of the 1 year price range, the 200-day average, and three trailing offsets (for stocks and commodities: 10%, 15% and 20% from the 1-year high, and for bonds: 5%, 7.5% and 10% from the 1-year high).

Click to enlarge charts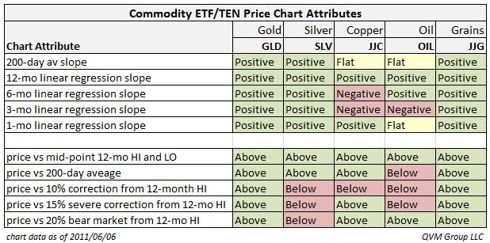 There can be a big difference between a little bit positive and steeply positive, or a little bit negative and a steeply negative number, or being distantly above or below a number vs. nearby above or below. With that acknowledgment, let's look at a more quantitative view of attributes.

This table looks at price position within price channels of various lengths (21, 63, 126, and 252 days); and price rate of change over various periods (1, 5, 10, 21, 63, 126 and 252 days); and the ratio of various moving averages to each other (1 day to 21 days, 1 day to 252 days, 21 days to 252 days, 63 days to 252 days, and 126 days to 252 days).
Click to enlarge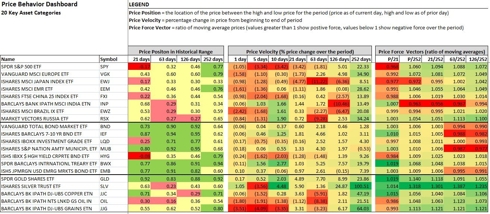 The charts behind the data tables follow. Each chart is daily for 1 year and contains these nine studies:
200-day average (gold)
1 year linear regression trend line (bold black)
6 month linear regression trend line (bold blue)
3 month linear regression trend line (bold green)
1 month linear regression trend line (bold orange)
midpoint of 1 year high to low range (dashed black)
10% offset from 1 year high price (dashed red) [5% for bonds]
15% offset from 1 year high price (solid red) [7.5% for bonds]
20% offset from 1 year high price (bold solid red) [10% for bonds]
The symbol for each chart is in the upper left corner.

The plots on these charts are of attributes that are not generally available, as far as we know, on the free chart sites on the web, particularly with respect to the trailing offsets from 1 year highs (a custom indicator internal to QVM Group). The linear regression line studies are available from some sites, but several regression trend lines at the same time on a chart are not always possible on free sites.
Disclosure: We hold GLD and HYG in some but not all managed accounts as of the publication date of this article.
Disclaimer: This article provides opinions and information, but does not contain recommendations or personal investment advice to any specific person for any particular purpose. Do your own research or obtain suitable personal advice. You are responsible for your own investment decisions. This article is presented subject to our full disclaimer found on our site available here.