Shown below is a chart of silver in gray and Managed Money longs in green.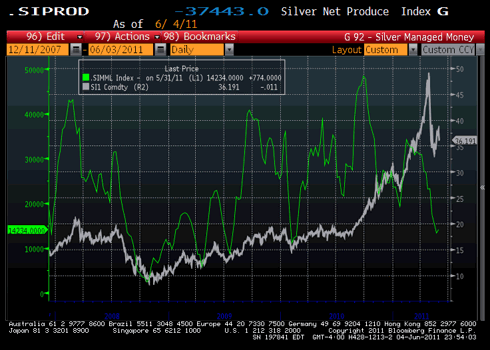 (Click charts to expand)
As can be seen, silver Managed Money longs turned upward for the first time in weeks this past week, registering a small increase. While silver price fell slightly, the return of Managed Money longs is a very encouraging sign.
Shown below is a chart of silver futures aggregate open interest.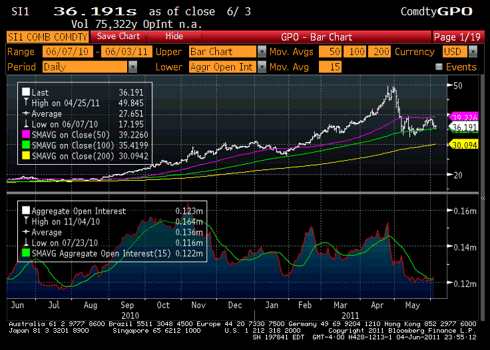 As can be seen, open interest seems to be scraping along the bottom, ticking up in the last few days. As interest from long speculators returns to the market, we view a long position in silver to be attractive.

We would recommend adding to the SLW option and stock position in last week's newsletter. Such a position entails purchasing 100 shares of SLW stock for $35.17, then selling the July 33 put for 1.26 and the July 40 call for .63. This trade would provide an effective entry price on SLW of $33.28, and would be profitable as long as SLW is above $33.28 on July 16. The risk in this trade would be where SLW trades below $33 on expiration, as the investor would be forced to purchase SLW stock at $33, and also simultaneously endure the loss on the shares purchased at $35.17. However, we view the long-term risk of being assigned more shares of SLW as minimal due to our bullish thesis on silver prices, as well as the production growth story of SLW.

More aggressive traders could also purchase silver futures at $36.191, then sell the July 40 call for .451, providing an effective entry price on silver futures of $35.74. As this trade controls much more silver, it entails much more risk, and should be entered cautiously and only by larger investors.

Disclosure: I am long SLW, short SLW puts

Additional disclosure: All information included herein is the opinion of the firm and should not be considered investment advice. Past performance is not necessarily indicative of future results.