The stock price of Microsoft (NASDAQ:MSFT) has slipped recently to $24 per share, once again bringing the shares well into value investor territory. David Einhorn of Greenlight Capital highlighted Microsoft as one of his top ideas at last month's Ira Sohn Investment conference. Einhorn sharply criticized CEO Steve Ballmer, arguing that Ballmer's failed initiatives in the areas of social networking and online search had pushed Microsoft shares below their true value.

Einhorn has been an on-again, off-again shareholder of Microsoft for years. In 2006, he used a baseball analogy when he called the company "A-Rod," describing it as "simply the best company built in the last 30 years."

Much has happened over the past five years, including the continuing ascent of Apple (NASDAQ:AAPL) and Google (NASDAQ:GOOG) in terms of market position and market value. Of more relevance, however, may be the fact that Microsoft's sales have grown from $44 billion in FY06 to $62 billion in FY10, with operating income up from $16 billion to $24 billion. Furthermore, whereas Microsoft had net cash of $34 billion in mid-2006, the company recently reported net cash and equity investments of nearly $50 billion. Meanwhile, the stock price has returned to levels seen during 2006.

An analysis of Microsoft's cash generating ability shows trailing free cash flow of $24 billion, implying an FCF yield of 12%. If we subtract $50 billion in net cash and investments from Microsoft's $200 billion market value, and remove interest income from trailing free cash flow, we arrive at a cash-adjusted FCF yield of 15%. As this FCF yield includes losses from certain online businesses that likely have positive intrinsic value, the undervaluation is even greater than it appears based on the company-wide FCF yield.

The easy explanation might be that the low valuation of Microsoft shares likely reflects investors' view that the Apple, Google, Facebook and others will eat into the software giant's profits going forward. As a result, Microsoft should be expected to earn less money in FY11 and FY12 than it did last fiscal year. However, Wall Street consensus estimates call from Microsoft to earn $2.58 in FY11 and $2.77 in FY12, up from $2.10 in FY10, driven by an increase in sales from $62 billion in FY10 to $70 billion in FY11 and $74 billion in FY12.

How can a growing, highly profitable company with a near-monopolistic market position trade at a trailing FCF yield in the mid teens? This is the paradox of Microsoft's market valuation today and likely a reason for David Einhorn's continuing interest in the shares.

The following table summarizes the way one might think about the intrinsic value of Microsoft (click to enlarge):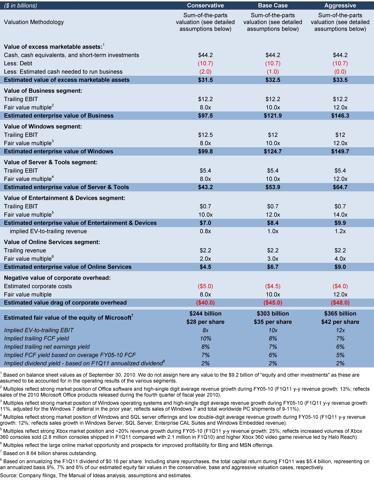 As the previous table shows, a sum-of-the-parts valuation analysis suggests an intrinsic value range of $28-$42 per share. This range implies considerable upside from Microsoft's recent stock price, reflecting investors' strong preference for the positive near-term business momentum of companies like Apple and Google. Unfortunately, investors sometimes seek out exposure to "good stories" too zealously, paying dearly in the process. Meanwhile, great businesses, albeit with less attractive "stories", may fall deep into value investor territory. We believe this is where Microsoft finds itself today.

Disclosure: I am long MSFT.