May 2011 was both a month to remember and a month to forget for investors in Chinese Internet stocks: On the one hand, the industry had the busiest IPO month in history with Renren (NYSE:RENN), NetQin Mobile (NYSE:NQ), Jiayuan.com (NASDAQ:DATE), and Phoenix New Media (NYSE:FENG) all going public between May 4 and May 12. One the other hand, the 43 Chinese Internet stocks (excluding the four IPOs in May) plunged 12.6% on average in the month, recorded a depressed advance/decline ratio of 6 to 37, and significantly underperformed the NASDAQ Composite Index's -1.33% monthly return. The across-the-board monthly plunge confirmed that there was indeed a bubble in Chinese Internet stocks prior to May.
The industry-wide decline was primarily caused by profit-taking activities in Chinese Internet stocks after the highly anticipated IPO of social networking Website Renren.com (RENN). Adding to the downward pressure was investors' selling of Youku.com (NYSE:YOKU) and Dangdang (NYSE:DANG) ahead of the June 6 expiration of these two hot IPOs' lockup periods. Online video stocks were the worst-performing segment, plummeting 29.9% on average for the month, followed by B2C e-Commerce (-26.3%), Online Games (-11.5%), Online Advertising (-10.8%), and B2B e-Commerce (-7.7%). eLong (NASDAQ:LONG) was the exception for the month, surging 62.1% due to an investment by Tencent (OTCPK:TCEHY) in the company. Below is the detailed analysis of each segment.
Online Video stocks plunged across the board in May, with a -29.9% average monthly performance, as Youku (YOKU) suffered from massive selling ahead of its June 6 lockup expiration, and Ku6's (NASDAQ:KUTV) move to cut 20% of salespersons alerted investors that the company's struggles had not ended. I remain cautious on Youku shares because the company is still facing too many strong competitors, including PPS, Tencent (OTCPK:TCEHY), PPTV, Baidu Qiyi (NASDAQ:BIDU), Sohu (NASDAQ:SOHU), and Sina (NASDAQ:SINA). All companies on this list still have a decent chance to become the long-term winner in China's online video market. I will become more optimistic on YOKU if this long list starts to shrink.
B2C e-Commerce stocks dropped -26.3% on average in May, as Mecox Lane (NASDAQ:MCOX) plummeted 37.8% mainly due to its very disappointed 1Q11 earnings report on May 23 and Dangdang (DANG) dropped 14.9% due to investors selling shares ahead of the June 6 lockup expiration. I have been shorting MCOX and DANG in my virtual investment portfolio since December 13, 2010, and I believe both stocks will continue to decline as fierce competition continues to pressure both companies' profit margins.
Online Game stocks declined 11.5% on average in May, slightly better than the overall performance of China Internet stocks (-12.6%) for the month. After the broad-based 14.3% rally in April, online games stocks lost some steam in May, but still managed to outperform China Internet stocks as a whole. Tencent was the best-performing stock in this segment, up 0.9% for the month, primarily driven by better-than-expected online game metrics released in its 1Q11 earnings report on May 11. In the quarter, Tencent's total Peak Concurrent Users (PCU) grew 11% sequentially and 19% year-over-year to a record 16.2 million, with mini casual games reaching 7.7 million PCU, advanced casual games reaching 5.6 million PCU, and MMO games reaching 2.9 million PCU. These metrics demonstrated that Tencent has maintained its leadership position in China's online game market.
Online Advertising stocks fell 10.8% on average in May, outperforming the whole China Internet industry (-12.6%). Only six Chinese Internet stocks had positive performance in the month, and four of them were online advertising stocks. The resilience of the online advertising segment is a major bright spot during this depressed month for China Internet stocks.
In a previous article, I predicted Baidu (BIDU) will outperform the average return of Chinese online advertising stocks for the rest of 2011. Baidu (BIDU) shares' -8.6% performance in May was in line with my prediction, outperforming the online advertising segment by 2.2 percentage points.I believe BIDU is a relatively safer stock for investors during tough times because the company's dominant market share and high growth rate will likely remain intact for the next three years. Sina (SINA) shares dropped 11.8% in May, after rising 31.1% in March and 25.9% in April.
The momentum seems to have reversed for SINA since the IPO of Renren (RENN). Based on my research, Sina Weibo and Tencent Microblog are now similar in terms of total registered users, but Sina Weibo enjoys much higher browsing time mainly because its users are older and more willing to spend time on writing and reading messages. The major challenge for Sina Weibo going forward is to figure out a way to monetize this highly educated user base, who are not likely to be very interested in playing games or reading advertising messages.
B2B e-Commerce stocks were the best performers in May, declining 7.7% on average for the month. I attribute their relative strength to the fact that this group of stocks had already dropped a lot prior to May. Although the B2B segment outperformed the whole industry in May, such performance still marked the third consecutive month of declines for B2B stocks.
The big picture is that the long-term appreciation of RMB is inevitable, and for the next several years, this trend will remain a big challenge for Chinese exporters and exporter-dependent B2B e-Commerce stocks. I believe B2B e-Commerce platforms have already passed their prime in China, and they will have to expand to other countries to search for new growth drivers. I continue to believe that investors should avoid B2B stocks in 2011.
click to enlarge image
Table 1: China Internet Stocks' Performance in May 2011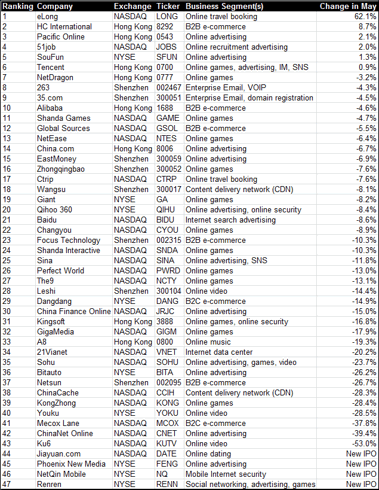 Disclosure: My virtual investment portfolio has a long position in GA, NCTY, and NTES, and a short position in DANG, MCOX, and YOKU.