Cisco shares hit a new 52-week low yesterday, closing at just under $16 per share. This is less than super investors Bruce Berkowitz of The Fairholme Fund (FAIRX) and Eddie Lampert of ESL Investments paid for Cisco shares only a few months ago.
Berkowitz initiated a position of nearly 36 million shares in Q1, a period in which Cisco's stock price ranged from $17-$21 per share. Lampert increased his fund's investment in Q1, boosting ESL's holdings from 6.4 million to 7.3 million shares. Based on Cisco's stock price in Q4, Lampert may have paid $20 or more per share for the bulk of ESL's investment in Cisco.
CISCO SYSTEMS – OUR ESTIMATE OF THE EQUITY FAIR VALUE RANGE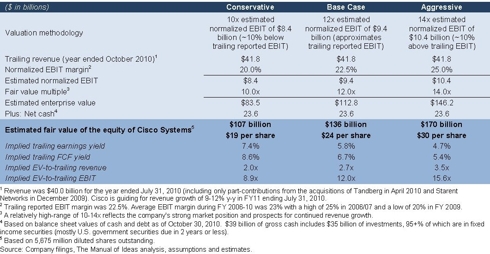 Click to enlarge
(Click to enlarge)
Cisco is the dominant provider of infrastructure products that enable the functioning of the Internet and improve network connectivity. Given good demand prospects based on Internet traffic growth and a proliferation of web-enabled devices, a low teens FCF yield on a net cash balance sheet is quite enticing. Current consensus analyst estimates for EPS of $1.60 in 2011, and $1.73 in 2012, put Cisco shares at just under 10x earnings. Note that free cash flow per share has exceeded GAAP EPS in recent years.
Balancing potential reward is the risk that technological change and competition may accelerate margin pressure. Nonetheless, the recent sell-off has provided an opportunity to pick up shares at an attractive price. Unlike Microsoft (NASDAQ:MSFT), which faces direct competition from Google (NASDAQ:GOOG) and Apple's iCloud initiative, Cisco remains the undisputed leader in data networking equipment. To be sure, several smaller players are growing more quickly than Cisco, but no one is directly threatening the giant's dominance. Furthermore, with Cisco shares languishing while VMware (NYSE:VMW) shares are flying high, the risk of Cisco making an empire-building but ultimately value-dilutive acquisition of EMC (EMC) or VMware has diminished. In short, Cisco shares now offer a risk-reward that is hard to ignore.
Disclosure: I am long CSCO.