With the S&P 500 (NYSEARCA:SPY) breaking its 1300 point resistance level, it looks like it will be a rocky summer for investors. However, this same period will bring down some stocks that are high flying in the cloud. The introduction of Apple's (NASDAQ:AAPL) iCloud adds new competition to the sector and China's recent hacking of Gmail has revived security concerns with the cloud. With dot-com valuations and an anxious market, here is a list of three cloud computing companies that will take a beating over the summer months.
(Click charts to enlarge)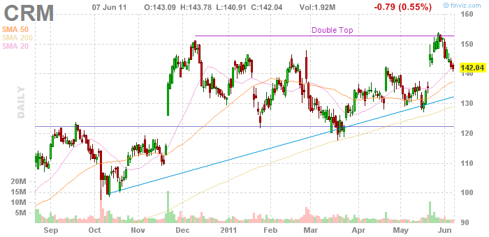 Salesforce.com (NYSE:CRM) - Salesforce.com is one of the hottest stocks in the market right now. It had risen 66% over the past year, but with the increase it has become over valued. CRM has one of the highest P/E ratios in the market at 420 and PEG ratio of 13.71. To compare that with the norm, the average stock has a P/E of 21 and a PEG of 2.5. Earnings growth rates are slowing down from current levels of 40% annually to 30% the next five years, which may be a little optimistic. Salesforce is a valuable business tool, but it may have reached market saturation. Its business is also mainly within the frothy cloud computing sector. Technically the chart is breaking down with moving average indicators deeply negative and two island reversal gaps at $130 and $115.77 respectively. It will most likely fall to fill the first gap and possibly the second one.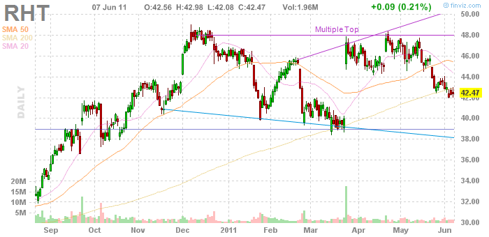 Red Hat (NYSE:RHT) - Red Hat is in the cloud computing industry and specifically issues open source software such as Linux and provides services to help developers alter it and apply it for practical use. There is some growth potential with Linux (primarily in Android phones), but not the expected amount of growth priced into the stock (40+%). Red Hat has a P/E ratio of 77 and a PEG ratio of 3.82. There is a limit to how much one can profit from services that support free software, so the stock price will need to adjust for more realistic growth measures. The general public's and internal corporate IT departments' growing knowledge of Linux makes future customers less reliant on Red Hat's services as well. Technically the chart is clearly an island pattern with room for a drop from its current price to $40 per share. Also the MACD has crossed to the bearish side, further enforcing the filling of the gap. Fundamentals and panic about a double dip can drive down below $40, but make sure to add a tight trailing stop.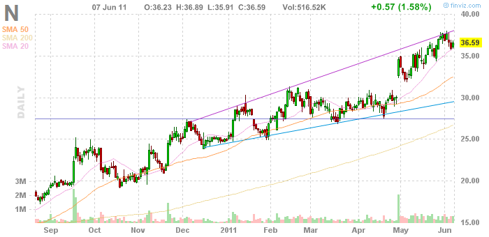 Netsuite (NYSE:N) - Netsuite may be a high flier, but its current valuations and technicals hint at a large pull back. Netsuite provides on-demand, integrated business management application suites that help small to medium size companies with customer relationship management, accounting software, automation of the back office, and e-commerce services. Competition is fierce as Salesforce.com, SAP, Microsoft (NASDAQ:MSFT), Amazon (NASDAQ:AMZN), and RightNow Technologies (NASDAQ:RNOW) have more entrenched positions in Netsuite's markets. Even with optimistic future earnings expectations, Netsuite's forward P/E is at a staggering 128. The company also currently has a negative return on investment capital. Insider selling is a strong bearish signal as the CEO, COO, CFO, CTO, and most of the board have sold significant portions of their stakes within the past two weeks. Technically the MAC-D is strongly bearish and the company has an island gap up from $30 per share to its current price. Overall, I believe Netsuite is in the weakest position of these three cloud stocks and is the best short opportunity.

Disclosure: I have no positions in any stocks mentioned, and no plans to initiate any positions within the next 72 hours.